Auch wenn er an den Bahn Sage erinnert – er ist echt – it's real.
Ein paraphoner / monophoner 3-OSC-Synth mit Matrix-Routing
Arturia Matrixbrute Analog Synthesizer
para & dual mode (oscs played by each key pressed through 2 filters for all) or ladder filter on lower rang, steiner filter on up split side.
3 x Oscs – 2 oscs with sub like brute series (micro) incl metallizer – one new different one – the 3rd.OSC can also work as an LFO (hey FM! hey Minimoog!)
2x filter –  12 / 24 dB filters -> multimode (Steiner Parker) and ladder (Moog)
FM osc 1->2 and 2->3, filter FM
osc sync
2x ADSR Envelopes (with vel-control)
1 DADSR Envelope
Envelope Follower (scans amplitude)
3 LFOs (500 or more Hz)
sequencer via matrix input, 64 steps – has line for modulation, accent, slide.
patching and routing via matrix
colour noise (red, …)
matrix: 4 last slots are for modslots – just wiggle a knob and it's assigned – and listed on the display (4 mod sources) – plus the obvious – select source – destination and amount (pos/neg) – easy.
looks it is NOT limited in how many routes can be set –
it's all live patchable!
analog (!!) effects – incl "some kind of reverb", delay (stereo/mono), chorus, flanger
Arpeggiator
USB, MIDI (3x), 3x exp/pedals, sequencer sync in/out, gate in/out,
12 cv in/outs for most parameters inside (!) – means the matrix sums up and sends/receives from these! MODULAR so to say!
size: 860*432*107mm
weight: 22kg
update: about 1.9k€, available Q2 2016.
walkthrough (update)
more in depth II – some audio teaking at the end (nerdish) – listening to filters, oscillators, sequencer operation, analog fx

Arturia MatrixBrute Namm 2016 Matrix Brute eurorack modular questions
this isn't a fake, it's real, it is a 3 OSC-Synth from Arturia and monophonic btw – paraphonic – so you can play 2-3 notes but it's running through the filters for all voices as known from the Odyssey, Sub37, etc. It's huge
pix thx A.Fischer  <3!
Arturia presents MatrixBrute, Analog Avant-Garde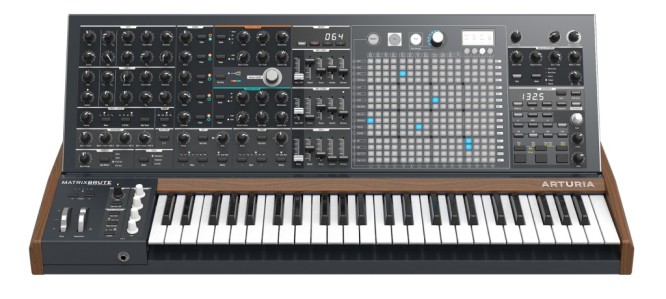 and
Keystep – Sequencer.
MIDI, USB, simple CV
Polyphonic Sequencing, 32 Keys (enough to be powered by an iPad)
8 Sequences can be stored.
Arpeggiator (8 Types)
Chord Memory
Arpeggios with Chords
119€
maybe also the cheapest MIDI keyboard atm.
aftertouch & velocity!