..open door to the / ein offener:
formant modular synthesizer..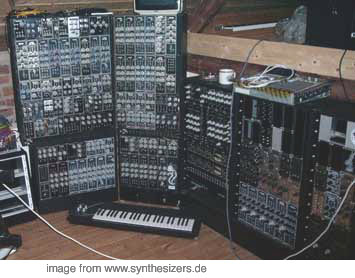 ein offener Formant.. sind Curtis Chips drin! opened formant with curtis chips inside!
if you want it biiig… ;-) ein formant.. bisschen grösser ;-) von aliens project.. (www.aliens-project.de) (now sold away!..above!!) —>
the formant was a project of the german electronics magazine "elektor" and is continued by helm electronics. (Hans-Joachim Helmstedt) in germany.
you can still get the book/ es gibt das Formant buch, besonders auch für einsteiger gut geeignet, die in die elektronikmusik technisch einsteigen wollen: 240 Seiten, Format 25,5 x 18,5 cm, DM 59,00, sFr 53,50, öS 431. ISBN 3-89576-099-4 gibt es auch / also at: www.elektor.de
the newer MSS2000 Formant Model is the current project.. on the site you can get some more info, but currently german only.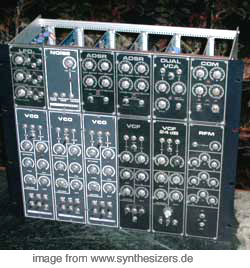 Korrekturen zum Formant Modular
mehr info zum formant, den mss2000 und helm elektronik: hier
zu dem thema sei auch jürgen haible und seine kreative site genannt, er hat sogar einen VCS3 nachgebaut: besonders für synthesizer DIY-Freaks.. dazu auch unser (anyware-instruments und ich, der moogulator sowie das elektro-kartell.de forum) forumodular-synthesizer! (nicht auf formant basiert!)
if you need switched trigger and want to midify it: thry to use voltage trigger= 0 v and 8-10V as "sitched" trigger for moog. it works on prodigy and others..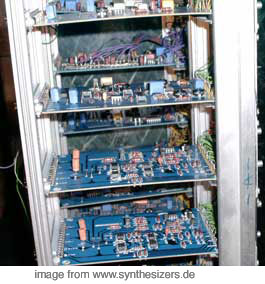 Sequenzer Literatur DIY:
Doepfer/Langer: "MIDI-Analog Sequenzer – Sound der 70er mit moderner Technik", erschienen im Elektor Verlag, Aachen 1995 ISBN 3-89576-017-X
dieser Sequencer ist nichts anderes als der MAQ16/3 von doepfer zum nachbauen.
mehr über Sequenzer hier
eine sammlung von links zu herstellern elektronischer bauteile:
http://www.datasheetlocator.com/de/
http://www.fht-esslingen.de/~beetz/dat_bl.html
fertige baugruppen/pc-karten:
http://www.pci-card.com (kolter-elektronic)
woher die regler und potis?:
http://www.netzmarkt.de/thomann/aspecial27.html?sn=c80efd5fc88f202e32d14fd49976ac1e
http://www.ab-sachsen.de
http://www.potentiometer.de
www.farnell.de, rs-components und buerklin.de
http://www.alpsusa.com/
http://www.schuro.de/preisl-potis.htm
natürlich auch conrad (nicht so preisgünstig) und reichelt
neben unseren simplesizer und forumodular-synthesizer zum selbstkostenpreis für alle und den angegebenen gibt es auch hier interessantes modulares und anderes zum basteln bei
" klangmaschine " matthias: www.midi-cv.de
zum alten formant gibt es eine sehr ausführliche arbeit/doku
von Johannes Vrana hier sicher auch lehrreich: eine bücher:
er empfiehlt diese bücher, besuch doch aber besser seine site!:
Chapman, Cyril: Formant Musik Synthesizer; Gangelt: Elektor-Verlag, 1978; ISBN 3-921608-10-4
Goddijn, Hans: Elektonik in der Popmusik; München: Franzis-Verlag, 1980;ISBN 3-7723-3422-9
Gorges, Peter & Merck Alex: Keyboards-Midi-Homerecording; München: Carstensen-Verlag, 1993; ISBN 3-9802026-3-1
Krings, R. (Redakt.): Elektronische Klänge; Gangelt: Elektor-Verlag, 1979; ISBN 3-921608-14-7
Tünker, Helmuth: Elektronic-Pianos und Synthesizer; München: Franzis-Verlag, 1979; ISBN 3-7723-3022-3
Tünker, Helmuth: Musikelektronik; München: Franzis-Verlag, 1979; ISBN 3-7723-3364-8
eine DIY URLs neben unserem simplesizer und forumodular – some DIY synths: (beside our forumodular and simplesizer (etc.) projects..)http://www.ele4music.com/
SOME VERY USEFUL DIY LINKS:
http://www.synth.clara.net/resources.html
http://www.acidcode.de/
buttons for TR808 / Jupiter 8 etc.. see roland section..
jürgen haible has lots of interesting DIY (selbstbau) projects!! he also re-DIY-ed a korg ps3100 and ems synthi A http://home.debitel.net/user/jhaible/hj.html
Effekte selberbauen – DIY FX
check this:
http://www.tonepad.com/
http://www.generalguitargadgets.com/
http://audionova.nu/innehall/audionova_DIY.htm

guitar FX.. also good for synth ;)
http://www.muzique.com/schem/index.html

über modularsysteme.. generell.. / auch und vor allem für einsteiger..