Creamware Menü -> Soniccore
Minimoog clones – the digital Minimax ASB?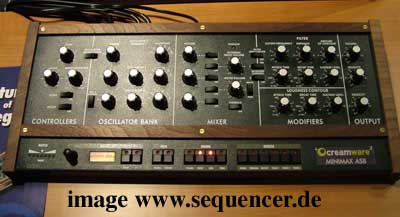 Creamware did a very close clone – it's based on the pulsar platform later the noah contained it, too but it did not sell well because of its terrible interface (4 knobs in a rack seemed not to be sexy enough..).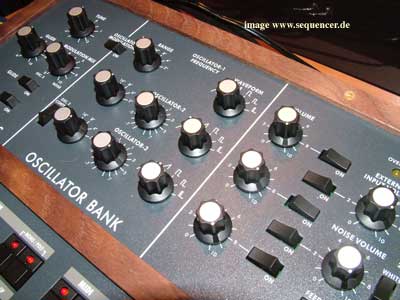 well, it's still a digital synth here.. but it has a lot of things that reminds of the mini.. it's 12 voice (now!) polyphonic and adds velocity and of course midi-controller controlled.. it has the same features and has velocity control of course..
they also offer this kind of clone as prophet 5.. earlier called profit 5 (not the coolest name here, right?) it's now "ASB Pro12"
the ASB Series Creamware System 1200, ASB and the Plugiator – one of the best sounding digital clones ever made until it's time..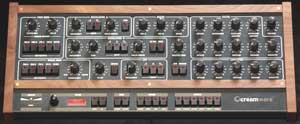 <– click to enlarge Pro12..
Noah Tactive Instrument Modeller Keyboard and Expander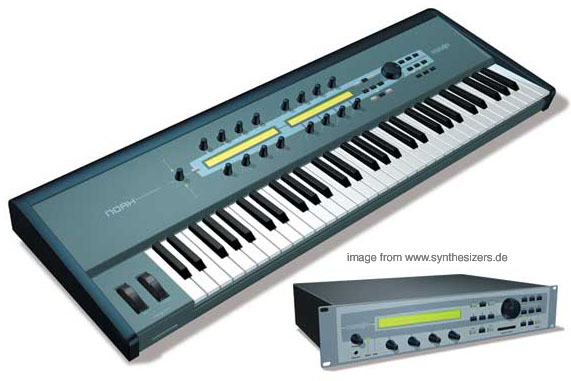 first: there is a new synthesizer out: the prodessey, emulates the ARP odyssey as good as the minimoog (minimax) and SCI pro one..
let me say "as good" means: the noah redefined the quality of emulation software (and hardware).. most previous tries where simply a simulation of the structure but far from the sound of the original.. and: the originals are still analogue! so it may be a problem to compare the noah directly with ONE pro one or one mini!..
hmm, imo they cose the right vintage synthesizers.. I still hope for a virtual ms20! and even more I hope for creamware's polyphonic noah (yes! you can play all of these machines polyphonically) – that the company will survive.
you can still add a knob box to really EDIT the machine or try the 80ies style interface.. which is good for a 2HE rack with only 4 knobs,but not enough for performing.. so: get a nice knob box and have a couple (!!) of vintage synths available anytime! and polyphonically. well this machine did not sell well at all.. no they offer each model as a separate simple synth..
the prodessey also shows: the standard parameters of the original synthesizers are all there, sometimes you CAN choose if you want to use AR or ADSR but there is no patch matrix or something like this.. this has an advantage: it's not hard to get the idea and to make a sound!! on the other hand it is quite as powerful as the original but you can't "mod" it like the originals..
imo the importance of this is up to you!!!..
I demoed the noah with a mini-style controller (not a joke!!) and of course it was as simple to use and play as the mini..
so if you find some universal interface covering all those models you might have found YOUR instrument!!
since the lightwave,some kind of microwave type synth is also implemented it's worth to get one, if you find one cheap.. maybe they do a nicer controller-version of it?..
_________________old infos written in the last century below this line________________

english below: recht authentische emulation.. leider aber nicht mehr.. auch das gitarrenmodell ist eben eine gitarre.. nicht dehnbare parameter.. klang: wirklich gut.. bisher wohl das authentischste was ich so mit einem ohr höhren kann (meint: kein vergleich zum original im a/b vergleich.. dennoch nett für klassikerfreunde.. nix für leute die "was neues" wollen.. aber klasse für liebhaber des pro1, minimoog oder jupiter 8 (soll noch kommen) oder eben einer 6saitengitarre.. es soll noch eine drumbox/sequencer kommen..

NEU: NOAH wird nebenbei für mac und pc eine bedienoberfläche bekommen und 6 audiokanäle gleichzeitig mit midi via usb integrieren. wie der minimax zeigt,ist der noah klanglich wirklich bisher der nächste am minimoog, dazu kommen: ein wavetable synth "lightwave", b3 ähnliche orgel, gitarrenmodelle, vectron player (some sort of prophet VS but reduced version), pro one, vocodize – a vocoder with some specials and FX (reverb etc..)..
es gibt 2 versionen: normal und ex, diese können 2,bzw 4 der obigen instrumente nutzen. klingt damit auch nach 2 oder 4fach multitimbral.

generell eine gute idee, hoffentlich auch bald ein bisschen mehr dehnbare modelle.. gibt ja auch schon den voyager ;)
generell aber , bevor hier jemand in die falsche richtung denkt: die bisher BESTEN und POLYPHONEN emulationen von Sequential Circuits Pro One und Moog Minimoog
sind sehr gut!!
..controllertechnisch wäre das sicher verbesserbar ;) aber der KLANG ist wirklich sehr sehr hochwertig..
DER UNTERSCHIED noah gegen VariOS?..
noah ist ein synthesizer,der eigentlich modular ist und dem creamware aber letzlich seine synthesizer als "fertigprodukt" anbietet.. diese sind klanglich wirklich gut, minimoog und pro one zum bleistift.. aber eben eher "konservativ".. aber: der erste virtuelle minimoog/pro1 der klingt!!! .. und polyphon!.. das ist eigentlich schon was,was kaum ein andere SO bietet..
aber es gibt auch wavetablesynthesizer, gitarre sequencer und orgel.. damit aber immernoch "gewöhnlich".. die basis ist natürlich dieselbe: ein DSP kasten mit div. modellen drin.. aber: CW verwendet keine samples mit ausnahme des USB audio interfaces,was quasi als dreingabe dabei ist.. denn es gibt ja auch FX und den vocodizer..
das variOS bietet hingegen
"nur" den jupiter 8 und tb303 als erweiterte modelle (das unterschiedet schonmal).. und dazu das eigentliche variOS: nämlich eine methode die variphrase sachen in einem arrangefenster zusammenzubauen..
hier kannst du,wie ich auf meiner site etwas beschrieben hab und du im video auf rolands site sehen kannst einiges tun,was mit noah wiederum nicht geht.. zumindest softwareseitig ;)
prinzipiell ist ja auch variOS ein DSP kasten und DAS macht sie so "vergleichbar".. aber das ERGEBNIS wie du damit arbeitest und was du damit bekommst ist unterschiedlich..
imo ist variOS noch mehr eine computergestützte maschine aber dafür setzt es auch mehr auf den angeschlossenen computer..
die verbiegemöglichkeiten für samples ohne formantenverschieung oder auch genau dies: bewusste verschiebung der formanten ("machen sie einen mann aus einer frau" – musikalisch mein ich..)
ist ja wohl schon was anderes.. dabei kann das auch ein drumloop sein,den du dann wiederum, verwursteln kannst.. auch hier gibts nicht nur pitch,sondern auch formant und zeit/länge die kompeltt variabel als parameter nutzbar sind.. das geht vergleichbar eigentlich nur mit ableton live,was aber wiederum eher auf loops ausgelegt ist,während variOS ein "one shot" denker ist aus dem man dann einzelne schläge leicht pasten kann und wie in einer art drumeditor zu neuem zusammenfummeln kannst..
meint: die software ist,was hier unterscheidet..
das ist nichts unwesentliches ,denn es ändert den charakter.. ;)
der charakter wird halt vorallem durch sie gemacht.. und daran muss man sich halt gewöhnen.. dann kannst du das teil DEINER träume raussuchen.. imo sind die beiden nichtmal "konkurrenten".. sondern könnten sich gut ergänzen..
BTW:
Rolands variOS is NOT as noah is.. but is is also an USB-engine that allows DSP things ,but they do not have much more in common imo.. also the idea of having an emulated synthesizer in both machines..

CreamWare presents Noah, a hardware synthesizer with unique features and
unprecedented flexibility. Sound production, effects, step sequencing and
arpeggiation are entirely realized in software and processed by DSPs. Noah
offers all popular synthesis technologies: analog (subtractive), FM, vector
and wavetable synthesis. It also features a completely new physical
modeling technology for guitar and bass sounds with unprecedented realism.
An expansion for sampling and PCM sound is available as an option.
Thanks to its most advanced DSP technology, Noah for the first time offers
1:1 modeling of existing instruments. At the same time, completely new
synthesis techniques can be realized as well. In contrast to the fixed
architecture of conventional synthesizers, Noah is totally flexible and can
be equipped with additional instruments and synthesis technologies through
software (plug ins). So, Noah is constantly re-inventing itself and will
always remain up-to-date.
"For a long time there has been very little reason for anyone to buy a new
synthesizer", says CreamWare managing director Frank Hund. "There was
simply nothing new out there. Real innovation was taking place almost
entirely in software, and was therefore dependent on a computer
environment. Noah changes that. Noah combines, for the first time, the
innovation and dynamics of software plug-in technology with the advantages
of a traditional instrument."
The basic package supplied with Noah comprises the following 9 instruments:
– minimax: The first truly accurate reproduction of the legendary Minimoog.
– Vectron Player: Inspired by the renowned Prophet VS, vector synthesis
produces breathtaking sounds.
– Lightwave: Wavetable synthesizer with 128 waveforms, 2 powerful filters,
and a flexible modulation matrix.
– Six-String: Model of a six-string guitar. A new, patented physical
modeling algorithm achieves an unprecedented level of sonic nuance and
articulated performance realism.
– Four-String: Four-string bass model, based on the same technlology.
– B 3000: Draw-bar organ model in the tradition of the veritable Hammond
B3.
– Beatzbox: Analog drum synth/computer.
– Hybriddd: Combines FM and analog synthesis in a unique instrument.
– Vocodizer: 22-band vocoder with integrated synthesizer. Capable of
emulating any hardware or software based vocoder.
During Noah's development uncompromising sound quality was given absolute
priority. The DSP plug-in technology allows the realization of most diverse
synthesis techniques in unparalleled quality and variety. Instruments are
not based on static samples, but are modeled exactly and true to the
original.
All instruments are polyphonic, and equipped with sounds created by
well-known sound designers. Even in its basic version, Noah already offers
over 1000 sounds. They can be edited directly on the instrument itself, or
with the included graphical software on a Mac or PC.
Noah has an extensive effects section. More than 30 32-bit algorithms are
available, including a high-quality reverb, modulation and dynamic effects.
A live programmable step sequencer and arpeggiator extend the performance
capabilities even further.
Although Noah does not require a computer, it however offers extensive
integration with external sequencers and the Internet over its USB
interface. Noah instruments can be treated in the computer like plug-ins.
Individual Noah configurations can be created on screen and uploaded into
the synthesizer. New instruments and sounds can be accessed through a PC
directly from the Internet and then loaded and played on Noah.
Noah is available in both rackmount and keyboard versions. The keyboard
offers two 2×40 indicator displays (the rack module has one) and 16
combined infinite control/push buttons for performance control (the rack
version has four). Both versions are equipped with stereo analog inputs and
outputs, 8 individual outputs in ADAT format, MIDI In/Out/Thru, a USB port,
and a slot for Compact Flash data storage.
Noah is hardware expandable via two options: the Noah Performance Option,
which doubles the power of the synthesis engine; and the "Transporter"
Sampling Option, which implements a 64MB sample player for the use of
"virtual expanders". By assembling Akai and Soundfont compatible samples,
users can also create their own virtual expanders – and so access their
personal sounds directly from Noah. Virtual expanders can be stored on
Compact Flash and reloaded into the keyboard's Sample Player.
"The realization of a purely software-controlled, totally flexible
synthesizer has been a dream for a long time", says Michael Ruf,
CreamWare's chief developer. "I think back to legendary experiments such as
the PPG Realizer and the Korg OASYS. Now, finally, the technology has
advanced to the point where these dreams can become reality. Noah takes
these ideas much further, and adds such up-to-date features as
expandability via the Internet, an editing and control software for Mac and
PC, direct integration into software audio sequencers, and a USB
interface."
Noah will be available in the summer of 2002. Although the list prices have
not yet been established, the keyboard version is expected to retail for
under 2000 US $.
etc.. (my opinion)
well, its nice and its emulations are really good.. its nothing for sound ppl.. because its really a strict emulation of a pro one, minimooog, guitar (not beyond a guitar, so you cannot do more wth those parameters..
it has also audio streams for mac and pc (6 audio channels) and midi. you can have 2 instruments (organ,guitar model 6/12string,pro one,vectron,lightwave,minimax (minimoog emulation that is really GOOD!!, reverb, vocodizer (vocoder)),etc..) or if you expand to ex it has 4 instrument simultaneously.
a flexible DSP audiocard – especially the modular synthesizer is worth a look.
there is a waldorf OSC in it, so you can model all PRESET wavetables of the waldorf microwave and ppg series! and mod it at FM speed!.. very interesting thing to have..
recommended: the saturn synthesizer from keyboards.de germany magazine (by rainer hain, also a fan of the roland jupiter6 so here you got it as software.. well.. as software can model it..!! (more featurewise!) also have a look at the FM synth and the VECTOR synthesizer! it is modeled after some sort of expanded sequential cirtuits prophet VS! and you can do all that you can do with the original! there are many more interesting things with creamware scope and pulsar (and pulsar 2).. they all offer good audio quality ,so imagine the noah as some sort of hardware pulsar, can be used as audio interface via USB (!!). not bad.