Dr.Böhm ( Doktor Boehm ) Soundlab Modular Synthesizer
modular system
Dr.Böhm Soundlab 
Dr.Boehm (1960-2006)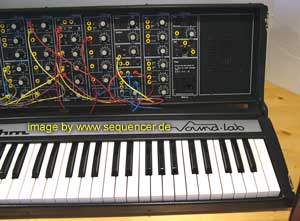 <–enlarge pictures Soundlab (click on them)
in 1979 theBöhm Soundlab by Professor Enders (University of Osnabrück, Germany) & Oliver Kellog was released.Böhm is now officially bankrupt -> insolvency in 2006.

THE BOEHM SOUNDLAB
uses banana jacks and is quite interesting / flexible.
it provided multi mode filters when HPF,LPF,BPF combinations were still rare.
böhm is a german electronic organ company for DIY kits and other stuffs from minden in germany. biggest competitor was wersi ;)find a nice info about the soundlab in "Synthesizer von Gestern Vol.2" by M.Becker who also released 3 CDs feat. Vintage Synthesizer Tracks .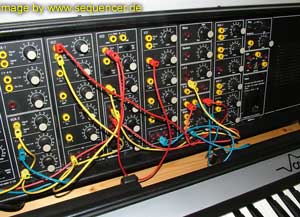 Soundlab
the Dr.Böhm Soundlab was the only synthesizer by böhm beside the böhm "Dynamic 24" expander with Casio-type of PD synthesis , in this case phase modulation meaning phase distortion which is very close to FM.
the soundlab is quite rare and boehm offered DIY Kits and assemlbled ones.
quite interesting modules were made like 8bit sampling.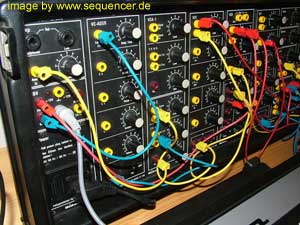 Soundlab

____
what Böhm did normally – organs
Böhm Synth overview / überblick..

Top Sound DS
the non-info
btw: as Consequence / Moogulator I started with a
DIY Organ Kit from Böhm, the Top Sound DS had envelope
(the fx register) for all sounds one env, same with a kind of LFO
for repeat FX and a spring reverb, very 80ies, made in 1979
incl "Böhmat" the Drum Machine of this monster.. drawbars on both keyboards
just in case some1 is interested..