Arturias new tiny Microbrute synth / Neuer Arturia Synth Microbrute
more than rumours- a new Arturia Synth is coming…
it's tiny. it's micro. but they say – it's big what's coming up next 5/6 days..
1x Multi Timbral, 1 Voice, (2013) 
Arturia Microbrute Analog Synthesizer
+ step sequencer
1 OSC, 1 Sub, 1 Filter, 1 LFO, 1 EG
subtractive analog synthesis,
25 Keys, velocity usb MIDI CV Gate Ctrl,Sequencer, ~299€ (in 2012) continue / weiter..?
MicroBrute 100% Analog Synthesizer Introduction
and Nick of Sonicstate had one – so here's a walk-through video – almost any important Minibrute Feature in except the 2nd Envelope.

UPDATE: rumours say 299€ might be the price. it's not official, just a guess leaked by a shop (…).
ein neuer kleiner Synthesizer von Arturia wird kommen. Klein und leicht. Vermutlich für etwa 300€, aber das ist reine Spekulation zur Zeit. Sollte das stimmen, ist das absolut attraktiv, nicht wahr? Grade mit dem kleinen Sequencer…
Kein Gerücht, aber nicht klarer bezeichnet – Teaser -> http://arturia.com/k4Lv1n/index.html
ein paar schlechte Fotos. Well – a bad image..


Forum • Arturia – coming soon!.
Ein Vorschlag sieht so aus: Microbrute
Render oder real? in ein paar Tagen wird man's wissen…
Der Microbrute hat kleine Tasten, ist also deutlich kleiner als der Minibrute!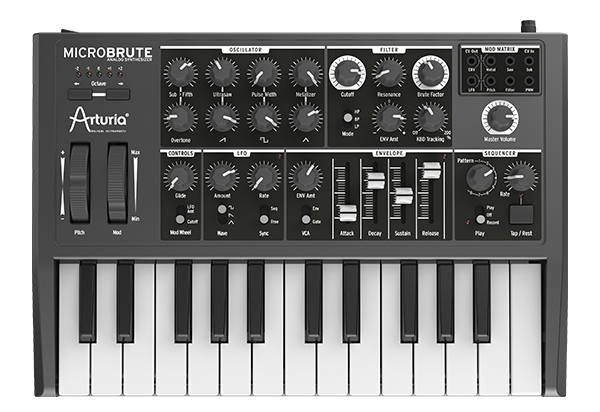 oder so..
der Pressetext aus dem Forum – Press info from the forum…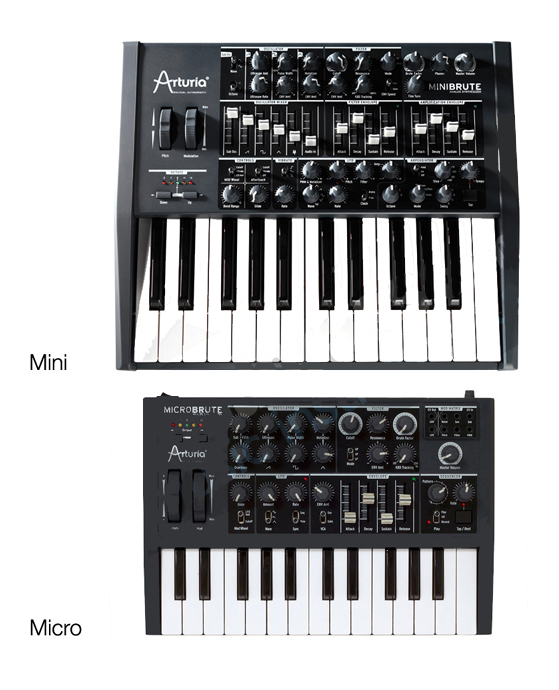 THE MICROBRUTE OVERVIEW
LOOKS TINY. SOUNDS MASSIVE.
MicroBrute is the tiny analog synth with vast possibilities. Based on the award-winning designs of its little brother, the MiniBrute, the MicroBrute puts all the essential building blocks of an analog classic into a package that's pure hands-on fun.
If you're new to synths, you're looking at one of the easiest to use and most unique sounding synthesizers we think money can buy. And if you're a synth veteran, we think it won't have escaped your attention that MicroBrute is also a seriously capable semi-modular sequence-able beast. Wait till you hear how it sounds.
Rip woofers from their housings with bass. Spend years coaxing different pads, leads, effects, wave-folded growls, vintage tones, modern tones, punchy drum kits and glittering sequences. Process audio. Sequence analog gear. Give your modular a new LFO and Envelope Generator. Hook up to your DAW and make whole tracks. Hook up to your Drumtracks, open your door, and play a whole gig.
Tiny in size, tiny in price, huge in sound, and vast in potential. We've had so much fun with MicroBrute: Now it's your turn.
ANALOG POWER
The voice path on MicroBrute is 100% analog. This makes for superior sound quality and warmth. The MicroBrute will inspire your tracks. The purity of signal allows it to sit in the mix well.
VINTAGE SOUND WITH MODERN CONNECTIVITY
The MicroBrute allows you to connect to vintage gear via standard 1-Volt per octave CV/ Gate. The MIDI In jack makes the MicroBrute the perfect sound module expansion to a MIDI rig. The USB/MIDI interface will allow your MicroBrute to connect with your favorite software application.
This combination of interfaces makes MicroBrute a great companion to a monolithic modular system, a classic MIDI equipped keyboard or a modern laptop
OSCILLATOR
The oscillator is the heart of the MicroBrute and it does not disappoint. It features 3 waveforms that are mixable. This allows you to shape the sound in limitless ways not found on any other synths. Along with the SAW, TRIANGLE and SQUARE waves, MicroBrute features waveshapers which modify and animate the sound, to create an even wider pallet of sonic possibilities. The new Overtone Oscillator will generate additional harmonic content, ranging from one octave down to a fifth above the base Oscillator pitch. The Sub-5th control will allow you to continuously sweep spectrum. Never has a single oscillator synth sounded so big.
STEINER-PARKER FILTER
The Steiner-Parker filter helps to give the MicroBrute its unique sound. This filter design was first used on the classic Synthacon synthesizer in the 1970's. With Low pass, Band pass and High pass modes, you will not find more filter personalities from any other synth in this price…even in many synths at 3 or 4 times this price.
STEP SEQUENCER
Our new step sequencer is a source of endless inspiration. You can step input notes and rests creating rhythmic patterns that you can playback and switch between. Transpose your sequences up and down using the keyboard and you will have a new composing tool that will open up fresh ideas.
MOD MATRIX
The Mod Matrix is a patchable system of modulation routing. This flexible scheme gives you not only new ways to create your own sounds, but it allows for excellent interfacing with a
Minibrute or modular synths
HARDWARE SPECIFICATIONS
– 25 Minikey keyboard – Octave up and down buttons allow for a full range of transpose
options – Monophonic Analog synthesizer
FEATURES RELISTED
– Steiner-Parker multimode filter
.Low Pass
.Band Bass
.High Pass
.Bi-polar Envelope amount control
.Keyboard tracking
– Arturia's famed Brute Factor – Voltage Controlled Oscillator
– Oscillator waveshapers
.Ultrasaw for creating dance anthem sounds
.Pulse width for creating thin nasal sounds or rich square tones
.Metalizer for creating harsh, harmonically rich sounds
– Overtone Generator
.additional harmonics, from 1 octave down to 5th up
.Sub-+5th spectrum shaper
– Oscillator Mixer (Overtone, Saw, Triangle, Square)
– Wide range LFO with 3 waveforms
.Saw, Triangle, Square
.Freq range from .1Hz to 200Hz
.Syncable to external sources, sequencer or internal
– ADSR envelope – VCA with GATE and ENV modes – pitchbender – Modulation wheel (can control filter cutoff or LFO amount)
– Mod Matrix – standard 1 Volt per octave
.Envelope Out
.LFO Out
.Ultrasaw modulator In
.Pulse width mod In
.Metalizer In
.Overtone/Sub modulator In
.Cutoff In
.Pitch In
– External Audio Input with Input level control – 1/8" headphone output and 1/4" audio output
– CV/GATE interface
.Pitch Out
.Gate Out
.Gate In
– MIDI Input – USB 2.0 Type B jack – Glide time control
– Step Sequencer
.Rate control knob
.Tap Tempo button/Rest input in record mode
.8 storeable sequences
.PLAY and RECORD modes
.Sync to external MIDI clock
– 12Volt, 1Amp Center pin + DC connector – Weight (1.750 Kg) – Dimensions (325x221x60mm)