Korg Watch / Roland Watch + Audioweld Synth Watch + Moog …
but before you see the Korg-one . Bevor du die Korg Watch siehst, eine SynthUhr, die zumindest bei Kickstarter läuft. Exklusiv ist es ja auf jeden Fall.
update- someone wants to make Wearable Synth Watches -> Audioweld:
Mann von Welt – trägt Audioweld
Kickstarter für 550€ – which is .. hmm – get the app for a little more money – who still want's an iPhone, yet? and yes – it has a synth inside, not just via the app (they say). 200 sounds. so the iPhone thing is more like an editor.
the "real™" ones are like this: G
Korg Synthesizer Watch
hard to play the ribbon on the monotron / monotribes isn't really new, but they have been cool before as well: Korg Watch – well, if this one is real.
Kronos is a synth, so this is most likely a nice self made gfx thing, doesn't look like it has the interface to really work. Maybe just because kronos sounds like Chrono -> clock.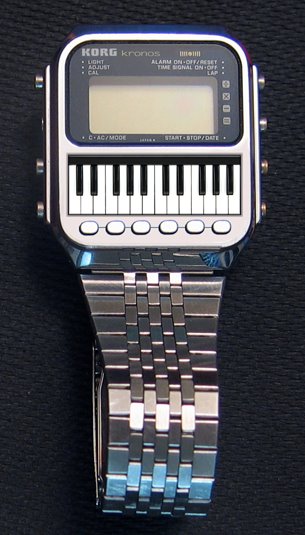 and
Roland Watch
added.. via comment!! ;) thx!
(and of course this is photoshopped or affinity designed or pixelmatored – just to remember there is life beside the monthly cloudy shi'at)
this one is pretty "bad", but you see the fun..