Ok, let's check again what Kraftwerk are using on stage – since the last tour (the controller leak was posted in the forum as well) –
Better Images where you can see the Creamware Synth etc are @ the Forum Kraftwerk III…
controlling the visuals – searching for something?
everyone has a touch screen and this guy was the only one who had a Mac on stage (Kraftwerk are "Anti-Apple" ever since)  on that museum tour showing all their albums as one event (I was at TEE) – here's touchpads also there is the shuttle pro on top and a track ball – almost classic for visual timeline control etc. – the one on the bottom is much like a Keith McMillen Quneo controller because that's what it is ;)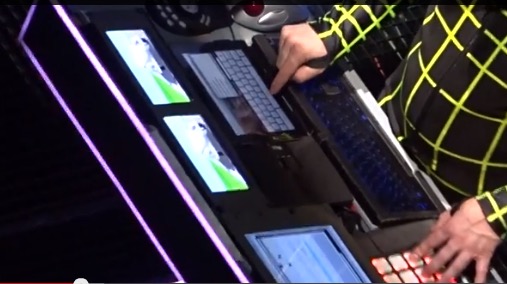 well – he's going back to some control surface – possibly changed the scheme or preset – controlling visuals – I assume. Or just checking Emails? – ok he's the video guy so it's about visuals.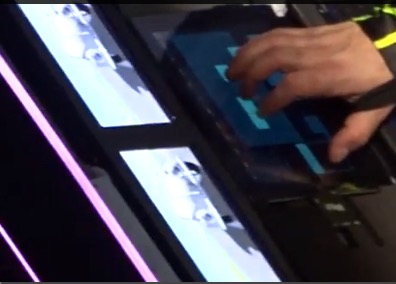 "Ralf" – playing melodies and vocoder chords aided by some screens. playing a Creamware Minimax , ASB Digital Synthesizer – check the Forum images to have a better view/more details. so it's unique to see hardware synths again at their show. Since Kraftwerk were Odyssey users maybe it's Oddity 2 vs. Korg Odyssey they might use — but seems like they– especially "the player" Ralf has always been a Moog guy.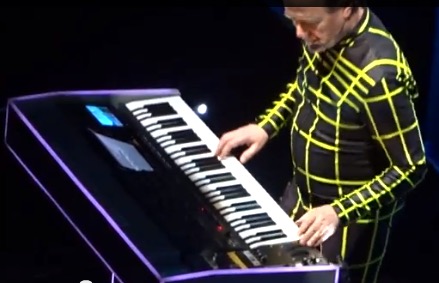 "Henning" – simple controller, a Numark Orbit controller with accelerometer, Novation Remote SL Mk2 Zero and large screen. 2 special (possibly hand made) controllers – do I see the ribbon controller from doepfer here as well?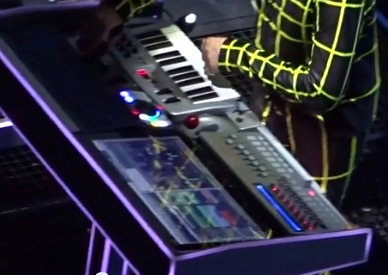 "Fritz" – that tab is running Lemur for control stuff, NI Maschine (as a controller and pads for triggering samples) and some smaller stuff plus large touch screen and keyboard. and doepfer R2M ribbon controller. some special custom made faders and knobs (or do you know that controller)..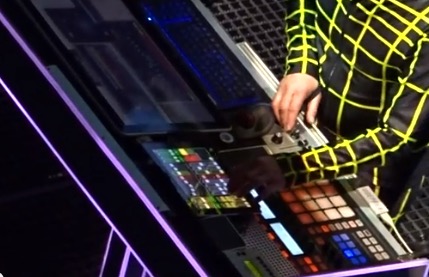 Sooner or later this video might be deleted – http://youtu.be/b16s210t0pk
that software is … what?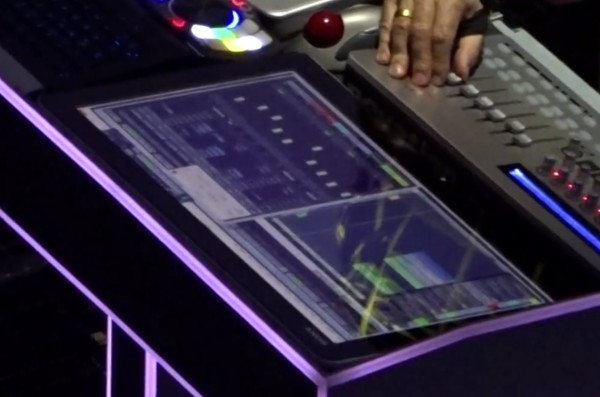 _
Und? Jemand Lust auf eine etwas haarige Diskussion Polarisierer: Kraftwerk III
Die Konsolen – Consoles: 2-3 – 2016 via KraftwerkFAQ.com added: