Laibach sind wieder da, ich wusste es schon lange, da sie in der Christuskirche spielen und das ist einfach eine sehr schöne Location. Sie haben dort mehrere Projektoren installiert, um oben, Mitte und Seite zu bespielen und das selbstredend sehr stilvoll, sowohl ästhetisch wie auch sonst, als sei das Gebäude für Laibach gemacht worden. (weiter unten)
I've been there – the Zarathustra Tour is dark, very dark and again something new in the Laibach universe which is wide and always gives birth to something new. nevertheless Mina has only one song on the new album, she had the chance to do more than that and – it was a very good choice to have her – that church is a very cool place for projectors and visuals along with this music..
Vor der Kirche staut sich die Menschenkette einmal um den Platz und das ist gut so. Eine Freundschaft vor mir informiert wer Laibach ist – der Unkundige fragt "klingt dat immer so" – Antwort – "nein", die sind sehr vielseitig.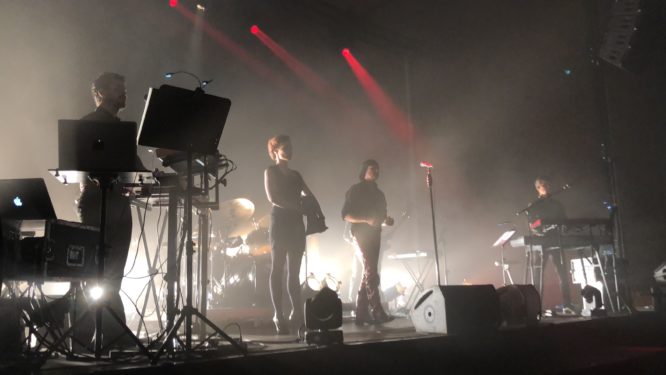 Und ja, wenn irgendeine Band Vielseitigkeit bewiesen hat, dann sicher Laibach. Von Industial bis Pop, Songwriting bis Ambient scheinen sie unbegrenzt, das neue Album "also sprach Zarathustra" ist dunkel – dunkel wie die Nacht mit entsprechenden Sounds, die vorwiegend elektronisch ist, so wie das Vorgängeralbum Spectre, aber das ist auch das einzige, was sie gemein haben. Es ist geheimnisvoll, düster und hat eine neue Art von schleifenden und reibenden Klängen, eine neue Ästhetik. Ja, so ist das bei Laibach nunmal. Interessanterweise wird Mina auf dem Album nicht so viel eingesetzt, aber als sie die Bühne betrifft ging die Sonne noch einmal auf, auch das Licht wusste es.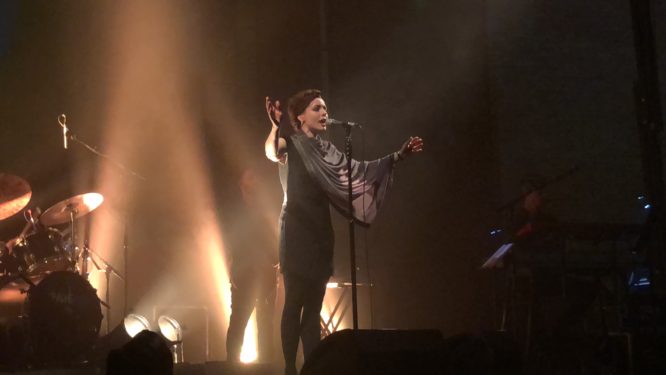 Ohne es zu sagen, scheinen alle spätestens dann versöhnt, außerdem spielen sie einige Klassiker wie Wirtschaft ist tot und noch irrer – Den vom Alpha 60 System gesungenen Track "Le Privilege de Mort" wird live gesungen und in einer neuen Version gezeigt. Es bleibt defintiv nicht das einzige ältere Stück. Anders als bisher, gibt es keine spezielle Pause, sondern eine Zugabe – 1:30 etwa haben sie gespielt, es verging rasend schnell.
Mit übrigens nicht all zu viel Equipment aber sehr gekonntem Einsatz sind sie bald wieder weg, super war das. Und nächstes Mal wieder.. Gerne wieder hier in der nicht zu kalten Kirche..

Nord Lead 2x, Remote Keyboards, Korg MS und DSI Mopho 4x – und dieses Mal auch ein Gitarrist, der auch schonmal mit dem Bogen spielt und natürlich Drums.
Hier das Drumherum: