Lamb @ Cologne live 2017 (7.Oct)
(english below)
Lamb spielte gestern in Köln, also dann mal hin – die typischen Hörer scheinen Pärchen zu sein. ü30 – eher ü35 Menschen – wieso? Weil Lamb auch schon 21 Jahre existieren. Trotzdem ist das Set durch alle Stücke kein bisschen "retro" sondern passt sehr gut zu 2017. Deshalb ist dies fast mehr ein Tipp für die, die vielleicht noch nicht 30 sind? Der besondere Stil ist Triphop mit ungewöhnlichen Rhythmen im groben Bereich Triphop mit Gesang der elegisch-superschönen Art. Ein sympathischer Stage-Guy reicht während der Show Louise einen Becher für den Tee – überhaupt ist die Stimmung sehr familiär und entspannt. Dieses Mal gab es 4 Gastmusiker – Schlagzeug, Trompete, Viola/Violine, Trompete und Bachtrompete wurden gespielt – Basser und Schlagzeuger blieben auf der Bühne, Violinistin und Trompeter kamen bei Bedarf auf die Bühne – alles eher nach Jazz-Manier mit Applaus und allem – verdient natürlich, denn es war sehr abwechslungsreich, was aber auch wenig überrascht – Lamb sind nämlich einfach nicht zu konventionell, so erzählt Andy zu Beginn des zweiten Sets, dass sie das erste Mal die Songs des ersten Albums spielen (Setlist ist unten zu finden) – und wie sie sich gefunden haben. Als Musiker, nicht als "Paar" (ja!) – und wie so oft – er fand damals kein Label, denn das sei ja alles nicht kommerziell genug. Das stimmt sicherlich auch, denn die Beats sind vertrackt, komplex und genau deshalb super. Es ist gut, dass sie sich gefunden haben und es geht los – nach recht längerer Wartezeit. Louise hat zwei Outfits – für jedes Set eins, denn auch sie verschwindet bei den instrumentalen Stücken hinter der Bühne, ihre Eröffnung erfasst schon bald die Zuhörer, Andy heizt gern an – er arbeitet direkt auf der Bühne so, dass er sämtliche live gespielten Instrumente mit Live-Effekten spielt und einzählt – der Blickkontakt und die Signale stimmen – und wir werden immer wieder angefeuert und wir machen das auch. Die meisten sind einfach für sich "in der Musik". Angenehme Leute übrigens. Und das Schlimme, dass das schwebend-engelhafte schwer zu beschreiben ist. Die Songs tragen sich selbst, die Stimme erfasst sofort und bringt alle in ihr eigenes Land, das Lambland.
Ich hör auf zu schreiben, genießt die Bild und die Musik, ah – schade, du warst nicht da? Lohnt sich!…
Ach, beim letzten Song war die Bewegung des Gesangs im Raum oberhalb der Halle ein großartiges Erlebnis und fast Höhepunkt. "Feela" gibts als goldenes Vinyl auch zu kaufen, very neu! Tolles Erlebnis – das live zu hören.
Very well done, Lamb were back to Cologne, playing their first album – find the set list below – with Louise, coming to stage with her cute natural "first set" dress – it didn't take long to get the audience to come into the world of lamb, where the voice and complex trip hop'ish beats come together – and this is, where lamb are unique – it is sort of "good" that Andy wasn't successful when he tried to find a record deal in the late 90's – but Louise as a singer – and they really hit it – since – you never find these vivid drums open to experiments with such a cute and also elegiac whole in addition to adding acoustic instruments – this time it is violin, trumpet and bass (both – classic and e-bass) – and a very new track showed off what Andy does – the conductor sets up and controls the FX onto every instrument incl. Louise's voice – makes it more electronic and on the last song flying in the middle of the hall and moving in circles – so it is in fact a very modern electro acoustic and "electronic" band. get one of the gold vinyls with "Feela" ..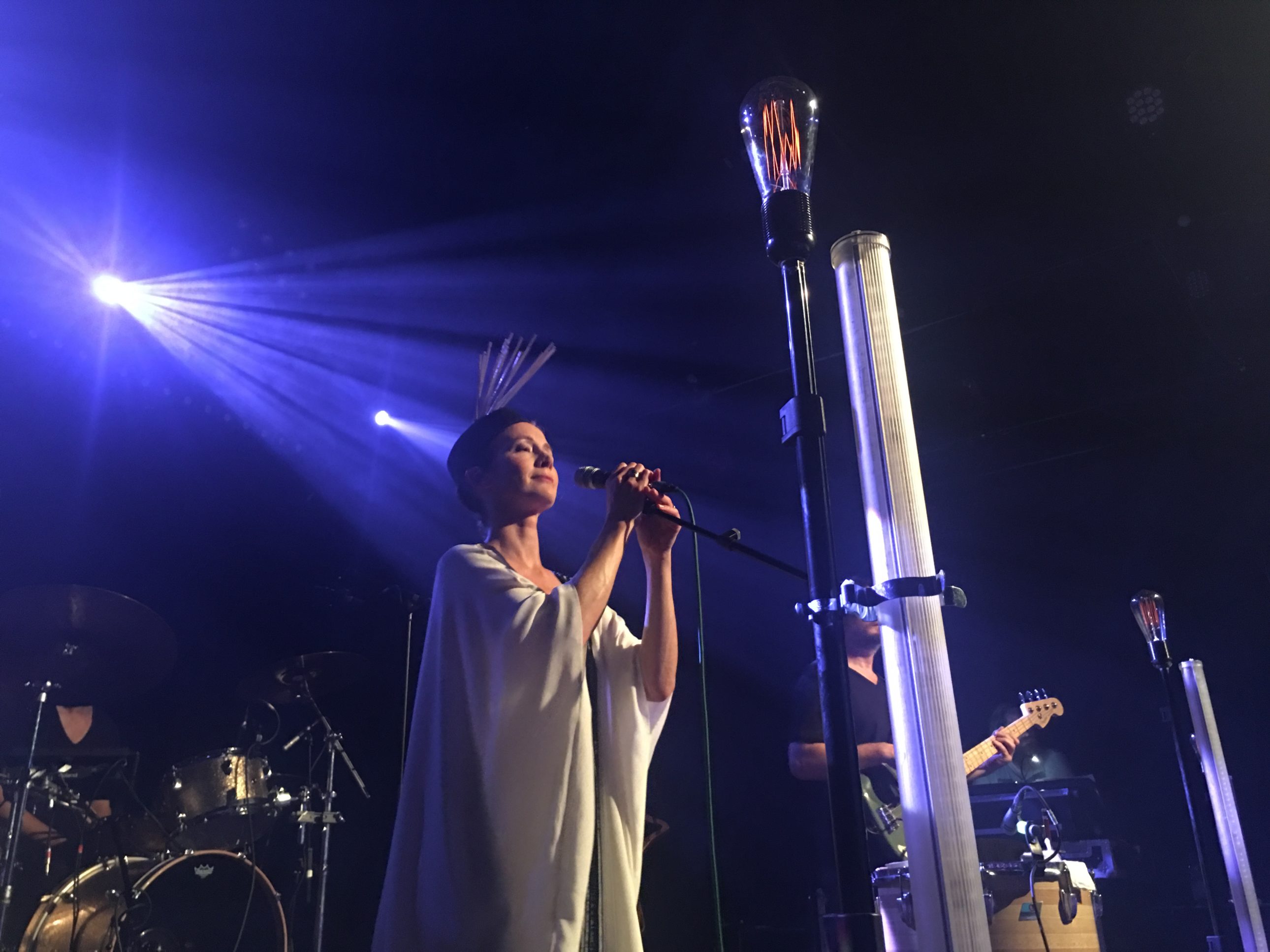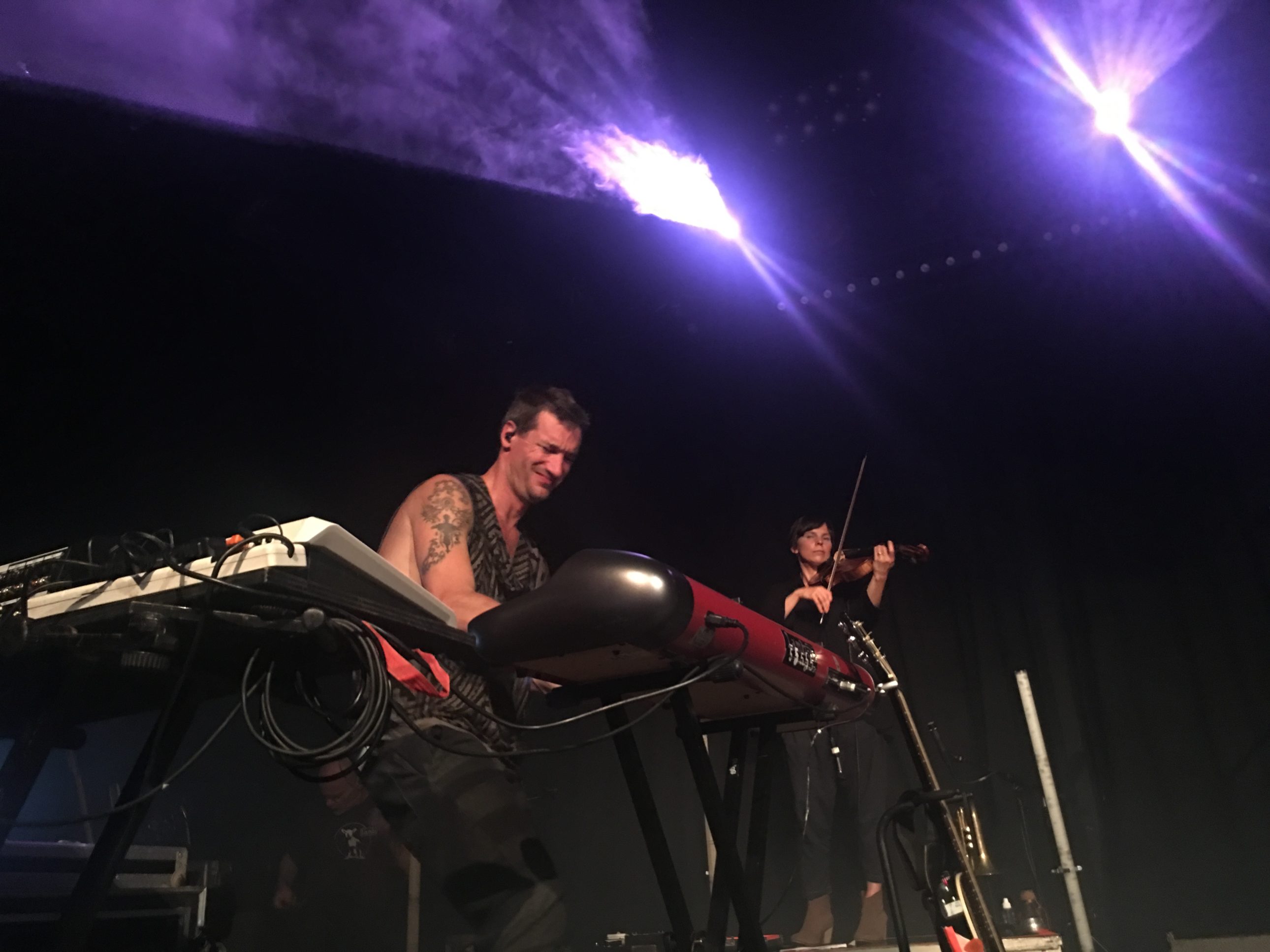 Die Umgebung sah so aus – und die Setlist für die beiden Sets sind hier zu finden:
the set list and the environment – tech and stuff..