Marion System / Oberheim SEM plus + Mini Sequencer – Eurorack
Die Eurorack-Modul-Version des Tom Oberheim SEM unter dem Namen von Tom Oberheims früherem Firmennamen Marion Systems unter dem seinerzeit Nachfolger des Matrix 6 /1000 angeboten wurden (Prosynth und MSR2).
Die Taster sehen so aus, als könne man deren Status intern sichern. Allerdings fehlt dazu die Speicherstruktur. weiter..
außerdem gibt es noch ein Modul, den Mini-Sequencer aus dem 4-Voice. Hast du den OB6 schon gesehen von Oberheim und Dave Smith?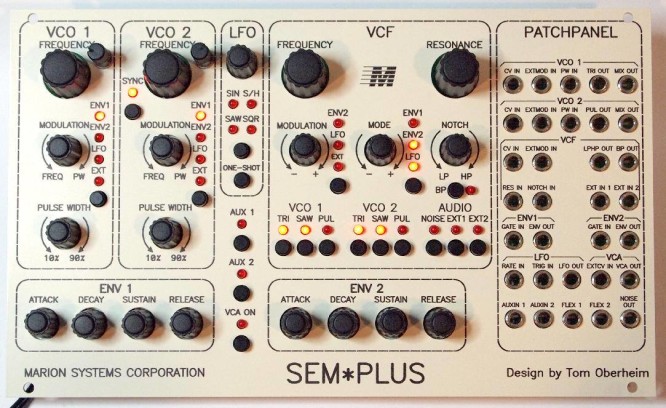 Eurorack version of the Oberheim SEM, Synthesizer Expander Module. the name Marion was an earlier brand of Tom Oberheim SEM, SynthesizerExpanderModule, the SemPro semi modular,analog selling post-Matrix 6/1000 analog rack synths.
these buttons and knobs also look like they could be able to be saved and memorized.
Additional to that – the Mini Sequencer (known from the Four Voice)
ps: did you see the OB6 from Tom & Dave?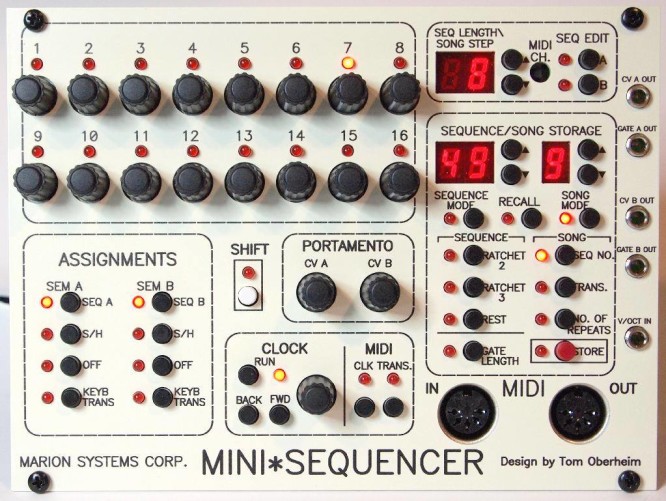 image via Geoff Farr
–> earlier info about that idea bringing it to the eurorack world seems true!
he was showing those under the Tom Oberheim brand – but different design on 2015 NAMM.