UPDATE: KB37 Keyboard für Module ist gerade auf Waldorfs Site erscheinen: uuuund..

Waldorf bringt 3 neue Module, die buchla-artig arbeiten. Es ist klar, dass damit ein faktisch komplettes System zur Verfügung steht, es fehlt nur ein resonantes filter.
der VCA ist ein doppeltes low pass gate, also zwei Filter und zwei Verstärke, das Filter ist ohne Resonanz.
der Kompressor bietet alles, was kompressoren aus macht, nämlich eine AR Hüllkurve und einen Envelope Follower um die Lautstärke zu analysieren.
Das Mod1-Modul enthält einen LFO mit Symmetrieeinstellung und zwei Hüllkurven, davon sind beide loopbar. Die eine ist eine einfache AD/AR-Type, während die zweite eine 8stufige komplexe Multisegmenthüllkurve ist, die perfekt zu der Steuerung von Wavetables und Sample-Granular-Sachen passt, 4 Levels (mit Sustain und 5 Zeiten können eingestellt werden oder eben mal als ADSR-Typ verwendet werden. Clevere Sache.
Das alles wird sicher noch zusammen einen "Rahmen" bekommen:
Waldorf Product News 2016
KB37 is a unified rack keyboard for euro modules.
____
--> Waldorf has just announced 3 eurorack modules <--
additional to the waldorf wavetable oscillator nw1:
the coolest one may be the combined mod1 – which is 2 envelopes and one lfo – the envelopes can be looped individually. on being an AR typ, the other is a complex one that can be
used as ADSR or AD L1 D L2 D L3 SR (which is ADDDSR with 3 additional levels – a multi stage envelope with 8 parameters).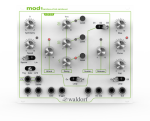 the dvca1 is a low pass gate which is a dual vca with dual filters without resonance known from the buchla (wast coast philosophy).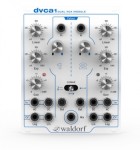 the last one is a compressor called cmp1 – it has an AR envelope and an envelope follower for the obvious functionality of analyzing the amplitude of incoming audio, applying that envelope to the gain control and the compressor itself.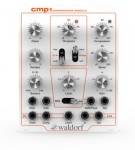 all in all this makes a full fledged western analog module series, they are only missing a resonant filter to get their entrance to the moog-kind of east coast modular world, and this will cry for something to put all in – so expect something that makes sense and adds the waldorf gene to it!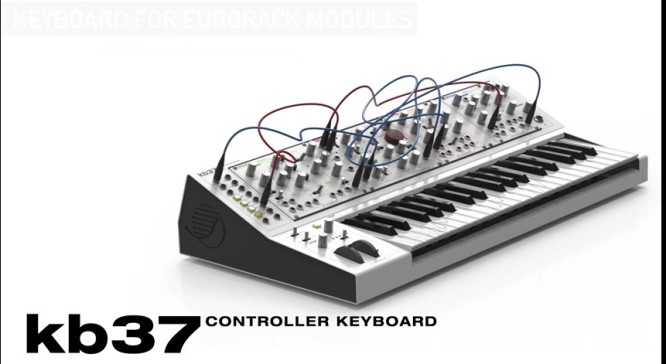 __
the fun corner II
here's a nice fake from "the makers of Sprechkäse" – Monoklinke (guy! get this guy, he can do things!!) – find him in the sequencer.de Forum! Ehrenmartin aus dem Martin Gore Soundcontest.