Mehr in Bildern als in konkreten Features wird aktuell angefixt,
aktuell soll dieser Synth von Roland kommen: – leider ist das nur einfach ein SH101 – daher ist das hier nur ein Wunsch:
SH01A in groß./ Large Scale SH01A – 4voice.
Das ist ein größeres Format als Boutique und eher dem von Arturia zu vergleichen, während diese sicher auch etwas dem entgegensetzen. Rolands Vorteil könnte die Polyphonie sein. Bisher zumindest.
Roland könnte hier Promars / Jupiter 4, JX3P oder SH101 in groß bringen, weil es einfach Dauerbrenner sind und die Entwicklung dafür schon gemacht ist. Ebenso System 100 (wirkt dazu zu knapp bestückt) wäre Kusshandkompatibel von meiner Seite, aber – glaube ist klein – Außerdem denkbar ist eine weitere Zusammenarbeit mit Studio Electronics, ein SE02 in groß oder ein ganz neues Ding mit anderer Struktur, dies sieht nämlich NICHT nach MInimoog aus, eher nach SH2, der auch noch in Frage käme, aber mit Sequencer und ARP'er – beide im SH01A extrem vorteilhaft umgesetzt, vielleicht die praktischste und damit interessanteste für den Spaßfaktor. Jupiter wäre ebenfalls denkbar in dieser Größe, da es verdammt viele Menschen gibt, die einfach keine kleinen Tasten mögen, diese hier sind offensichtlich groß und das Gerät ist eher handlich aber nicht klein – Mopho 4X – Größe – mit 2.5-3 Oktaven.
Was wirklich sein wird und ist: Hier sehe ich 2 Oktaven, das Layout des SH01A und das alles in groß aber mit der Technik des Boutique.
2 Oktaven riecht nach 4 Stimmen, nicht nach 8. Vielleicht einfach nur ein SH101 mit Holzseiten – weiss man heute ja alles nicht mehr.
Ein Umschaltbarer Juno/SH101 wäre technisch absolut machbar, da sie sehr ähnliche Struktur haben, es wäre ein extrem interessanter Synth, da beide Synths vierstimmig wären und beliebt sind im Sound.
wie wir es kenne – as we know it – Roland Boutique

src: https://www.instagram.com/p/Bea63x7H2gX/
a wish but not really seen – since this is actually an SH101 with wood side panels added. To me this looks a lot like an enlarged boutique with big knobs und keys, since a lot of people cried out "toys toys" when they released their new series – anyway – this could simply be a bigger SH01A with it's cool Arp/Sequencer, done better than other Boutiques – and the layout does not look like Studio Electronics, Minimoog – but like some sort of SH, there is still Jupiter 4/Promars, a Poly-System 100 and JX3P that could be done with not too much engineering.
and – it's size looks nice to those "other" ppl .
rumours still..
Imagine a combination of SH101 and Juno 6/60/106 (JU06 and SH01) which is super super possible and both are totally legendary and the layout is almost the same – except LFO Waveforms on the SH – but both could be polyphonic but 4 voices incl. unison mode. 
most attraktive version ever. so this could be the Überroland for some of us. right? btw – I assume it's digital, but who cares after System 8 etc. quality level? maybe there are still ppl who disagree, but..
well – this is the layout of the SH01A so this is very very surely a larger SH01A and 4 voices – sure this will be cool – if they had the Juno built in as well it would be as cool as my thoughts but sort of very well done.
haha or it's just an SH101 with wood end panels.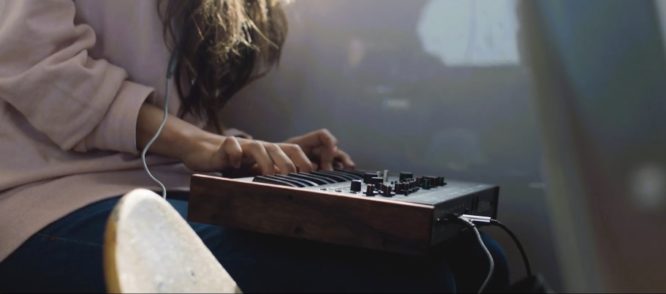 Schon gezeigt, daher nur in kleiner Widerholung- Behringer packt VP330-Clone aus, zum wiederholten Male.
VC340 nennt Behringer ihn selbst – er sieht auch genau so aus und hat MIDI. Das lasse ich mal unkommentiert, er ist analog und die Schaltung ist sehr ähnlich, wie beim D-Synth im Vergleich zum Minimoog, im Gegensatz zum DeepMind, der dem Juno weniger ähnelt als diese beiden, also wird er und der D-Synth authentischer klingen, außerdem lässt Behringer fragen, was sie noch "so" machen können – alles via Facebook. Was auch immer davon zu halten ist – Curtis-Chips gibts jedenfalls auch von Erica und das belebt die Lage sicher gewaltig.
as shown before – the VP330 Clone seems ready by Behringer – smaller and nicely looking with MIDI – while Erica do Curtis ..
maybe more analog stuff coming up sooner or later, then?
CEMs pics by Ken Macbeth! VC340 by Behringer via FB.
Neue weitere Synths könnten passieren und werden auch..