Waldorf STVC Vocoder + Moog DFAM Synth
Waldorf scheint eine Art Keyboard-Streichfett zu machen, STVC heißt er, VC könnte steht für Vocoder (Sprechkäse-Style) und sieht ganz nett aus. Eine Stringmachine mit Vocoder umd genau zu sein mit den Features des bekannten Streichfett Forum Talk pre NAMM
this new Keyboard looks like the Streichfett String Synth with Vocoder (hence the Name STVC?)
it's just that in the typical Waldorf look / Key.comes with gooseneck microphone.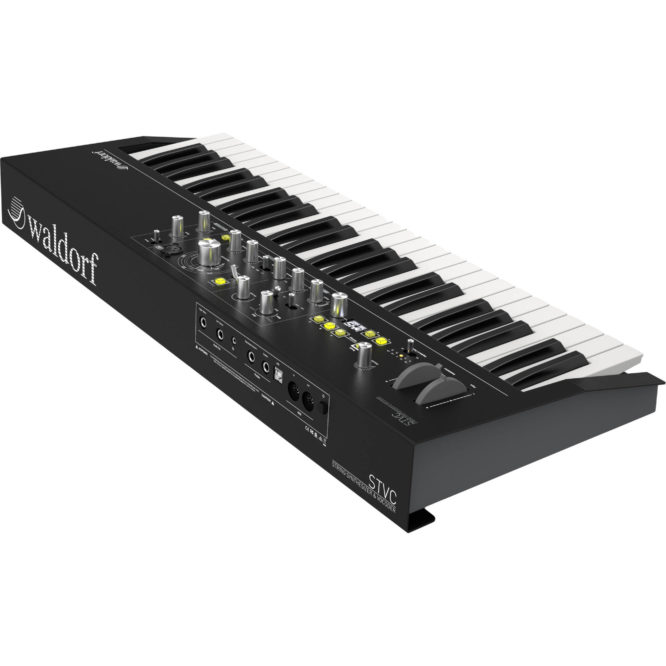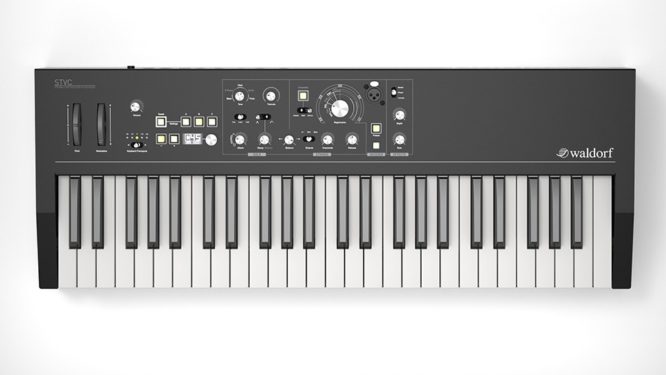 Spezifikationen STVC
Hardware
Keyboard mit 49 Tasten, Aftertouch und Velocity
Keyboard-Transpose +/- 2 Oktaven, 10 Drehregler, 1 Encoder, 9 Hintergrund-beleuchtete Tasten, 5 Schalter
44 cm Schwanenhalsmikrofon mit LED
Anschlüsse
MIDI In/Out & USB
6,3 mm Klinke für Pedal/Ext.-Signal
3,5 mm Miniklinke Kopfhörer-Ausgang
6,3 mm Line-Ausgang Links/Stereo
6,3 mm Line-Ausgang Rechts/Mono
XLR –Mikrofonbuchse auf der Oberseite
Klangerzeugung
Vollpolyphone String-Sektion
Kontinuierliches Morphing der String Registration
Animate-Effekt zur Modulation der Registration
Ensemble/Chorus-Effekt für Strings
Phaser-/ Reverb-Effekt
16 stimmig-polyphone Solo-Sektion
Kontinuierliches Morphing der Solo-Sounds
Tremolo für Solo
126 programmiere Patches in drei Bänken
Tweak-Feature für Modulation und spezifische Einstellungen
Vocoder
Exzellente Sprachverständlichkeit
Formant-Modifikation
Freeze-Modus
Komplett polyphoner Carrier
Optionales Jitter des String-Carriers
Kontinuierliches Morphing der Preset-Register
Animate-, Phaser- und Reverb-Effekt gleichzeitig nutzbar
-> 749€
Moog DFAM Drummer from another Mother (silly name and not really a drum synth but a synth with 8 step sequencer – that name might confuse everyone. so just think: synth – drums maybe because of those small envelopes. Decay!
the just posted a new Video of the April 2017 announced analog Synth – sounds cool – to me at least, it is monophonic so don't expect a drum machine, might be a bit misleading – it's more a bass synth:

DFAM | Drummer From Another Mother