long time no see.  here's the Streichfett Digital Synthesizer (german-> bread spread fat)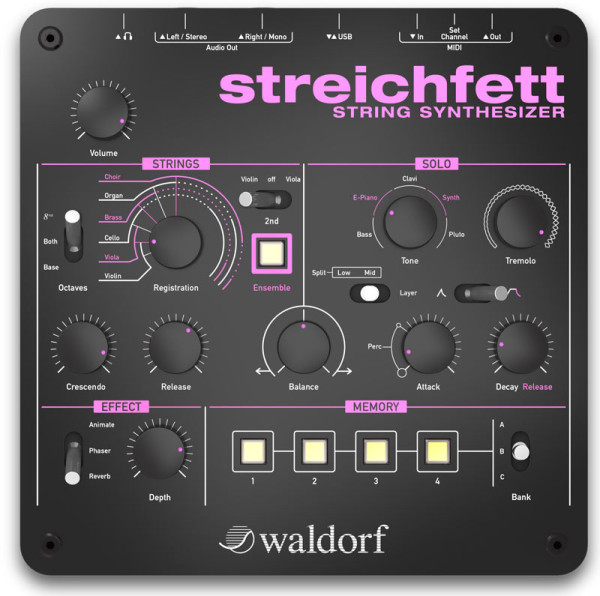 Waldorf is not only semi-announcing a Rocket-Kind of synth called Streichfett that has a certain humorous aspect in it (used for food like butter).. there's no real image but some mags got ads with blurred Streichfett-Images along with 2Pole and Rocket in the same case. Image at the Forum: Flächenleger "Streichfett" von Waldorf? __ And – all classic Waldorf Plugins get 64bit'ified like:
Folgende Plug-ins werden als 32-/64-Bit-Version im AAX-, AudioUnit- und VST-Format erscheinen:
·          Largo
·          PPG Wave 3.V
·          Waldorf Edition
Die Waldorf Edition beinhaltet Attack, D-Pole und PPG Wave 2.V.
 (Lector ist schon in 32/64 Bit als AudioUnit- und VST-Plug-in erhältlich.)
___
Update Streichfett Features:
Insgesamt 12 Patches können abgespeichert und in der Memory-Sektion ausgewählt werden und natürlich bietet Streichfett auch USB- und MIDI-Anschlüsse.
Forum mit mehr Text und Diskussion: Ein neuer Flächenleger von Waldorf "Streichfett"?
Features
·       Voll polyfone Strings-Sektion mit Violine-, Viola-, Cello-, Brass-, Organ- und Choir-Presets
·       2. Layer mit Violine- / Viola-Voicing
·       Ensemble-Effekt für String-Sektion
·       Typische String-Hüllkurve mit Crescendo und Release
·       Monofone Solo-Sektion mit Bass-, E-Piano-, Clavi-, Synth- und Pluto-Sounds
·       Dediziertes Tremolo für Solo-Sektion
·       Umschaltbare Hüllkurve mit variabler Sustain-Einstellung und Attack- / Decay-(Release-) Funktion
·       Effekt-Sektion mit Animate, Phaser oder Reverb
·       Layer oder Split für Solo-Sektion
·       Dedizierter Balance-Regler für schnelle Einstellungen der Layer- und Split-Sounds
·      Voll programmierbar mit 3 x 4 Speicherplätzen
Controller
·       Volume-Regler
·       Strings-Sektion mit Preset-Auswahl, Crescendo- und Release-Regler
·       3fach Oktaven-Schalter (Base / Both / 8va)
·       3fach-Schalter für 2. Voice
·       Ensemble-Effekt-Taste
·       Solo-Sektion mit Sound-Auswahl-Regler
·       Tremolo-Regler
·       3fach-Split-Schalter (Split-Punkt low / mid / layer)
·       2fach Sustain-Schalter
·       Balance-Regler mit Null-Position-Rasterung
·       Effekt-Sektion mit dreifach Schalter (Chorus / Phase / Animate)
·       Effekt-Depth-Regler
·       3fach-Schalter für Speicher-Bank (A, B, C)
·       4 Taster für Programm-Nummer (1 bis 4)
·       Komplette Steuerung über MIDI / USB
Anschlüsse
·       Stereo-Audio-Ausgang (Links / Stereo, Rechts / Mono)
·       Kopfhörer-Ausgang
·       USB-MIDI
·       MIDI-In /-Out
Preis und Lieferdatum
Waldorf Streichfett ist ab dem späten Frühjahr 2014 für eine unverbindliche Preisempfehlung von 279 EUR erhältlich.