Patchcloud vs Laser Mammoth – SysEx Sound Patch Librarian @ Web – fxpansion owned by ROLI
Sounds speichern und organisieren war bisher immer etwas für "Software", aber es gibt 2 engagierte Projekte (beides aus Berlin), die für eine Reihe von Synthesizern ermöglichen Patches hochzuladen, zu organisieren und zu verwalten im Web – ohne irgendwas.
There are 2 Web-based Librarians für Sound Patches – which is a great thing since it doesn't matter if your OS has to be updated and stuff like that – here's 2 of them:
1) Patchcloud denkt eher als Community und Sharing und unterstützt zur Zeit diese Gerätschaften – p4atch.net – is for community people and allows more than sharing – it is also about  keep them organised for these synths: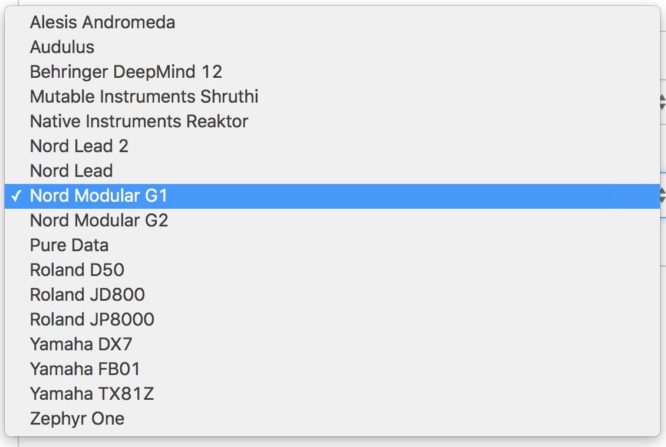 2) Laser Mammoth is more for the individual in the first place – so move your patches around in the synth – reorganise them etc. – supports these synths (so far – will be more soon).
Der Laser Mammoth hört auf den Namen f0f7 (für SysExNerds eine bekannte Kommandokette) und ist bereits an diese Geräte angepasst – man kann helfen, besonders wenn man in Berlin ist: LASER Mammoth – SysEx Librarian im Browser
__
FXpansion NEWS – acquired by Roli – since it is able to work with controllers per Voice – which is needed for Seaboard – fxpansion are known for one of the best analog type of synths – and the best auto-slice tool I ever used – ultrafast and accurate. 

und eine schwer unterschätzte Firma mit den wohl 3 besten analogähnlichen Emulationen (DCAM) und schnellsten schlauen Slicer (Geist) geht neue Wege zu "Seaboard" Hersteller ROLI-> FXpansion von ROLI aufgekauft – sicher, weil fxpansion Controller pro Stimme unterstützt, was ein Controller wie das Seaboard auch braucht – da geht wohl ordentlich was ab.