Roland System 8 – Human Leak 1
told you so..
Rolands System 8 is going to become true.
Als die Mauern fielen!
since there are 6 sections plus filter/amp – we may guess:
-> Mixer, Oscs, LFOs, Mod – they are like the System 1 – but there are some Additions:
Upper/Lower – Split – 2 Plugouts can run on each, so mixing Juno and Jupiter 8 (or System 8) in a layer is possible (new) – all 8 voice.
16×2 Display (Names)
2 OSCs, 1 LFO, OSC 3 / SUBosc
new Variation via 7-segment-display OSC1-2 & LFO, Filter (do we have hpfs here?
yes – there are more than one filter types with special knob dial)
sequencer built in
3 FX
3x PlugOut Buttons!
Plugout Juno 106 & Jupiter 8 are included (free)
they say the System 1 Plugouts work as well, so you can go for those as well (not confirmed but said in a demo video) – guess they stay monophonic, though.
hope for the Jupiter 4 with "mods" like a 2 VCO-Jupiter 4/Promars with 4-8 Voices. More likely to see the Boutique-Synths as Plugouts in here. So the only one missing so far is the JX3P/JX03 – but it's been said it's the above, no Jp4 and those that are already there – so I guess it will stay there. no D50 (for sound design rights reasons to spectrasonics), the only synths that "make sense" whould be SH5 or modular ones and maybe the JX8P or the digital JP8000 (legacy mode!) – but well – I don't think so.
of course it's digital but the best simulation I ever heard since System 1/1m

Update:
Uploading Plugouts via Plugins to Slot 1-3 works like this – just click it on the Plugin –
Einladen von Plug-Outs sieht so aus – Einfach am Plug-in auswählen, einen Slot wählen und warten, es dauert etwas länger als beim System 1..


Those internal Plugouts are uploaded via .BIN File – upload it to the System 8 via USB "as a USB-drive" and reboot – maybe update factory presets afterwards – that's all – you can wipe slots also individually and set brightness of the green LEDs and switch of the LED Casino-Mode.
Eingeladen werden die Plugouts wie Juno oder Jupiter über ein BIN-File, was man dem System per USB Upload hochläd, eine Taste beim Start festhält und dann neu startet – damit sind die Plugins dann auch sicher hochgeladen – aber es gibt System 8, Jupiter 8 und Juno 106 auch als Software inzwischen. und sehen so aus / how the plugin versions look like now – but not needed to work or upload something to the System 8 hardware:
cv/gate out, trigger in (great to have – since the boutique lack of this and can not be transposed which makes the sequencer almost help/useless – maybe there will be an update?)

and within that filter section: dynamic hpf? so do we see the SH5 structure or System 100 in here with 8 voices?
4 real size octaves – I assume with dynamics – hope for real settings for Env Amt on Filters. There are 2 Sliders – maybe Amp and Filter Sensitivity? yes – but directly controlling the cutoff – as extra setting.
Demos:

ROLAND SYSTEM-8 DEMO by gattobus
Roland System-8 Plug-out Synthesizer Demo — Daniel Fisher
more demos: Forum Thread: 
Roland System-8
Juno 60 @ System 8 Demo (weiter hinten ab 1:51:00 geht's los)
SequencerTalk 81 Soma Pulsar 23 - Roland System 8: Juno 60 - Synthesizer
new things:  TB03 & TR09, Vocoder VP03, DJ808.
1499 USD – via this Sam Ash ad. –
 'Keyboard Magazine', Page/Seite 39, issue/Ausgabe October 2016.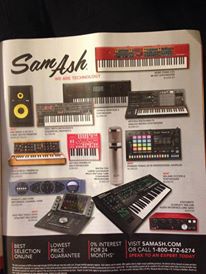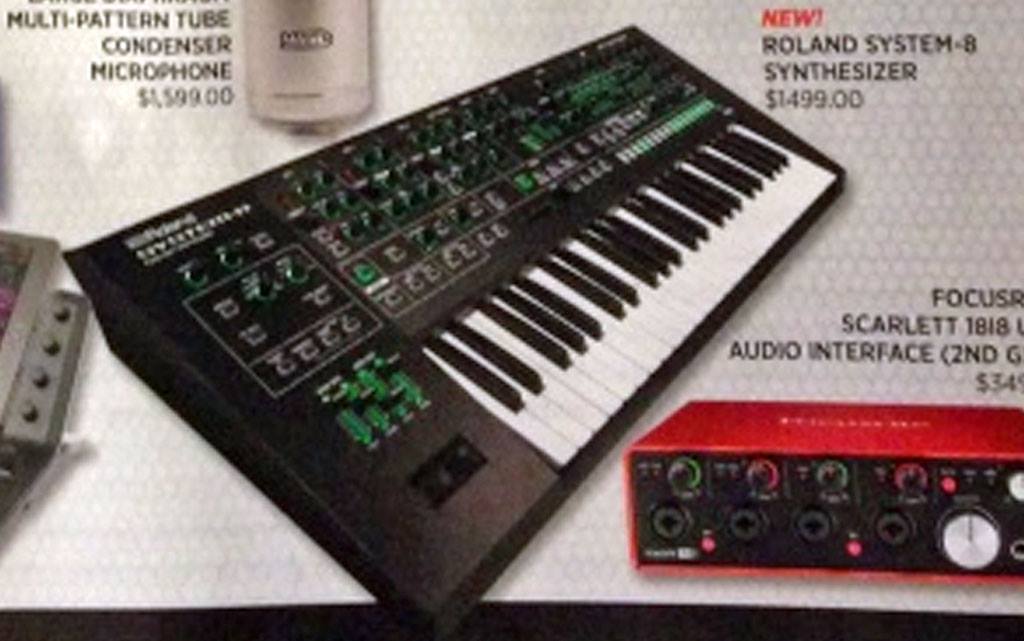 real images at 909day
more synths to come. I don't know how they managed to do it at GS, but even the back has been leaked:
what they thought it looked like.. (gearnews)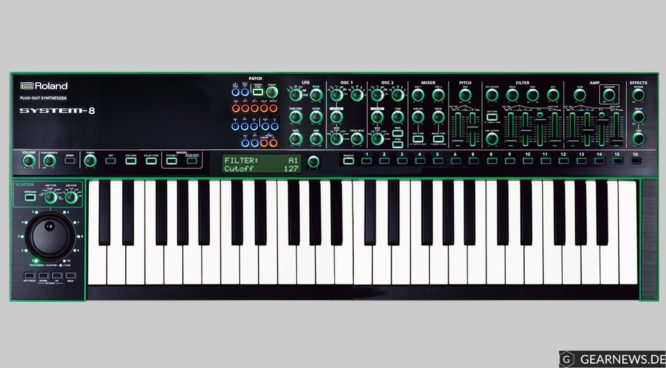 Mirab, seine Segel losgemacht – Diskussion dazu