Roland Softsynths – System 8 / Juno 106 / Jupiter 8, but…
Nach dem System 8 und auffüllen über den Jahreswechsel mit Juno hat Roland nun die Software-Versionen der drei Klassiker aus dem System 8 inklusive diesem als Plugins angekündigt. Zum Test via Roland-Cloud zu hören und sehen – für mich sind deren Monatspreise von $20 doch etwas … engagiert. Aber sind gute Dinger. Allerdings sieht es sehr danach aus, dass Roland kein eigenes Kaufsystem dafür hat sondern nur die Cloud, also ein monatlicher Beitrag wie bei Adobe, deshalb bin ich jetzt Affinity-User. Bin etwas skeptisch – aber es macht die Cloud attraktiver, vermutlich ist das der Gag dabei.
since they are part of System 8 (Hardware) they made all three available as Plugins as well – all 3 .. 2 of them already were available as mini synths
Roland Boutique, JP08 subtractive,digital
Roland Boutique, JU06 subtractive,digital
Roland Boutique, JX03 subtractive,digital
and I assume TR03 and TB09 will follow up to the cloud as well…
the soft license is free for 1 month demo at Rolands slightly expensive cloud.
I strongly guess they might not be released as normal VST/AU but just the cloud which is something tempting and works fine with them – but will it work with us? you pay on monthly basis – no pay no synth. Adobe-Style. I still don't really love that principle and switched to Affinity…
subscription is not my thing. $20/month is quite a number, is it? don't see something to buy it separately… since in 1 year I could afford a System 8.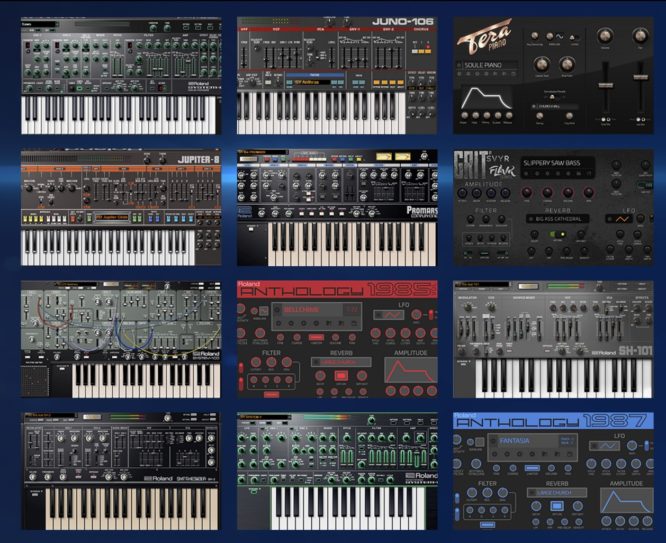 ps: die Anthology-Synths sind keine Emulation des D50 etc., sondern eher Sample-Hüllen die Sounds aus der Zeit abspielen. Das ist also eher als Dreingabe zu verstehen. Eine D50 oder JV/JD-Emulation gibt es also noch nicht. Those Anthology-Synths are in fact sample players – they are not actual emulations of JD/JV or D-series synths.
thx Tom / Synthanatomy:
First Impression: Roland Jupiter 8 Plugin Synthesizer