Closing NAMM overview – Roland Cloud + how was NAMM – some words
NAMM is closing, there's some things I might have overlooked but I don't think so. Maybe it wasn't awesome as hell but "nice".
the only thing I forgot about to mention is that Roland Cloud.
you may know, that I really really enjoy these synths, and there are at least 4 more – a D50 kind of sample player called anthology 1987, a piano and 2 more that were not explained much(Grit + Tera).
to me it's a lot too expensive – 30€ per month? Come on. I just left everything Adobe for that reason. and I really really love those Roland synths  as long as they are available normally it's just another offer – that's ok.
NAMM 2017: Roland Cloud - cloud based sound library
but – you need to subscribe and pay on a per month basis. depending on which ones it may take $30/month. do you like that way? we have seens Bitwig to jump on the subscription bandwagon but they don't take the software away after subscription, with Roland it is more comparable to Adobe. I am on Affinity Photo & Designer since they did and also did not go for Elements (it's still no sub model but well – they might get sooner or later)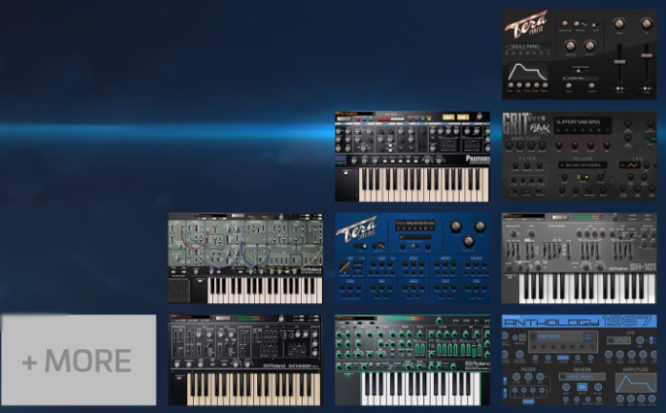 ok.. let's tell you something about how it feels. (I did that in german already – here)
I posted quite a lot of NAMM stuff but it seems like you did not really appreciate it that much as last year when the Odyssey came out and a massive synth wall flooded the world – mostly analog.
this time we had 2-3 synths – the DSI Rev 2, and surprisingly hardware groovebox synths from companies I really did not expect to make them like Malekko, Shear Electronics OB-X 6-voice synth, the soulsby synth is announced and the Paradigm that is based on completely new hardware design, the FPAA chip which is basically analog. that curcuit-button changes the OSC model from something digital to a minimoog-3-OSC model-to something polyphonic like a Juno with 8 OSCs etc. which is a real interesting concept.
and: we have been waiting for samplers that have knobs and can be used and performed easily – we got'em. but they are in eurorack like the 4ms sampler, those from 1010music, tiptop, orthogonal devices (er301) etc. and stored on an SD card – maybe they do a hardware box for us with 4-8 voices for performing on stage? I'd like one of these.
the most clicked one was my german report about pre-NAMM teasers, blurred images and things like video teasers with 2 bars of post-dubstep something.
well aaand there are some groove machines up – like the AS1 which looks a bit "small'ish" but sounds great. maybe that one could be a bit underestimated. we got quite a lot of classic analog-sort of drum machines now, we got a lot of analog synths – so where is the real digital one? all the way the big ones did not show something new – Roland, Korg, Yamaha, even Moog (ok not so big compared to the others but ..)
it's the details that this NAMMS focus is on – a lot of interesting modules and complete absence of 5unit-moog size modules (ok, that's not counting in moog modular) – like the Vermona Random Rhythm one (just to mention just one)
I don't like that they still think of 64 steps is enough – and 1/32 as a resolution could suit everyone for any genre. not it doesn't, there is still drones and chords you may want to play, evolving sounds to sound – say 16 bars and stuff like that. but it's nice to see more live oriented things like polyend's SEQ and MIDI-CV is getting a lot more CV/Gate outputs.

I should have mentioned Intellijel (new modules), Erica Synths (new modules and little standalone box), the Buchla 100 by Audio Catalyst, the mentioned but not posted 0101music sampling touch screen module series (looks great, nice concept). as well. so let's scroll down and watch their new stuff..
let's check these out..   -all NAMM-Posts
NAMM 2017:
0101 box series modules
NAMM 2017: 1010Music Bitbox Eurorack Modules and More
Erica Synth – modules
NAMM 2017: Erica Synths Black Octasource
and Fusion Box
NAMM 2017: Erica Synths Fusion Box
Buchla 100 in eurorack (cloned) – do your FM here:
NAMM 2017: Catalyst Audio - Buchla Clone Modules and More