NAMM DAW – Bitwig 2.0 modular + Synth Editor inside + Bastl Klik Sync Interface DAW vs Analog/Modular
Bitwigs schlagkräftigstes Argument war immer, dass es intern modular aufgebaut sei. Bisher konnte man an diese Schicht nicht heran, ab 28.2.2017 kommt die modularisierte Fassung, in der sich auf jeden Parameter zu mappende Modulationsquellen anwenden lassen. Das ist ein enorm mächtiges Werkzeug, welches auch per Javascript steuerbar ist. Das ist eine einfache und verbreitete "Skriptsprache", die in der Webprogrammierung bekannt ist und auch auf dieser Site hier verwendet wird.
Bitwig ist generell eine von Ableton Live inspirierte Recording-Umgebung, die auch diverse Synthesizer mitbringt. Der Clou ist aber die Anwendung der Modularität auf alles was in der DAW arbeitet, Plugins und viel mehr. Der Vorteil – das ist einfacher als Max/MSP zu lernen.
Bitwig setzen auf 1-Jahres-Update Lizenzen. Mehr zu den anderen Updates bei denen auf der Site, es ist nämlich auch sonst viel passiert.
159€ Upgrade, Vollversion 380€ – hier bekommt man die erwähnte 1-Jahres Lizenz und Support. Danach ist man raus. Wie gut sich das durchsetzt, weiss man nicht, vermutlich ist es für die Existenz der Entwickler die wichtigste Bank für das Fortbestehen. Ein sich in Zukunft entwickelndes Feature könnte der Remote Editor werden, der ist genau das, was ein Synth Patch Editor wäre, nur noch ohne Soundverwaltung – (bild unten)
Bitwigs biggest asset was and is the modularity of it's core, so it's not just possible to use tracks and synths and plugins but modulate everything by the internal modular nature of the system, drag some LFOs and Envelopes in and there you go – something that needs a lot less skills like programming in Max than to just move some graphical elements around like on a Nord Modular.

and here's one more – remote edit. sort of controller replacement which is more powerful than ever since it is very very close to become more than an editor/manager later, like sounddiver was. This is huge!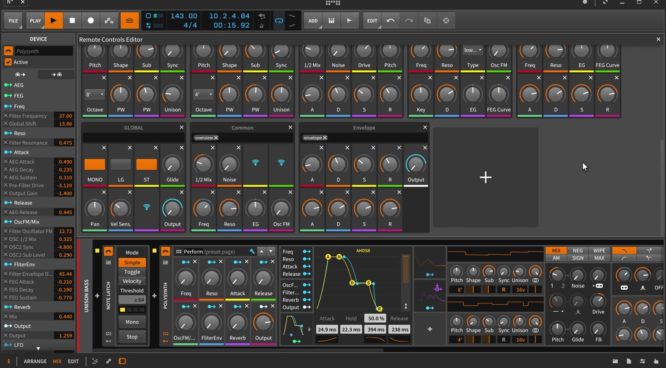 and that Bastl Thingy. it will NOT be like doing the expert-sleepers job – it still needs motu/dc coupling to work.
it's basically simple – a small device to sync the modular / analog stuff with