Ein wenig wie Volca, aber insgesamt stabiler, mit zwei Oszillatoren mit 3 Wellenformen und Sync und PW/M, Rauschgenerator, OLED Display für Namen und Parameter und mit Tief- und Hochpass (der allerdings ohne Resonanz) von Dave Smith.
Dazu 2x AD(SR) Hüllkurven (die Knöpfe sind für AD, der Rest übers Display) und ein LFO
1- Oktave-Touch "Keyboard" und Ribbon Controller und ein 64-Step-Sequencer zum Aufzeichnen von Melodien.
Das Ganze erinnert an eine moderne 303 oder Volca – irgendwo dazwischen.
NAMM 2017: Pioneer DJ Toraiz AS-1 Synthesizer First Look & Sound Demo
Effekte gibt es auch – 2x, identisch mit denen des Prophet 6 / OB 6 und sehr viel Speicher für Sounds.
Mit Trigger Input, MIDI in, out (soft thru)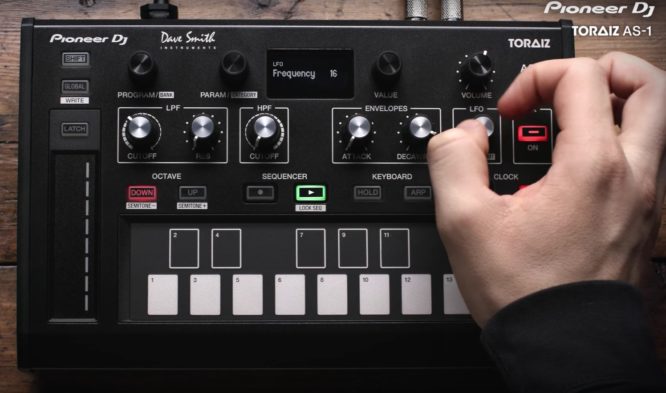 It's a bit like a 303 and Volca have mixed, there is a two 3-waveform-oscillators with sync and pulsewith modulation, 2x simple ADSR envelopes (2 via knobs), an LFO, 2 filters (LPF with and HPF without resonance) – and an OLED Display that can show names added to sequencer with Touch Keyboard 1 oct and ribbon controller.
the second collaboration by Pioneer & DSI, it also has the 2 Effects from the Prophet 6 / OB6 inside with tons of patch memory. the sequencer is 64 step.
Pioneer DJ TORAIZ AS-1 Official Introduction