NAMM Shear Relic 6 Analog Synthesizer + Erica 4x LFO Module
this synth was sort of overlooked, worth a second look:
Shear Electronics is new – they present:
2 VCOs (Saw/Pulse) – PWM, Sync (hard/soft)
12 dB / Oct Filter
2x LFO
2x ADSR Envelope
duotimbral layering.
sequencer
Oberheim OBX-Style Structure. LED Level-for all the parameters looks nice.
find the modulation matrix as dedicated buttons on top right.
looks simple to use. but has no fm/xmod.
did I hear $3499 in that 2nd video? but he wasn't sure since there are 2 prototypes ready, so it may differ. but seems to sound very smooth and fine.
you can order one here. this guy is very cool, hope this project will make it to more than just 5 synths made. just ask!
NAMM 2017: Shear Electronics Relic-6 Analog Poly Synthesizer
playing Jump should be forbidden, tho'
layering is possible – it's 2 of them – 2x multitimbral.
Ein neuer 6stimmig Oberheim-SEM inspirierter Synthesizer wurde vorgestellt mit den obigen Daten. Es gibt 2 verschiedene Sounds, die man auch layern kann. Sync gibt es in 2 Stärken. FM oder Ringmodulation ist leider nicht erwähnt worden, weshalb noch unklar ist, was davon unterstützt wird. Aber der OB-X hatte Xmod, auf den beruft sich der Entwickler. Angesichts des Panels vermute ich Xmod/Ringmod fehlt.
Der Sound klingt angenehm, dennoch sollte niemand mehr Toto und Jump spielen. Die sind doch schon alle totgespielt..
Aaaber unterstützt diesen jungen Hersteller. Er scheint einiges richtig zu machen! Relic 6 OB-X 6stimmiger analoger Synth
NAMM 2017: Shear Electronics Relic-6 Analog Poly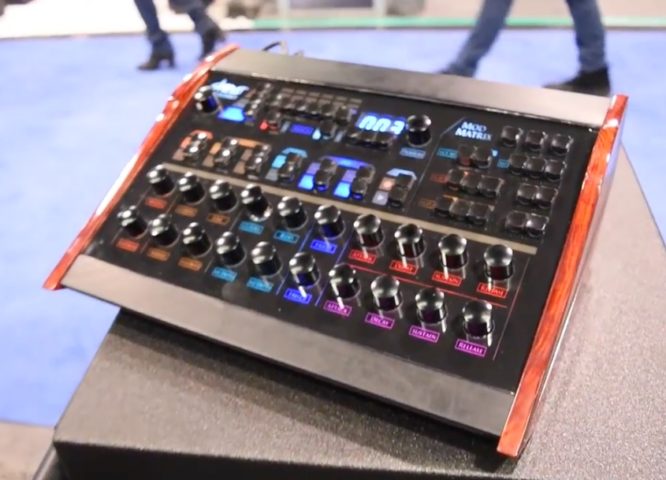 that's not all – there is Erica Synth new 4x LFO Module

NAMM 2017: Erica Synths Black Octasource
and more, that will drench in here and there the next days..