NAMM Malekko – MR.D.- Analog Drummachine (Probability!), BFF-4voice Synth, MANTHER – MC202'ish Groovebox
Malekko bringt zwei Synthesizer und eine analoge Drummachine namen Mr.D mit 6 Sounds – davon sind zwei Bassdrums mit maximal 7 Parametern, eine Snare und zwei Toms sowie Hihat/Cymbals – die Maschine hat Drive und Kompressor als Mastereffekte und der 64-Step Sequencer bietet Probability, er kann also gezielt voreingestellt werden "wie oft" beispielweise eine Snare oder eine Hihat gespielt wird. Darüberhinaus gibt es einen dicken Pluspunkt für die Repeat-Funktion, welche der der Electribes offenbar ähnelt. (Arturia hat sie in Spark auch integriert). Damit werden sehr schnelle Beats mit scheinbar höheren Auflösungen "vorgegaukelt" – was viel besser ist als die niedrigen Auflösungen der meisten Drummachines. Alle Jungle und Breakbeat-Musiker werden es lieben, IDM und Co. ebenso. Die Snare hat sogar einen Bitcrusher.
2 Synth and a drum machine by Malekko are on their way in march – this one is Mr.D – a 64 step analog drummachine with drive and compressor in the master section, probability and repeat in the sequencer – you can set the way how often an instrument is played by that parameters and how often one instrument is triggered multiple times within one step – so it appears to be much faster – which is cool in a drum machine, that is capable of polyrhythmic structures of its 6 analog instruments – 2 BD, 1 SD, 2x TOM, Cymbals/HiHats – indiv. outputs and trigger inputs are in as well as a bitcrusher within the snare section. it's been said it sounds a bit more rough..
find below the 2 synths – BFF is a collab with Harvestman, a 4 voice hybrid wavetable synth with analog filter (like CEM 3320) and 2 ADSR envelopes, the other one is Manther and is a lot like the MC202 (SH101 with sequencer) and CEM (Curtis) 3340 oscillator – all sequencer provide 64 steps, but the BFF-one is polyphonic – they all got CV/Gate Outputs (BFF has 4 pairs of CV/Gate) – all got MIDI as well and USB can be seen on all of them as well.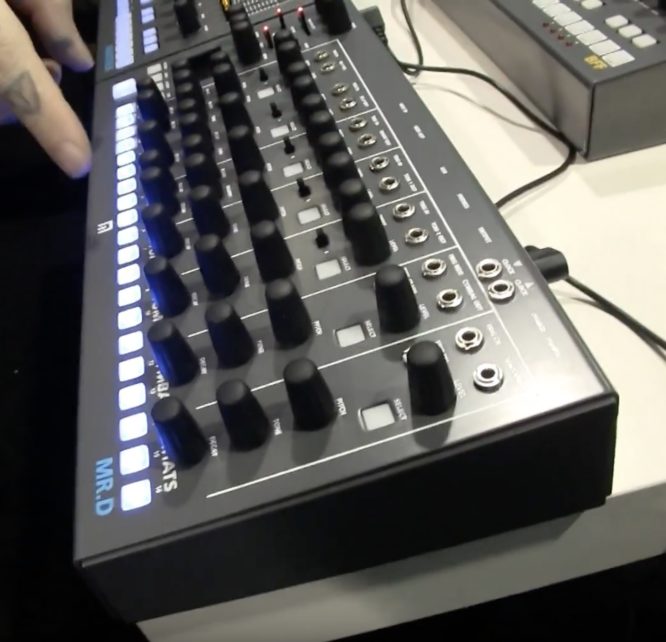 Über den Sound sagt man es klänge weniger nach "Kajagoogoo" (die sehr viel älteren unter uns erinnern sich an die Achtziger und Sänger Limahl? – Nunja, das muss man nicht). Sie wird eher einen härteren Basisklang haben, eher Electro und Techno-Stile werden damit versorgt. Aber das sagt nur der Vorführer im Video – wir werden sicher bald Audiodemos bekommen. Auf jeden Fall sind polyrhythmische Drums möglich und die Leute tragen ein Skinny Puppy T-Shirt.
BFF ist ein Wavetable-Synth mit 4 Stimmen und sein Sequencer ist identisch mit dem des Manther,
der wiederum dem MC202 in der Struktur sehr ähnlich ist – sogar die mischbaren Wellenformen (Sägezahn, Rechteck, Dreieck) sind vorhanden)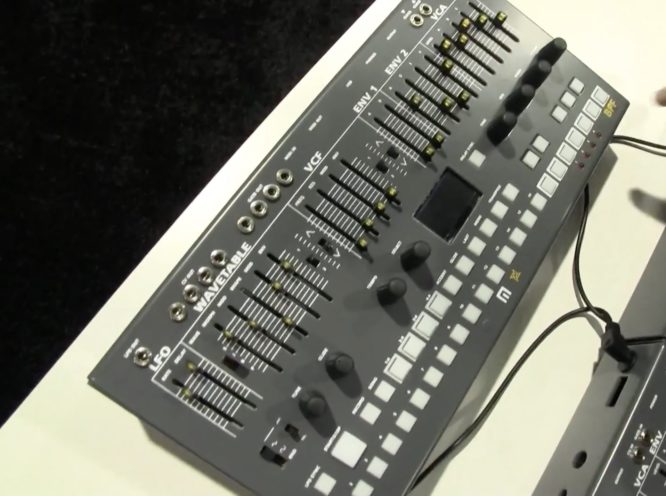 Der Manther hat ax ADSR und LFO,
BFF hingegen 2 ADSR-Hüllkurven und ebenfalls einen LFO – beide haben CEM 3320-ähnliche Filter und 3340 Oszillatoren arbeiten im Manther.
Er hat 4 CV/Gate Ausgangs-Paare für die Ansteuerung ext. Synths (analog), die BFF wurde von Harvestman mitentwickelt, die beiden anderen sind die Arbeit von Jeff von Malekko.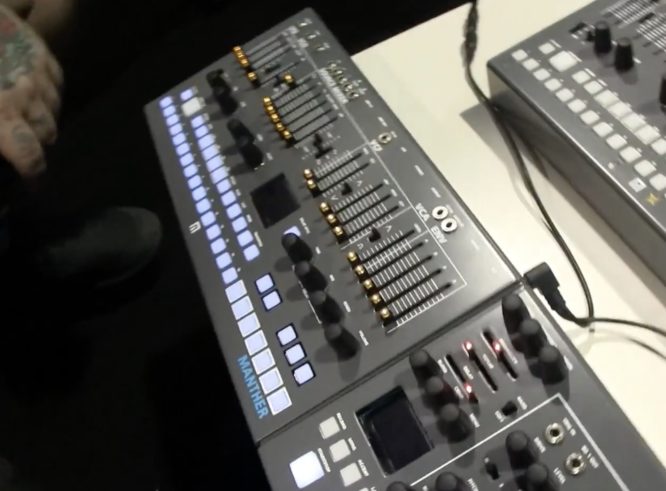 Price – Preise: Manther / Mr-D: $600,   BFF: $700
NAMM 2017: Malekko and Industrial Music Electronics Groovebox Collaboration