Roland 909-Day: 9.9.2016 – new synths, new drums, System 8 etc.
Roland announced officially the "909-celebration day". the rumours are over – they clearly say there will be new synths as well – that 909-thing does not necessarly mean there will be a new or old TR909, since theTR8 Drummachine already captures the TR909 ,TR808 , TR707 and TR606, but the System 8 and that Sampler could become true,…
update (leaked): these are here: TR09&TB03, VP03, System 8
The Event timetable is this one: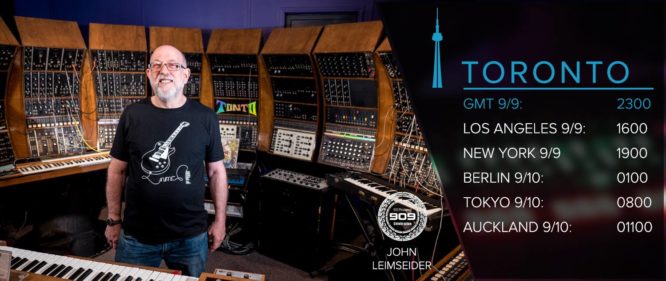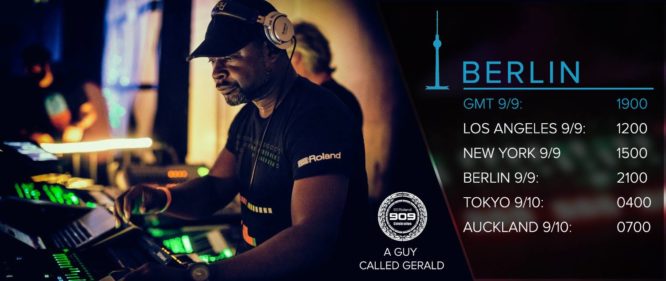 my guess – no TB or TR not in a big Aira-form maybe smaller? – but a new synth makes a lot of sense – so some of those will come:
my list of possible updates in the System 8 below:
-> current rumours are here. first images "leaked".
Roland "The Future. Redefined." Trailer
Roland feiert die 909, und wird eine Reihe neuer Maschinen bringen, besonders konkret werden sie nicht, aber da es die TR8 bereits gibt (die die oben gelisteten Drums bereits simuliert), sollten wir einfach mit neuen Synths rechnen, am wahrscheinlichsten ist das "System 8", also einem 8stimmigen System 1m / System 1 mit einer "richtigen" Tastatur ..hier die Dinge, die kommen könnten:
Gedankenliste zum System 8:
(Siehe SynMag Test in Ausgabe 51 und 47 für Details)
-bad non dynamic keyboard – Tastatur schlecht/zu wenig Tasten (Key Version)
-only one plugout on the road – Nur ein Plugout unterwegs nutzbar
-no arp/scatter (rack) – kein Arp/er, kein Scatter (1m / Rack)
-Display Patch Names – ggf: Display zeigt nur Zahlen (64 ggf. zu wenig?)
-lights too (…)! – Licht zu hell / zu grün (nicht so wichtig, aber oft genannt)
– more mod amount of LFO/ENVs – LFO Modulationshub könnte stärker sein.
–  No knobs for add. LFO2/Sample&Hold on System not even MIDI learn – Größter Kritikpunkt seit dem wirklich großartig klingenden "System 100 Plugout" ist, dass man LFO2 und S/H nicht über die HW erreichen kann und somit wäre es um ebendiese zu erweitern.
– 8 instead of 4 voices – Mehrstimmigkeit – 8 Stimmen (bisher 4 Stimmen) , bzw
– more than one voice for plugouts – Mehrstimmigkeit der Plugouts (bisher monophon)
   dazu Umfrage: Wie viel Polyphonie ist unbedingt notwendig?
– setting of dynamics/at on at least env amount on filter – einstellbare Anschlagdynamik/Aftertouch für zB. ENV Amount auf Filter (am meisten effektiv)
Das würde auch andere Plugouts möglich machen. Wenigstens Midi Learn aber besser eigene Knöpfe dafür. Lösen per Update könnte man davon auch einiges. Der Rest würde HW Änderung benötigen.
Wenn man alle analogen Roland SHs abbilden wollen, würden 2 LFOS benötigt (SH5 / System 100) und Knöpfe für HPF/Multimodefilter und BPF (SH-5) 

Der Klang ist das größte und überzeugendste hierbei, denn die Aira-Serie mag bisher nur die nicht überzeugt haben, denen gute Tasten wichtig sind, auch vor dem Hintergrund derBoutique-Serie.
Diskussion –> Neue Roland Boutique oder AIRA / TR am 9.9. – Gerüchteküche
Kleinkram/Minor things: Roland Cloud (for sounds?)
Und ggf. modulare Ansätze auf Basis der System 1-Plattform könnten Fragen aufwerfen (System 700 und 100m) wie:
– Umfrage: Wie gut sind Modular-Sounds auf "Standardsynths"…?
–Top10 Bedeutung modularer Komplett-Synthesizersysteme
– und welche Musik kann man damit machen im Modularmusik-Kanal