909 day: DJ808 – a TR drummachine, 8 samples, DJ controller + Jupiter 8 + Juno 106 Plugout free with System
first about 909 day/event: everything is said an new things beside a turnbtable and battle mixer – from now on only details will follow.
some images of that new Serato / Roland controller with 16 step TR-kind of sequencer in it. introduced by 2 CEOs..
it has a TR808 in it (drums) – 16 pattern. – 4 drumkits: 606,909,606,808 in it. so it's basically a TR8 in it called TR-S. plus DJ stuff. of course.
the pads play samples – so it's also a sampler for performance and fast recording and vocal transformer in it as well (right top corner)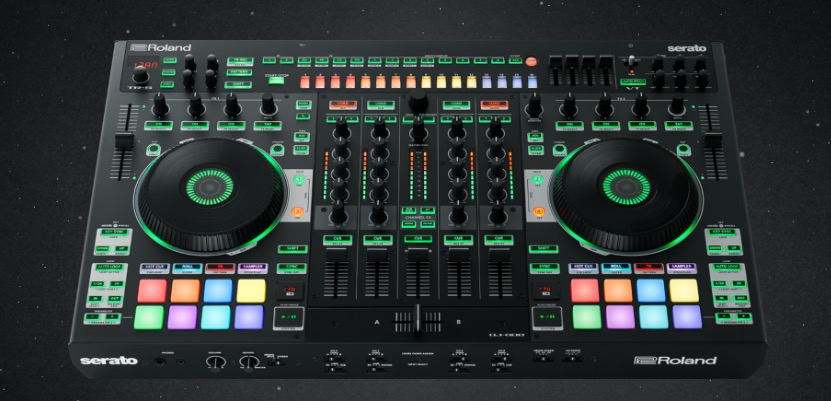 4kanal Serato-Controller
Integrierte TR-S Drum-Maschine Sounds aus 606, 707, 808 and 909
16-Step Sequencer,
8-Slot Serato DJ Sampler
RGB Performance Pads für Hotcues, Loop Rolls, Slicer, Sampler etc.
TR-Pad Mode für die Drum Maschine und Pitch Play, Drum
Sounds triggerbar auch über Performance Pads.
Integrierter Roland VT Voice Transformer mit Pitch Shifting und
Auto Vocal Key Matching
2 AIRA-Link USB-Ports
Serato DJ Enabled, Pitch 'n Time DJ inklusive
Serato DVS-fähig
24bit/96kHz Audiointerface
Dual-Deck Mode
100 Millimeter Pitchfader
XLR, Klinke und Chinch-Out
MIDI-Out
Dedizierte Loop- und Pitch-Play-Sektionen
-> Deutscher Text zum Roland DJ808 – Drummachine – Sampler – Controller – Voice Transformer in einem
Roland System-8 Plug-out Synthesizer Demo — Daniel Fisher
ROLAND SYSTEM-8 DEMO by gattobus
Here's an overview of what's happening when:
germany / deutschland – add 2 hours – 2 Stunden dazu zählen.
Stream Link:
http://www.ustream.tv/channel/PG8m95Hty9b
UTC
04:00 Dance DJ category feat product A
10:00 Keynote speech from Jun-Ichi Miki, CEO of Roland
10:10 Drums & percussion category, Product I
10:30 Amplifier category, products A, B, C, D, effects category product A
11:10 V-MODA and Roland join forces
-Wiederholungen-
16:00 Piano & keyboards category: Product E,F
16:30 Piano & keyboard category: Product B
-Mehr Wiederholungen-
18:00 Drums & percussion category: product A, J
19:00 Synthesizer category: products B, C, D
20:00 -Wiederholungen-
23:00 New categories: Product A
23:20 Synthesizer category: Products A
00:00 Dance DJ category: product A
02:00 Piano, keyboards product A; Dance DJ products A, B, C, new categories product A, video switcher product A
03:00 Special session with new products.
Find Details of System 8, VP03, TB03 and TR09 by scrolling down