ok, its over now, the 2 guy from genoqs came to cologn from stuttgart and showed us the current version of their octopus sequencer. it is basically a chase light TR-style sequencer that can be chained and arranged (9×16 parts). it has a lot of innovative functionality and is still under development. more to come on this thing soon.. step sequencer
since rob was also at the meeting you might like to have a look at his site ;) he isn't on my pics as well.. no1 of us could take the octopus home today but maybe we can do so soon.. ;)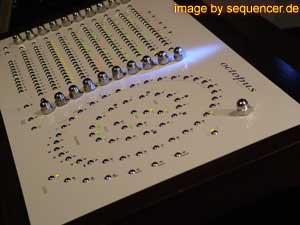 das octopus meeting geht zuende, in gemütlichem beisammensein bei onkel tommys klangamt trafen wir uns in loser reihenfolge und ließen uns in sicher gut 7 stunden den octopus in aktueller version vorführen, erklären und feedback wurde gern entgegengenommen, wobei ich auch nicht übel fand, das meine sequencer "must haves" hier zu sehr großem teil berücksichtigung fand. Das projekt ist sehr sympathisch und natürlich vollkommen größenwahninnig und idealistig, so wie wir eben so sind..
der octopus ist zzt noch nicht im auslieferzustand, aber viele funktionen laufen schon, andere werden noch überarbeitet.. der überblick ist jedoch sehr positiv mit einigen sehr guten ideen drin und oft auch bisher einzigartig in ihrer ausführung..
einige forumsmembers fanden sich auch ein (hallo auf dem wege an rob und co).. alles freax also.. und wohl kaum einer ging mit frust ;)
mehr dazu in kürze.. erste bildchen sind schon online.. mehr info und co folgt..