the did a big campain – did NOT show it on NAMM but will show it on the Musikmesse Frankfurt. Today was the big disguising moment of those 3 new retro-engines based on DSPs which is sort of modeling "something" but not exactly emulating something – that's why it's sort of a new sound and maybe not a Gaia or post-JP8000 sounding synth. it's a new engine – and we should not think much about what the new "Modeling" thing is all about but just listen to it …
in fact it is a straight forward conept with direct access – no menus just 73 controls and 8 memory positions which isn't much. no, it's not 8 banks of 8 sounds, it's eight sounds.
the first real demo is in here by Sonicstate
4 voice polyphonic.
it's basically a very classic layout but brings back Cross Modulation along with ring modulation & sync. white / pink noise
2 ADSR Envs
12 / 24dB/Oct. filters low pass with static high pass filter (typical Roland)
sub osc
one lfo – no info about speed. but the video shows – it is fast enough to reach audio speed – finally they have done it – why it took so long. thanks! – not the fastest as the guy says in the video – but it's ok.
non dynamic keyboard, 2 octaves
no mod wheel but a dial for tuning.
Arpeggiator, FX
__
The OS on the System 1 can be exchanged
it can model other classic synths like the SH101 – that's what they call "plug out", in fact it hosts these synth as a hardware, no computer needed.
so up's and down's – even innovation because it can be another synth – they say classic synth's – but it could be any synth like … an FM synth.. but still without dynamics.
sends out controllers, controls plug ins as well – USB, midi in & out / no thru. no trigger outputs.
anyway – it's an interesting concept with polarising features – it's polyphonic has a lot of controls and may behave in a new matter (sonically). it has no dynamics so it is not a master keyboard – live you need another dynamic keyboard
the plan (was mentioned) is:
which is nice, in'it?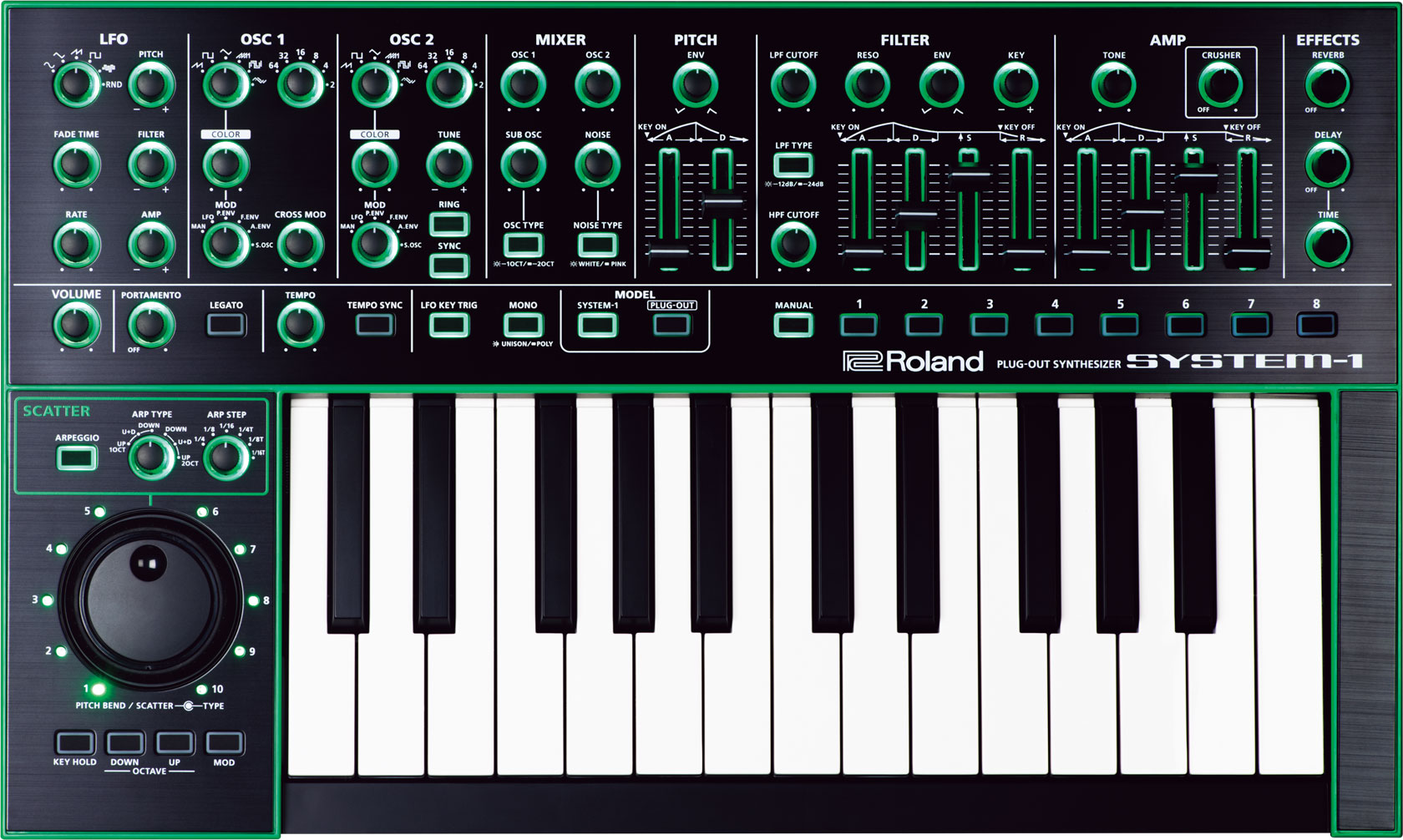 SYSTEM-1: PLUG-OUT Synthesizer | Roland U.S..
UPDATE: more on TB3 and TR8 – check this update..