Vintage Mode Emu II, AM6070 – Type DAC emulation and something that makes EMU'ish filter sound like it should . The "simulation" approach is the aim of the Juno-Emulator-Makers TAL
it also features a
MOD Matrix with
3 LFO / AHDSR Envelopes (also very Emu-style)
so let's have a look if it's really Depeche Mode and Front 242 kind of sound – there's a demo that does some random noises but fully functioning – $45 until 1.8. if so it is worth it! because it's a very distinctive sound..
– Emulating the Emulator !
this is a 4x Layer Concept. So you can do all your "modern" stuff as well.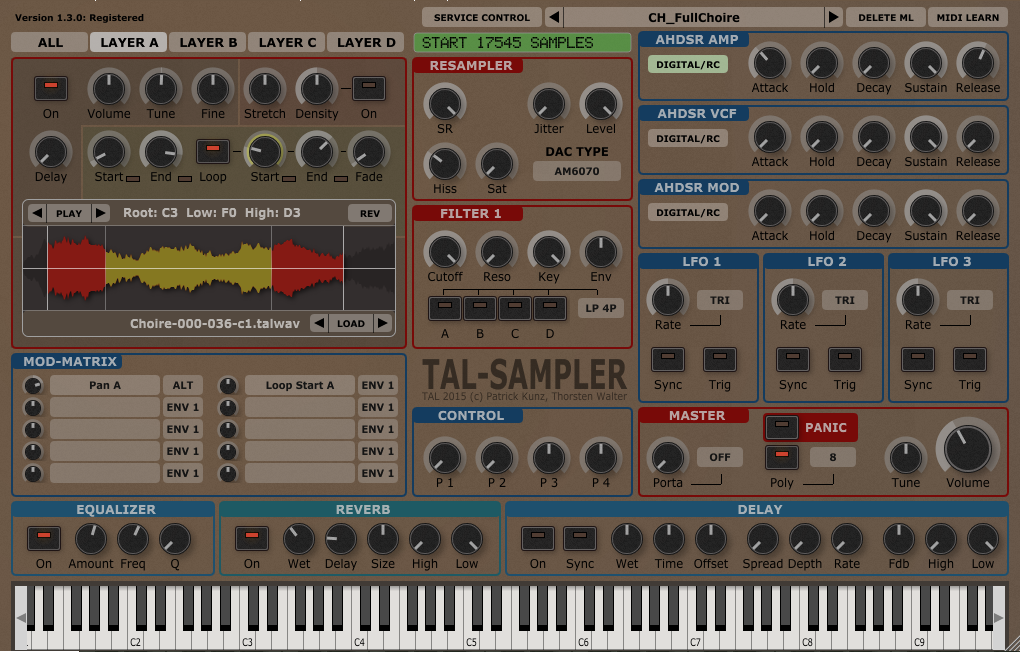 TAL kennen viele von deren Juno-Emulator, jetzt zielt man wohl auf den Emulator II und dessen Basisklang – mit sehr typischen Daten und Grundwerten, allerdings muss man das natürlich noch testen, ich habe leider keine NFR, es gibt aber ein Demo mit Rausch-Britzel-Kopierschutz zum ausprobieren. Wie man sieht gibt es 4 Schichten (Lagers) für einen Sound.
Den Emulator emulieren – eine Idee aus dem Jahre 2015.
bis 1.8. kostet das $45, danach $60.
UPDATE REVERB:
Der TAL Hall dazu ist extra zu haben und kostenlos, fand ich ziemlich angenehm und neigt nicht zu Matschorgien. Im SynMag erwähnte ich das auch, dass man das kostenlos oder für kleines Geld bringen sollte – und sie haben es gemacht noch bevor das Heft 51 'raus ist. Cool.