SSD Trim Support – OS X 10.10.4 (Non-Apple SSDs)
Apple bringt endlich den Trim Support, wenn auch "auf eigene Gefahr" mit dem letzten Update auf OS X 10.10.4 – es ist ohnehin runder, das WLAN funktioniert wieder zuverlässig und wer Spotify mit Apfel will, kann das damit auch haben. Ganz schön ist auch, dass IOS und OS X jetzt "Spiele danach" – Listen haben, was auch fürs Auto eine nette Sache ist.
Trim braucht man um eine SSD dauerhaft laufen zu lassen, sie würde sonst langsamer, denn TRIM sorgt dafür, dass intern "kaputte" Stellen übersprungen werden. Das ist normal – und macht Trim Enabler und ähnliche Sachen von Fremdanbietern überflüssig.
Der Hintergrund ist, dass Apple seit einiger Zeit KEXT-Files verwendet und wenn einmal etwas installiert wird, kann mit dem TRIM-Enabler weniger Sicherheitsfiesiko geboten werden, weil – diese KEXT-Files mussten quasi abgeschaltet werden, damit man NICHT-Apple-SSDs überhaupt nutzen kann. Die neuen Rechner haben ohnehin keine Möglichkeit mehr für fremde SSDs, aber bisherige Rechner profitieren davon. Vermutlich hat Apple das höher bewertet, da vermutlich immer weniger Leute fremde SSDs nutzen und außerdem die Sicherheit nicht verringert wird.
Aktiviert wird das Ganze so: Terminal starten (Spotlight Suche findet es) – Passwort – und mit y bestätigen muss man auch, weil man verlässt hier ja den Amerikanischen Sektor und so..

und im Apple Menü unter "über diesen Mac" findet man unter SATA die Information, ob die SSD Trim unterstützt, meine tut es – die meisten tun es. Wenn es eine Fremdplatte ist, brauchst du das Terminal..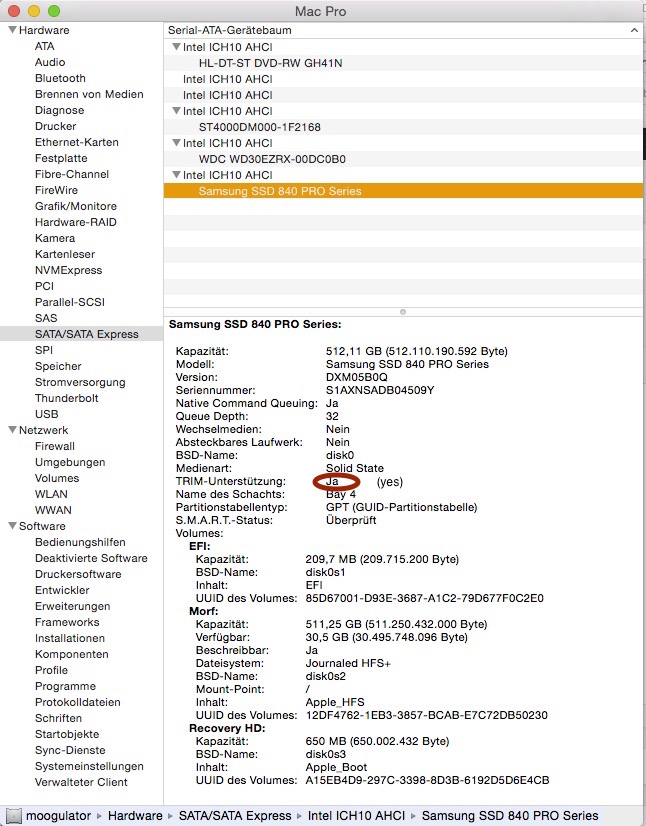 Forum–> updates: OSX 10.10.4, iOs 8.4
Want a proper TRIM support for your SSD? if it's non apple you can use this command (first screenshot) – and you can get rid of Trim Enabler tools with OS X 10.10.4 which was released yesterday. It's highly recommended for all Yosemite users since the WLAN problem is gone etc..
Trim is needed for any non-apple-SSD (apple SSDs are supported by default) for quick mark of non-functional memory cells – it's at your own risk, says Apple since they don't test ALL those SSDs out there, but it might work for most of the SSDs.
find the info about your SSD supports trim in "about this mac" under SATA in the Apple Menu..