SynMag #51 – ab 17. 7. 2015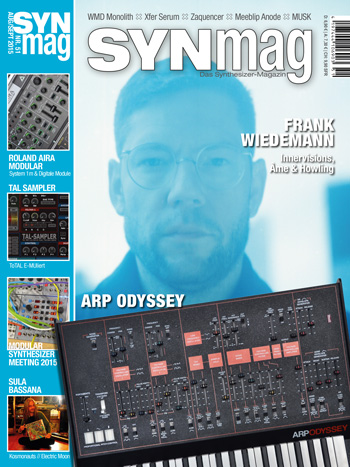 – mit Glück am guten Kiosk (alle anderen sind Kackfrösche), mit Sicherheit per Abo

Maschinen
Roland System 1m – Modularisiert und ohne Tasten und mehr Wellenformen
UPDATE – steht noch nicht im Heft:
System 1m reagiert auf Anschlagdynamik und Velocity – Seit OS 1.21

UPDATE 2 – Korrektur wegen Update:

UPDATE: Alle Plugouts haben in allen Modi nun Zugriff auf die Buchsen, sind also alle modularisiert.

Dafür alle Plugouts erneut herunterladen. Es wird an allen auch gearbeitet, dh – es kommen generell noch ein paar Dinge dazu.

Das habe ich im Test nicht erwähnt, daher dieser Nachtrag.

dh, beim SH101 fehlt NOCH OSC in und OUT, sonst ist aber alles da.

Auch Ring in ist belegt ;)

Beim SH2 fehlt ENV in bei der Pitch Envelope also Autobend – weil der SH2 keine komplette Pitch Envelope hat. Könnte aber auch noch kommen.

Auch der Audition Knopf "Pitch" funktioniert in allen Plugouts inzwischen.

Roland Aira Modular – Digitale Module und Editor – Ein Minimodulsystem im Modul.

ARP Odyssey (Korg) – Die Wahrheit über kARPfen!
Meeblip Anode – Unter 199€ geht es auch, born to be bended
WMD Monolith – Rahmen und Keyboard-System
ZAQuencer – Macht aus dem Behringer BCR2000 (für 130€) einen Sequencer
Xfer Serum – Neue Referenz für Wavetables?
TAL Sampler – Emulator of E-Mulator II's? Depechieren sie, Mr.Spock!
– Der TAL Hall dazu ist extra zu haben und kostenlos, fand ich ziemlich angenehm und neigt nicht zu Matschorgien. Im SynMag erwähnte ich das auch, dass man das kostenlos oder für kleines Geld bringen sollte – und sie haben es gemacht noch bevor das Heft 51 'raus ist.  Cool.
ART Compressor Pro VLAII – Ist analog wirklich besser?
Buchtipps

Das neue digitale Tonstudio
R is for Roland – für Fanboys eyes only!
Menschen
Frank Wiedemann / Innervisions, Âme, Howling
Musk – ProtoHouse
Sula Bassana (Kosmonauts / Electric Moon)
Nerdmenge f von X
Modular Synthesizer und Hirnsteuerung meets Fischertechnik – Happy Knobbing Modular Meeting
Maker Faire Hannover – Nerdnüsse, Nerdsmäntel und Club Mate
Leben und Sterben in UK
Das Moog Ensemble, Brighton
Rubrik

-> Abonnieren finden wir total schlau, weil alles andere ist Glückssache. Man hat auch schon sinnloser Geld ausgegeben. Gibt's auch als PDF – im Shop