Springer Tempophon – Automation, Heidelberg. Granularsynthese und Zeitscheiben-Verfahren aus Ableton in mechanischer Form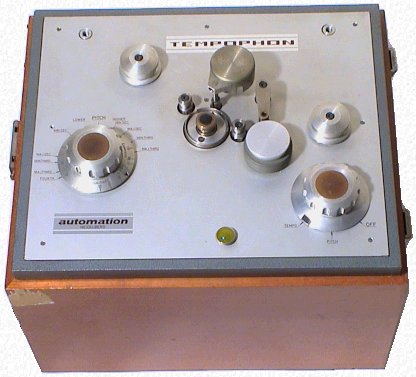 SRC/Quelle:http://www.medien-museum.de/museum/RaMu … tape14.htm
This Machine is able to transpose Audio without changing it's length, so to say "what variphrase does in machanics".. 20 kg of mechanics based on rotating heads and speed change it does what Ableton Live does today – Timeslice / Granular Synthesis.
Automation Heidelbergs "Tempophon" ist faktisch "Granularsynthese" wie man sie heute versteht. Anders gesagt – Ein Tonkopf wird hier rotierend über das Band geschickt und dreht sich an einer Stelle und wird mit einer regelbaren Geschwindigkeit weiter gefahren. Das was andere aus Ableton Live kennen ist hier in den 60ern schon technisch vorgedacht geweden. Eigentlich ist Granular nicht das richtige Wort sondern eher Zeitscheibenverfahren – denn hier kann man das ganz praktisch und mechanisch nach empfinden.
Das Gerät wurde eher für experimentelle oder Neue Musik verwendet. Es ist durchaus auch gedacht gewesen zur Analyse von Sprache und Phonetik bzw. dafür einsetzbar.