Pressemitteilung – Das Teil kommt im Sommer!
hier mal der Werbesermon dazu, aber es ist eine interessante Sache, gern würde ich auch einen PPG Wave/Waveterm und noch lieber einen Microwave XT auf dem Pad sehen, wenn ich ehrlich bin – aber das hier sieht vielversprechend aus – 3D Scape – sieht aber in jedem Falle nach "höherer Auflösung" aus und Nutzung der Oberfläche des iPad. Mal sehen, wie viele Stimmen da machbar sind.
upcoming iPad App from Waldorf, it's not a wavetable synth, but something more complex based on digital waveforms/spectra, looks a lot like 2 OSCs and 3D-kind of Frequency-based synthesis, don't know if one can edit it of draw it – I guess it will, this may be sort of cooler than wavetables and better resolution but we never know.
Pressetext von 27. März 2012
Werbesprech bleibt normal, Aussagen sind dick ;)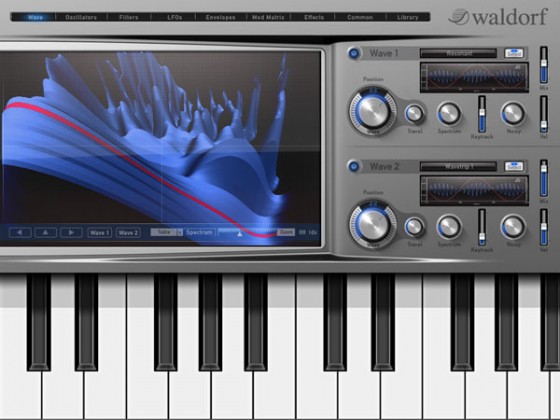 Waldorf und Rolf Wöhrmann entwickeln neuen, wegweisenden iPad-Synthesizer
Auf der einen Seite die lange Tradition im Bereich der Wavetable-Synthese – von den ersten PPG-Synthesizern bis hin zu den neuesten Entwicklungen in Sachen Blofeld und Largo – und auf der anderen Seite die große Erfahrung mit der iPad-Synthese von Rolf Wöhrmann von Tempo Rubato. Da war es nur logisch, das Wavetable-Konzept zum iPad zu bringen, das als mobile Plattform für professionelle und semi-professionelle Musiker und Produzenten zunehmend an Bedeutung gewinnt.
Dank ausgefuchster Gestensteuerung und reichlich vorhandener grafischer Leistung  ist das iPad ideal dafür geeignet, die Wavetable-Synthese auf ein neues Level zu heben. Erstmals wird es möglich sein, in die Tiefen der Wavetables einzutauchen und deren klanglichen Inhalt dank fortgeschrittener 3D-Techniken sichtbar zu machen.
Doch die Kooperation von Waldorf und Tempo Rubato, auch bestens bekannt von der NLog-Synthesizer-Produktlinie, geht noch weiter: Die Anwendung wird auch neue Möglichkeiten der Sound-Manipulation bieten, die auf den allerneusten Spektral-Forschungen von Waldorf basieren.
Völlig neue und ungehörte Sounds
Eine innovative Herangehensweise an die Wavetable-Synthese erlaubt die Transposition des Spektrums und die Balance periodischer oder geräuschhafter Spektren völlig unabhängig von der Wellenposition. (Das klingt nach – man malt das als 3D LAndschaft hin und hat dadurch eine erweiterte Auflösung im Vergleich zu den 8Bit Wavetables/Waves) Dadurch wird die bestehende Wavetable-Technologie um gleich zwei neue Dimensionen bereichert und ermöglicht Formant-Verschiebungen und zahlreiche andere bislang ungehörte Sounds. Zusätzlich wird auch die Zahl und Länge der Wellen in einem Wavetable nicht länger begrenzt sein, wie es in klassischen Wavetable-Instrumenten der Fall ist. Die Zeit der Wavetable-Synthese V2.0 ist angebrochen!
(ab hier eher Blah:)
Die App wird eine riesige Zahl von Hardware-MIDI-Interfaces unterstützen – so etwa sämtliche Core-MIDI-kompatiblen Interfaces von beispielsweise IK Multimedia, iConnectMIDI , Line6' MIDI Mobilizer II, Alesis' ioDock, Apples Camera Connection Kit, außerdem proprietäre Interfaces wie etwa Akais SynthStation.
App Collaboration-Standards wie Sonomas Audio Copy/Paste, Intuas Audio Pasteboard und Virtual Core MIDI werden ebenso unterstützt werden wie der anstehende Audiobus-Standard und KORGs WIST-Synchronisations-Technologie.
Joachim Flor, Geschäftsführer der Waldorf Music GmbH freut sich: "Wir sind wirklich begeistert über die Zusammenarbeit mit Rolf Wöhrmann von Tempo Rubato. Angesichts seiner großen Erfahrung in der iPad-Synthese planen wir als Erscheinungstermin für diesen wunderbaren Synthesizer den Sommer 2012. Ab da wird er dann in Apples App-Store verfügbar sein. Das sind auf jeden Fall sehr spannende Zeiten!"
Auch Rolf Wöhrmann freut sich auf die Herausforderung: "Die Kooperation mit Waldorf Music und den Waldorf-Entwicklern ist für mich eine große Ehre. Die Kombination von Waldorfs langer Geschichte in der Wavetable-Synthese mit den neuen, innovativen Möglichkeiten des iPad wird einen ganz erstaunlichen Synthesizer für Musiker, Sound-Designer und Producer hervorbringen."