Moog Model 15 App (iOs) auf MacOS ab Big Sur auch auf Intel
Model 15 von iOS auch auf macOS
Das Model 15 von Moog läuft jetzt auch auf dem Mac, kostet nicht extra für iOS-User und sogar auch ohne einen M1 ARM Prozessor zu haben ab macOS Big Sur auf einem normalen 2016er Intel Macbook zB. – Für neue User sind es inzwischen 31€.
Auf den Mac! Model 15 hier gezeigt..
Diese Neuerung gefällt mir sehr. Da sie einfach für Standards in analogähnlichen Sounds gut passt. Sicher wäre eine Art Nachfolger Model 55 auch super, aber sie klingt sehr gut – nutze auch den Minimoog von Moog als App auf nahezu jedem Konzert.
Moog Model 15
Diese App ist für das iPad Pro gemacht, deshalb kann man es auch wirklich groß darstellen, es benötigt aber 64 Bit, also ein iPad Air, iPhone 6/s oder höher. Hohe Qualität aber auch Prozessoranforderungen neuerer Art. iPhone SE sollte auch funktioneren. Model 15 ist dem System 15 nachempfunden, welches in fast gleicher Zusammenstellung plus Delay und einigen MIDI-Möglichkeiten nachgestellt wird:
4 Stimmen, 3 OSCs, 2x ADSR, CC Steuerung, es könnte gern noch ein LFO mit eingebaut werden oder einfach ein VCO, aber so war das Model 15 nun einmal, es gab noch Model 35 und 55, was noch besser wäre, aber wegen der Festfilterbank lässt sich hier schon einiges schönes machen, nutze die App gern mal auf meinen Gigs.
Release 3.Mai 2016.
App- Link: Model 15 – Moog Music Inc. this App is very high quality audio, and for 64bit only, means you need an iPad Air / iPhone 6/s or higher – simulating the System 15 with 4 voices. – 30€. but works on MacOS as well since Big Sur and no matter if it's Intel or ARM.
how it sounds like – we es klingt – (these patches are not part of the purchase!)
Moog Model 15 Synthesizer : Textural Points In-App Purchase Demo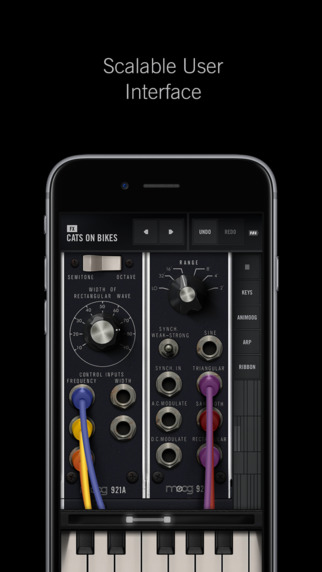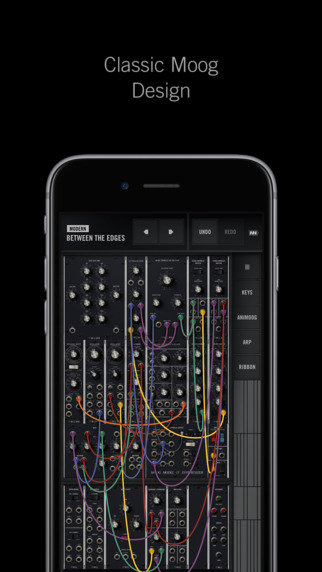 Moog Model 15 Synthesizer - Factory Sounds Demo