Yamaha MODX – FM-X/AWM2 8OP-FM Synthesizer
Yamaha MODX7 ist eine günstige Version des Montage mit 8-Operatoren FM, Superknob und Samplebereich (AWM). Der Preis liegt bei etwa 1.6k€. Es gibt kein MIDI Thru, aber eine Audio-Interfacefunktion. Der Preis betrifft den 76Tasten MODX7 – es gibt noch 6 und 8.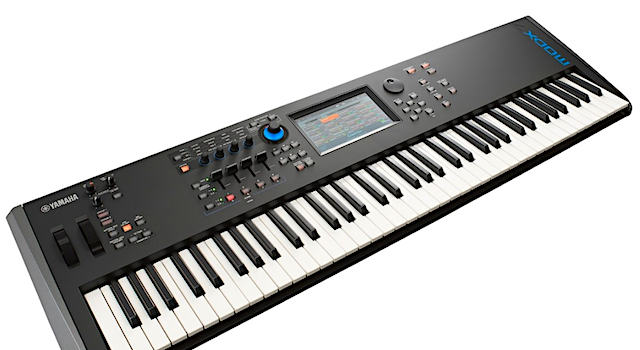 the new MODX7 is still not official but it will be more or less a 1.4k-Pound Version of the 8-OP Synth with ROM Sample Section and the morphing function "the super knob".

_
AWM2 (Advanced Wave Memory 2) sample and synthesis engine
76-note semi-weighted keybed for fluid playability
Unparalleled sonic versatility for creating sounds from iconic 80s sounds to modern-day EDM cutting-edge leads
Integrated performance controls include faders and encoders for in-depth control over parameters
Ideal for both studio and stage use
FM-X Synth Engine
LCD-Touchscreen 7″-Colour-Wide-VGA-TFT
Waveform-ROM expanded from 741 MB to 5.67 GB
2,370 new Waveforms, 6,347 total in ROM
1 GB Flash-ROM built-in
Ca. 2,000 preset performances
640 user performances
5,120 library performances
Seamless Sound Switching "SSS" for Performances with up to four Parts
13 dual insert effects (12 Parts + A/D Input)
Over 256 preset live set slots, 2,048 User & 2,048 library live set slots
10,239 arpeggios
Eight arpeggio Parts simultaneously
Eight Scenes per Performance
Master keyboard functions for each Performance
Multichannel USB Audio Interface, 2-in/10-out
We have seen a delivery date for September –
die "kleine Version" MODX6: