NEWS
|
SYNTH A-Z
|
FORUM
|
SynMag - Das SYNTHESIZER-MAGAZIN
|
KONTAKT
|
MOOGULATOR
Category:MIDI
From Synthesizer Wiki
MIDI Info + Midi Controllers and things that fit into the "Interface" Idea.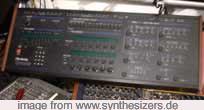 MIDI is for Musical Instruments Digital Interface - a 5 Pin (DIN) Connector - usually IN / OUT / THRU.
there is the classical MIDI and USB MIDI which is used for use with computers tunneling the protocol via USB, you need a converter to transport USB MIDI to standard MIDI and vise versa, but most USB MIDI devices that also have MIDI Connectors convert USB MIDI to Standard MIDI.
history
MIDI deutsch
MIDI ist eine genormte Schnittstelle für Musikinstrumente. Heute gibt es 2 Formen: USB und Standard MIDI, man kann sie leider nicht ohne Interface zueinander konvertieren.
in detail check the Basics & Format first:
Subcategories
This category has only the following subcategory.
T
Pages in category "MIDI"
The following 32 pages are in this category, out of 32 total.