Time to post the Maschinenfest here as well – will be there playing (Sunday) and DJing (Thursday)
Zeit Das Maschinenfest auch hier zu posten, werde 2x dort aktiv und sonst passiv dabei sein ;)
9.10  Warmup (free! / kostenfrei)
360 minutes, 6 djs.
Timetable (so far):
2200-2300 BlackWidow (Assimilate, Philadelphia, USA)
2300-0000 Mic (Moogulator)
0000-0100 Thedi (13th Monkey / gnm)
0100-0200 DJ Basstardo (the swiss army-knife from hell)
0200-0300 Dabi (krachbar)
0300-0400 Andi Aka (krachbar/nachtplan)
Eingang/ warmup: zum Club ist an der Seite. Stahltreppe hoch. Cosmo Club.
Come early, stay till late. see you later.
Timetable soon. FB Link WARM UP – the flyer has not been updated so refer to the list above.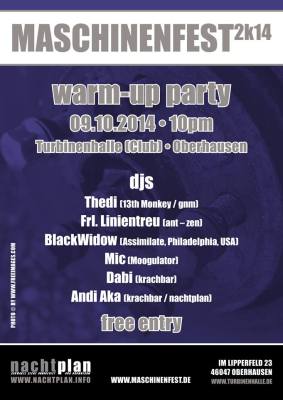 und der eigentliche Live-Hauptblock 10-12.10. – Moogulator spielt am Sonntag um 16:00. Maschinenfest ist zwar Industrial – aber für Offenheit bekannt, wird bestimmt interessant durch div. Genres.
the main part is the live performance one plus DJs and booths and talk and people in the other hall – Maschinenfest is mostly dedicated to Industrial but open in general, so worth a look.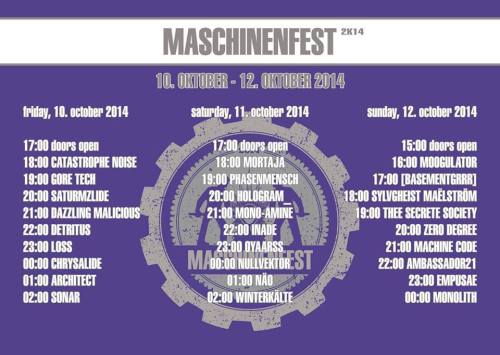 -> 9. – 12.10.2014 Maschinenfest 2k14, Oberhausen, Turbinenhalle (Moogulator live) | Moogulator.
The Site is up for tickets and stuff NOW! get tickets THERE as well!
(es gibt eine Abendkasse)
@ Oberhausen, Turbinenhalle, Germany – Im Lipperfeld 23′
_
btw: want CDs or Vinyl? Just ask me there! I will be present all the time, just talk to me.