Korgs Volcas don't have a MIDI Out Port, but this little Mod (looks simple) called Volcano adds MIDI Out to record all knob teaks to DAWs and MIDI  gear.
AM are located in brasil – no price yet, but looks chipless and simple on their picture of it. AM are specialized in mods for Korgs gadgets.
-> Amazing Machines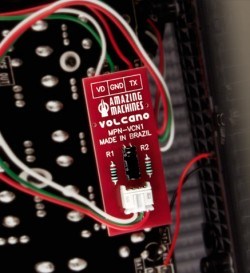 AM aus Brasilien bieten einen offenbar einfachen Umbausatz für die Korg Volca Serie an, um einen MIDI Out-Anschluss zu erhalten. Dieser sendet die live eingestellten Werte an jedes beliebige MIDI Gerät inkl DAW. Preise sind noch nicht klar.
src: Amazing Machines Volcano Adds MIDI Output To The KORG Volca Series » Synthtopia.