ANALOGUE SOLUTIONS – THE SYNTHESISER SECTION
Synths: Vostok – SEMblance – oberkorn – phobos red square
analogue systems? you meant bob williams modular systems? go here..

---
VOSTOK modular synthesizer
vostok TV – quicktime impression of vostok made by Tom Carpenter (should start now!):
I took that video (who else..on musikmesse 2002 superbooth)
it has a EMS – type mod matrix to be patched with pins (with resistors in it)
has also a wavetable osc (so its 2 VCOs and a wavetable, 2 lfos..)
| | | |
| --- | --- | --- |
| VOSTOK | | |
| | | |
| click this image to enlarge vostok modular synthesizer, ehm synthesiser to be correct.. | click this image to enlarge vostok modular synthesizer, ehm synthesiser to be correct.. | |
VIDEO – VOSTOK MOVIE..

ms20 filters!!
Midi to CV1+2/gate-converter, 2 VCOs, Wavetable Osc., 8step sequencer, MS20style LP+HP-filter, VCA, AC ring modulator, 2 ADSR-Egs, 2 LFO, S+H, CV/audio-mixer mit Pegel-Anzeige, 484 Matrix patch panel points, Multiplyer und Adapter, 69 Buchsen, 52 Regler, 13 LEDs, 20 Schalter, 2 Displays
8 step sequencer inside,a joystick, S/H,sync,ringmod,too.also has patch(cord)able jacks AND the matrix. but it's mostly the important parameters that are patchable. very british idea.. not cheap, but interesting, very interesting for ms20 fans..
---
very close to oberheim SEM module
very smooth and nice and warm sounding , same features as oberheim SEM but FM and some mods added. not cheap but sound quality is high!
the price has been lowered, so it is available at the price of a complete vintage SEM. 700€.
analogue solutions semblance
enlarge? click the image..–>>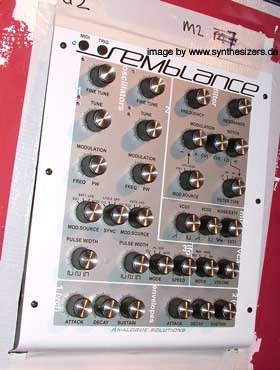 oberheim sem? check oberheim .. ;)
audio? yes, but only from the original SEM (synthesizer expander module)
some audio – a bit sick,but you may have an idea of the sound, just to get the idea of the semblance sound it is NOT a semblance because I never had one..: SEM_oberheim.mp3

it really sonically reminds of the SEM's ..
it's 12dB/oct filter is like the sems crassfadeable from LPF to HPF via notch. it also has BPF mode. the routing is quite SEM'ish ,too but noise is integrated (the original had noise and S/H only with the sequencer – 2,4,8voice models)
this is of course not for very very new sounds, but for very very GOOD and richt / warm sounds. there are not too many filters and VCOs around sounding like THIS! it is quitre close.. but I did not compare it.. just from the things I remember ;)
we also did a nice modular version modelled after the oberheim SEM .. DIY later "ready to buy" version called SEMtex universal synthesizer module"… in german: es gibt eine weitere Alternative zum Oberheim SEM oder Semblance, das SEMtex von Anyware mit Sync, FM, 2 SubOScs , modular…
---
phobos
red square modular synth..
by analogue solutions!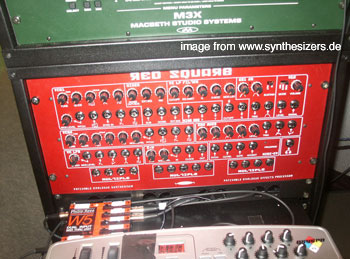 audio demo by
Dave / Retro Studios BB (David Wuttke <dw_1488@web.de>)
mp3 here.. redsquare.mp3
more mp3s by dave:
redsquareRS2.mp3
redsquareRS4.mp3
redsquareRSVocoda.mp3 (it's not a vocoder..)
redsquareRS3.mp3

patchable.. with this you can patch your modular synth and use the red squar as an expander. but also use it standalone and patch it..
it sounded quite good, and "british".. nice resonating filter and 2 VCOs, PWM, ringmod, sync, fast lfo!!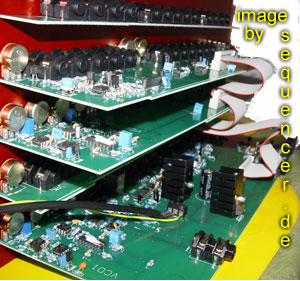 <– click to see enlarged red square boards..
---
analogue solutions also do the
oberkorn – now the oberkorn mk2
(it's a small town, remember depeche mode saying that?)..
it is a classic analogue sequencer: 3 rows, you can set the gate trigger by pushing or pulling the sequencer knobs!!.. cool and simple..

below: moebius.. well nothing to do with analogue solutions..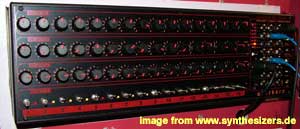 click to enlarge OBERKORN

deutsche/britische.. ANALOGE synthesizer / german distribution german/british and other synths.. vertrieb jomox, vermona, macbeth, mfb / fricke etc..
www.schneidersbuero.de
of course in the uk and the us order directly at analogue solutions 2599 euro.
analogue systems? you meant bob williams modular systems? go here..