Hybrid/Digital Synthex 2 Synthesizer by Mario Maggi (Crumar…)
THEEE synth guy in Italy, Mr. Mario Maggi, is working on a digital Synth with the name of Synthex 2 (I am not sure if it's the final name, but there are some quotes on these Forum Posts: Synthex 2 von Mario Maggi that explain a lot by Enrice Cosimi, who I met at the Synthex / Elka – Re-Issue Event in Frankfurt (Hi Enrico!) – who says they simply did not intent to have the same idea of bringing the "Synthex Name" back in 2 completely different ways, so – here's 2 new Synths – I really hope these 2 will coexist which would be totally cool in a lot of ways, not having to deal with registered trademarks (issues)..
unclear if and which parts are analog or hybrid, so assume this is a digital synth. (so far).
and not to forget, this is the Synthex 2 "VA" / digital Synth that is being made by Maggi/Cosimi – I could imagine this being an innovation..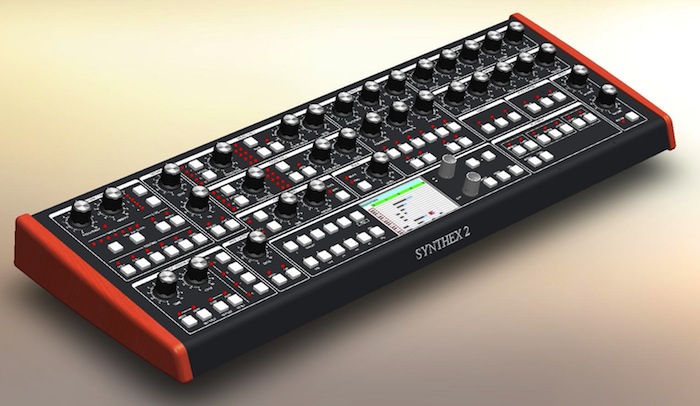 specs:
16-voice polyphony // 8-voice upgradable version may also be produced
Versions
with 61 notes keyboard
Physical dimension more compact than in the previous version.
Less weight. No fan (means compared to the Synthex!)
keyboardless tabletop version (same control panel)
1 Rack Unit expander without controls, w. PC dedicated editing software
-> box desktop expander without controls, w. PC dedicated editing software (hmm I assume PC means Mac as well)
Keyboard
High-quality 61 note keybed FATAR TP-8,
weighted, with key velocity, channel aftertouch
Joystick
Professional joystick, precision mechanism w. robust 5mm metal shaft.
LCD Display
800 x 480 pixel,  4.3" color display for the editing of additional parameters not available on the front panel; patch program/editing & sequences program/editing.
Instrument's Architecture
whole, double, split mode (duotimbral)
Unison Mode with variable voice quantity
Oscillators
2 oscillators per voice, a lot of available waveforms
extended cross modulation
Filter
Multi mode filter, with Cutoff, Resonance and a new control for filter behavior, multiple modes (more than the orig. Synthex)
Waveshapers
2  Waveshapers  // Post/Pre-Filter Waveshaper, div.  shaping curves.
Chorus
"bigger" chorus circuit from Synthex MkI -> mod rate / amount on each separate delay line.
Envelope Generators
8 separate EGs per voice, 8 segment multistage type
rates/time ctrl by Vel / AT (each)
EGs can be used for LFO out shaping.
Wide range LFOs
8 LFOs per voice, Each LFO output can be shaped with EGs
Sequencer
Very close to the original version but  with polyphony
easier programming/editing
4 polyphonic tracks
Step by step or real time recording mode
Sync in/out, MIDI Sync
Arpeggiator
Independent Arpeggiators for Lower and Upper parts
Arpeggiators works together with internal Sequencer.
Rear
18V DC IN  for external PSU
USB-B connection for a PC editor
RJ45 for external expansion box (CV/Trigger/Gate)
MIDI In, Out.
Sync In / Out  (5V)
2X CV In –  freely routable.
Expression Pedal 2x
Audio Out : 4x (stereo for each split)
Neue URL dafür ist / UPDATE preorder here:
www.synthex.it