Musikmesse 2015 – Overview – Übersicht
Time to switch to the Musikmesse Overview Mode.
UPDATE II – aulaost Messe – a lot of details and now smaller makers and  booths detected.. (updates are below)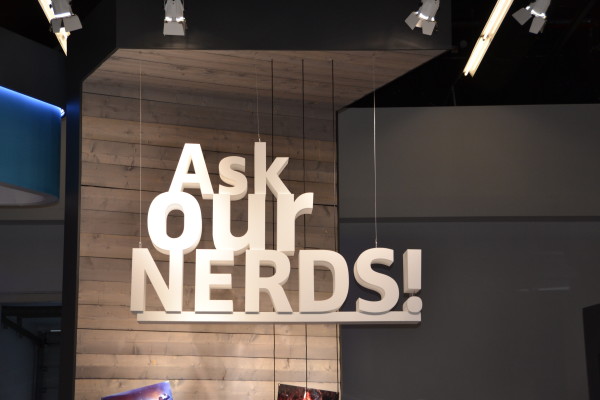 ok – some impression of our booth – SynMag – Das Synthesizer-Magazin – und zum Schluss noch ein paar Eindrücke vom Stand, danke fürs kommen und noch mehr wenn du jetzt ein Abo hast! Dafür machen wir uns nämlich die Mühe ;)
aber es kommen Änderungen: Q1/2, 2016 Frankfurt, Musikmesse in Zukunft kleiner
Stammtisch - Der erste Tag der Musikmesse 2015
Stammtisch - unser Fazit zum 2. Musikmessetag
ok, switch to English now..
Musikmesse in Frankfurt, Germany – all is/will be listed here and may help to find your way virtually or if you stop by (and Forum discussion).
Hier gibt es diverse Musikmesse News und den Hinweis auf das Forum wo du und andere Neuigkeiten anschauen kannst, einige Sachen werden auch einen eigenen Thread im Forum bekommen..
->> Forum: Musikmesse 2015 News
Unser Stand sieht jetzt so aus: E37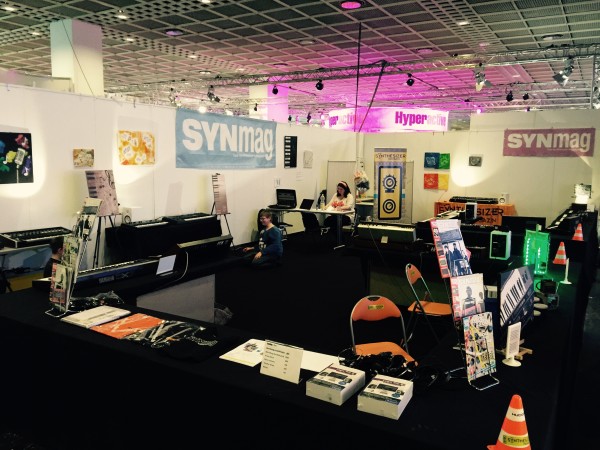 Lageplan – HiRes: klicken!: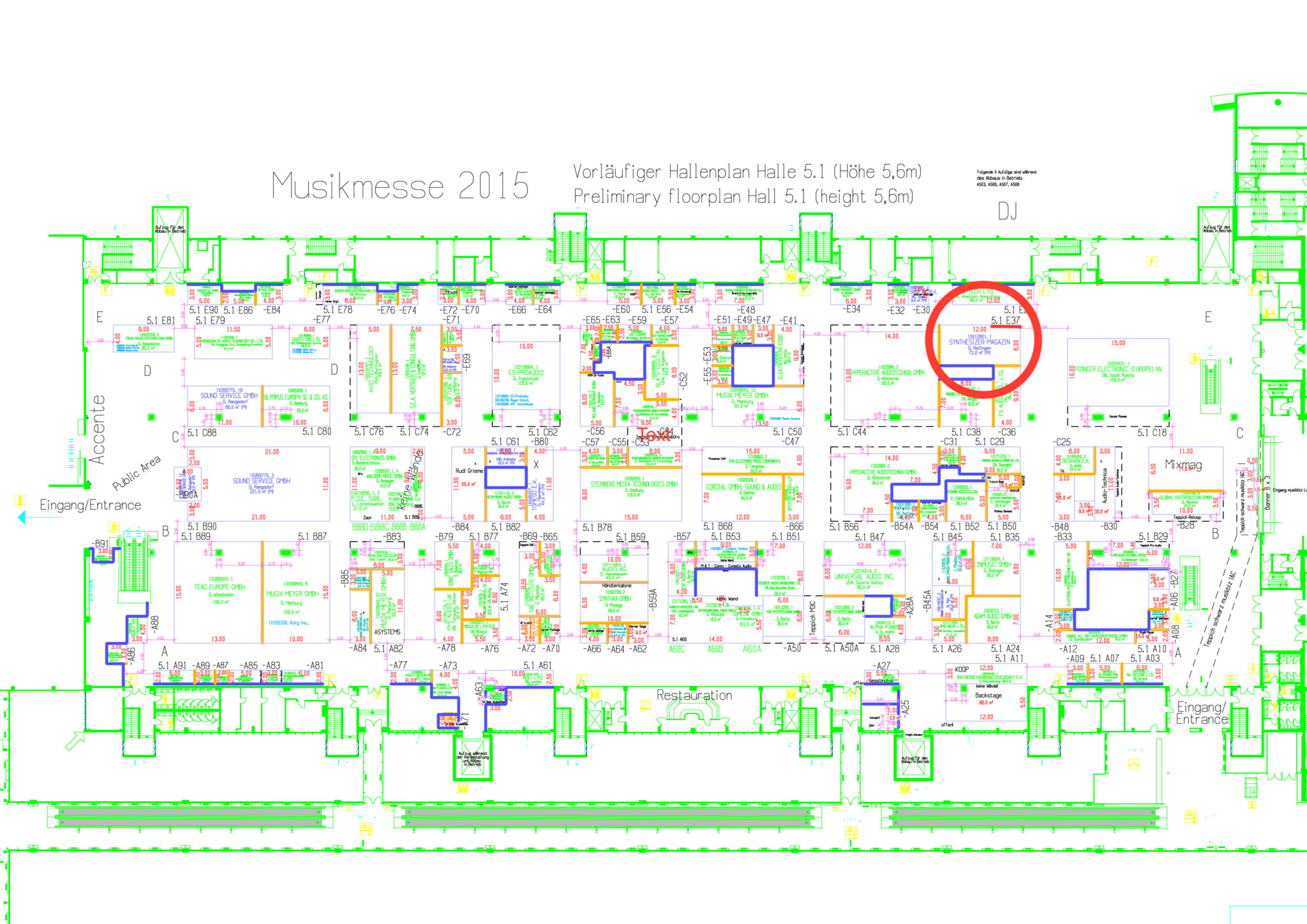 – Vermona new drum synth module
-> Vermona 14 Synthesizer @ SynthDB specs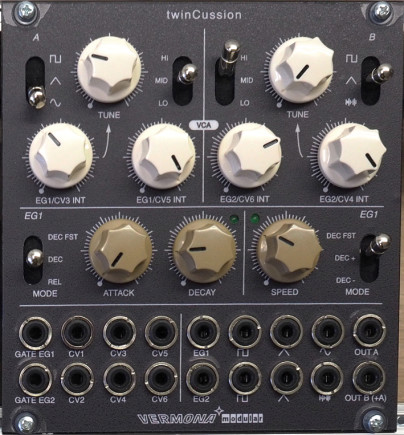 Roland System 1m / Roland vs Reon analog Synths (new Aira of modular Synth – yes – it's even better – they team up with Malekko and make the System 500 – very much like a euro-rack 100m – analog modules – and :6 virtually patchable Modules inside of each of the digital Modules – there are already 15 modules like LFOs, Filters, ADSRs inside of those ready and can be sent to the modules via an audio file),
Xi and Xa were shown the first time fully working (Xa). they do 4 voice poly analog & a milliion voices of digital OSCs at about 1.7k-1.8k€
Roland System 500 a "clone" of System 100m Modules (analog) and 3 digital Modules as well that can be connected via UsB and routed to your likes via software/ios/android – so it's audio and internally patchable 6-module system inside each module!


Yes, they release that Elka Synthex – the first batch woof crowd funding 125 models with Curtis chips (used ones, makes a total of 1000 needed for these alone) will charge 3181 USD for founders, the later ones will be sold at higher prices – it will be exactly like the original -but without tape interface but with MIDI and PSI with fan (there are better PSU's today..) – I'd say that a new Synthex at that price is cheap! Paul Wiffen demoed it along with trying the laserharp – but without smoke it is hard to use..
– this Synthex is not new, they will come when the funding was successful.
$3.3k – the next 100, $3.2 of 25 sold and $8.7k for 3 of them for the dealers. I believe that might work –  funding doesn't include TAX so add 19″ over here. So 300+100+25 makes 425 Synthexes which might be the maximum of possible sales as well?
30 were pledged/ordered on 23.4.2015
Korg (maybe not so much news? but we never know, Odyssey and MS20M are known to you, right? so..)
– Electribe Sampler – Details / Manuals are up: Korg Electribe Sampler (2015) – looks like it can not do stretch parts but still can slice in a simple way like the ESX or "something" since it is just mentioned but no more than this, only 1 type of filters (hpf, lpf, bpf) – so no Emulation-Typ of Filters in the Sampler – same features as electribe 2 – so just short patterns – no song mode etc. but full dynamics and 4x paraphony means close to 4 voice polyphony per pad (still).
Modal has a 12 voice polyphonic rack -and also a 3 octave 8voice version called the 008! cool filters (pic coming soon, see the developers in front of it below!) – and another Paul (Maddox) is filling up the Paul's list and Philip Taysom, the core of Modal.


Modules and Stuff – a lot at Schneiders / Alex4..
– SynMag Stand E37, Halle 5.1 mit Vintage Synth Ausstellung, kommt vorbei bin auch da! 
more to come here soon as UPDATES mostly, not as separate Posts, older "News" can be found via the NAMM Menu on the left!PICS PICS PICS..

you see here:

The Laserharp in a Box on the ground (Synthex Demo)
The JD Xa – can do a lot integrates analog and digital -..
Vermona 14 Synth – very nice envelopes and basic sound
Moog Modular System 35 (and 15) shown – not limited! they
build them and try to get them all done.
Roland System 1m and modules and the System 500 (100m type of) modules in a case – DO sound like the 100m – these are made and sold via Roland but are made by/with Malekko (therefore the m) – the System 1 will get 64 sounds with update (8×8)as well as the 1m which has 24bit hires mod control and all features of the system 1
Arp Odyssey in 70's fake wallpaper of the 70s – ..as a separate booth form Korg ;)
Electribe Sampler – does the Stretch stuff and normal sampling and re-sampling – no more stretch parts – same sequencer as elecribe 2 – it's black! and slices are marked and organized with NAME-Slice-Number when choosing them (so it's a longer list)
Waldorf Nave-Table Module and Nave plugin and new singing Attack App
rpe 12 sequencer at mode machines booth
erm midi sync allows time shifting, multiple merge and sync of multiple sources – cheaper than SND ACME4, (halb the price)
tuning the mellotron!
the iranian/persian analog synth sounded fat – not at schneiders –
…as well as Bastl showed the coolest wooden modular and triggering machine/booth worth a look

Beatstep Pro demo with a loooot of Arturia Brutes..
the Dev's at Modal show off the 008 and 001 synths – very very cool timeless web browser access for non-OS-related editor functionality on any device! no problem when OS updates from apple, microsoft and iOS/android or linux were made! 008 has fast env and lfo up to audio speed, cool apf/phase Matrix 12ish filter concept – cool
Rudessing' the ROLI seaboard.. ;)
there's more – especially the Schneider Booth and some others..
note that we got the ARP Odyssey in about 15% larger than the Original at our booth – same with the MS20 ;) SynMag-Das Synthesizer-Magazin – vintage synth show – kauf das Magazin, mach ein Abo und so, sonst bist du einfach nur nicht lieb!
UPDATE II
Details Uploaded.
Flexion from Jobo is a new synth and synthesis concept, that is modulating spots in a waveform directly. You just klick on a new "handle" to be modulated by Envelopes and LFOs to get Symmetry-kind of Shaping (PWM would be an easy example), when you move on point in a SAW-kind of wave makes you able to have saw up/down ramps that form some sort of simple filtering since triangular waves do not have so many overtones as saw – but you can set as many handles as you want to – so you can create something that is beyond wavetables or standard folding or shaping synths, nevertheless it has filters and resonators (called reactor), sequencers and more 
New Modular System by EMW, quite the standard ones but a whole system – found in between of non-synth stuff at univers-sons.com



The Key-Section – Mellotrons (new and old ones) and new Rhodes

Simple thing by Klaes (brought to me at our booth) – just to control pos/neg control voltages and count incoming triggers like setting sequences
no comment ;)
Linnstrument controls Bitwig – updates done as well

Dreadbox Synths (from Greece) – different booth.
ARP ARP ARP!

All Modal Synths can be edited via Browser – so no OS-pain in some1's something – just open it and point at the synth's URL (true!) – THIS is how to do a GUI – especially if you want to control a RACK appropriately and according to 2015's..

want special stuff like PG200 clone for your old school JX3P?.. Mode Machines do and the old MAM ADX1 is back in another case

Erica Synth – downstairs had a lot of modules ready, cases and tube modules in high quality design that felt right and with a special intention
(-> that's the LXR drum machine to the left of the modular, just in case your want to know)


Akai stuff that wasn't that well commented on the web recently
…and a Prophet 10 found in a shop (Cream Music) in Frankfurt in their showroom..
Squarp Pyramid Sequencer – was shown to me at the booth – interesting concept since it is not referring that much to classical concepts – and it has some special things to offer – midi and cv included! that pad is a sensitive XY-Pad! you can apply "midi fx" like arpeggiator, roll/flam with zoom into and probability function to any track – each track can have it's own signature (!) and length (!!) – it can also handle dynamics AND accent (double click the step keys/pads) – velocity is set before to be used in the next set – so the pads are not sensitive – 700€ – seems ok for the French new super interesting euclidean sequencer.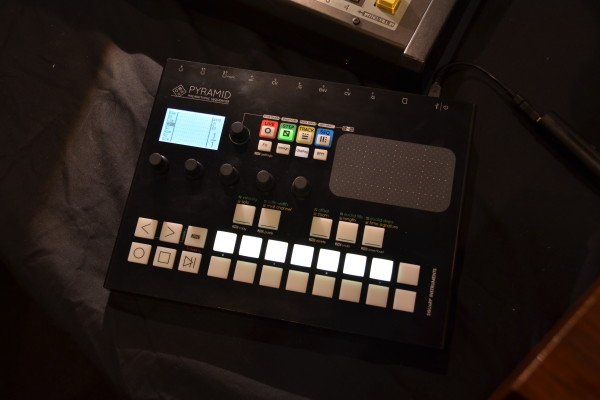 breath controller (flute control fingering) and WLAN – so no cables need

Nerdsynth coming in 1-2 years – here's a very very early prototype – it can do 6 tracks and control of any parameter in 6 synths – 6//4 of them can be inserted externally in a mini cartridge – SID, AY8910, OPL3 (FM Synth) and many more will be available, this proto can already do a lot but of course is a hand made thing to work with, so wait for it to come – tracker kind of sequencer (Renoise!) – was fun to be introduced to at our booth (synmag)
Laser Control by Modules – (at Roland – therefore it's green, but can do more colours)

Modular Music Days 2015 - Bernhard Rasinger (BR Laser) Performance

we don't know – Messe changes in 2016 to Thursday – to – Sunday for everyone (it was public day FR/SAT until now) and they want to even change the music stuff moving to another hall etc. – looks like Schneider won't show up in 2016..
we don't know yet – let's check that one up..