Ich habe mal einen Bericht zu den Roland-Modular-Sachen geschrieben.
Darin kommen Bitrazer, Demora, Scooper, Torcido – also die neuen digitalen Module vor,
das Roland System 500, also die Roland System 100m Synthesizer -artige analoge Antwort von Roland zusammen mit Malekko und
das System 1m.
"was noch aussteht" – ist das System 500, welches diese Module haben wird / hat – sie entsprechen einem Teil derer die im System 100m zu finden sind und die Beurteilung dessen bleibt wie im SynMag und bei Amazona beschrieben ;)
Hier weitere Fotos vom Roland System 500, die die noch fehlten und der große Start des Systems, was auch 100m-Basis gebaut wurde – nur eben im Eurorackformat. Kosten/Preise dafür.
Ein Typ namens BadRectifier hat 14 neue Fotos hinzugefügt. Es gibt nichts Neues – aber sie kommen jetzt wohl auch wirklich auf den Markt (Update 23.9.2015)
er schreibt noch dazu ergänzend:
"… Roland introduced its first analog synthesizer modules in 25 years, the System 500. … The Roland System 500, created in conjunction with Portland-based Malekko Heavy Industries, is a new line of Eurorack analog synthesizer modules, based on two of the most revered electronic instruments of all time—the SYSTEM-700 and SYSTEM-100m." – [2]
Roland System-500 Analog Modules by Malekko - Final Production Prototypes
https://www.youtube.com/watch?v=NvCBXBItjDA
"This is an uncut, rough video of an invitation-only event I (he!) attended earlier today which was the world premier of the final production prototypes of the Roland System-500 eurorack analog modules, made by Malekko Heavy Industry in Portland Oregon. The presentation is by the creator himself, Joshua Holly of Malekko. It's an almost 30 minute video from a bad angle and I wasn't able to get a direct audio feed, but it still sounds pretty good and has lot's of good info regarding these modules (they're nicer than I expected, to be honest.) The folks at MuffWiggler shot much better video which I'm sure they will post shortly over on their own site… Published on Sep 19, 2015"
https://www.youtube.com/watch?v=NvCBXBItjDA

[1] All Roland Eurorack Modules: https://www.modulargrid.net/e/modules/browser…

All Malekko Eurorack Modules:
https://www.modulargrid.net/e/modules/browser…
wie das System 100m klingt zeige ich hier:
Roland System 100m - SequencerTalk Monolog - Modular Synthesizer Monolog - Moogulator
Viel Spaß beim lesen. Ich stell mal die Bilder hier mit rein…
Übrigens gibt es 15 Module im Mac-Editor Aira Modular Customizer für die digitalen Module – es wird also definitiv einiges geben, was diese können werden: Das ganze ist als Audio-File auch über eine Buchse in das Modul überspielbar, also – wir haben ein kleines Nord Modular artiges System im Rechner, was die Möglichkeiten noch erweitert, was im Artikel noch nicht so genau beschrieben sondern nur angedeutet wird. Es gibt 6 virtuelle Module innerhalb eines solchen digitalen Moduls!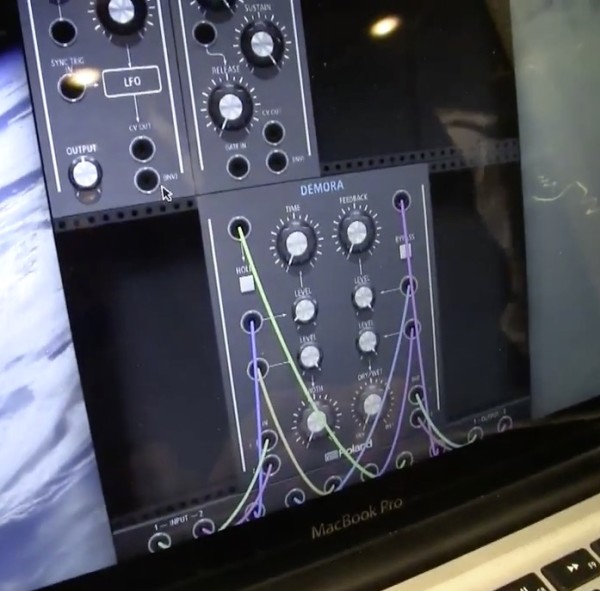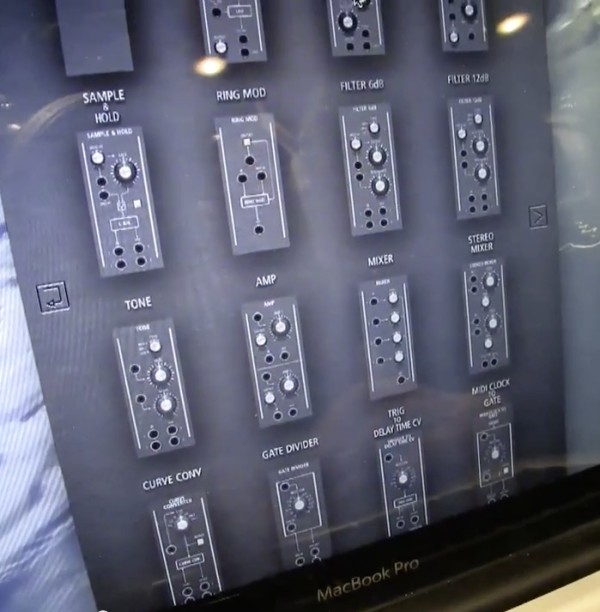 Preise: System 1m: 599 €,
Digitale Module 299 €
MESSE 2015: AIRA Modular Customizer
Preview: Roland System 500, System 1m & digitale Modulserie – AMAZONA.de.
System 1.2 Update:
64 Sounds (statt 8)
expanded waveforms :
Noise Saw:

A sawtooth wave with movement similar to an analog circuit.Ideal for making fat sounds.

Logic Operation:

A waveform that uses a logic circuit to combine multiple waveforms.

FM:

A frequency-modulated waveform.

FM + Sync:

Syncs a frequency-modulated waveform to the OSC pitch to produce a scale.

Vowel:

A waveform similar to human voice.

CB:

A metallic one-shot sound.