the JDXA synth is the "large" version of the new series that the JD Xi leak looked ahead on – and looks like this:
btw – Roland breaks it's own rules not to use "old technology" to have an analog circuit integrated!
and we ALL did not even consider Roland will ever make analog again! including myself ;)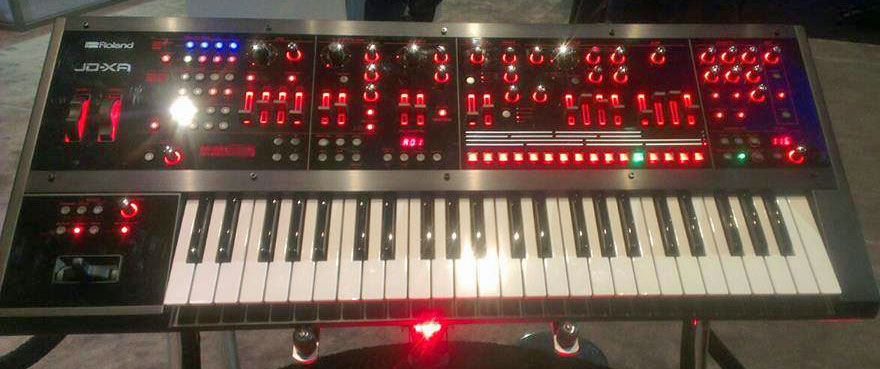 it has an analog and a digital part of a sound (layer).
quite classic layout and knobs – so it is more system 1 plus a bit of a ROM synths – but it is in fact both.
And the final Xa will be shown on Musikmesse 2015 – so I'll tell you since SynMag will have a booth there ..
4 independent analog monophonic voices,deep synthesis capabilities,  can be used as a 4-voice polysynth;
–UPDATE: this could be 2 OSCs – 4 voices => 8 OSCs but also 4 OSCs for 1 voice – on the case you can see 2 OSCS plus AUX – so it is most likely 8 OSCS to work with 4 voices as a Jupiter 4 but obviously sounding a lot different – it's something new
4 additional synth voices, based on Roland's SuperNatural technology;
8 channels of step sequencing, patterns chainable – it's TR-style so this is btw the coolest thing to have in a SYNTH!! I do not really need more "analog" stuff but I hope Roland and others to do more performance sequencers into their synths that are capable of more than 16 or 64 steps – seems they did it! and that's why one should buy it – just for them to let them know – they are right!
___
more to come (be updated here) soon.
on the case it says:
2 OSC + 1 AUX source to 1 filter (analog)
3 OSCs to 3 filters in the digital domain
– much like the Jupiter 80 and Gaia
(possibly) a sequencer (yet) like on the JD Xi but it's 16 buttons so – I guess there is! so there should be PCM drums as well.
both combined.
but wait for real and final specs.
Hier haben wir es mit einem analogen und digitalen Teil zu tun, der große Bruder des JD Xi, der sogar einen TR-Sequencer mit Drums zu bieten hat, ist hier die Struktur des Gaia, bzw des Jupiter 80 zu finden – nämlich 3 OSCs die in 3 filter laufen
– parallel dazu gibt es 2 analoge Oszillatoren (ggf. der dritte davon als Aux -> ext.Signal oder der digitale Teil als Gesamtheit), welche in ein analoges Filter laufen als Basis – die Struktur ist recht klassisch sonst – also ein neues Konzept – hybrid. Hätte man nicht gedacht, dass Roland mal analog wird, was?  Im Forum geht es weiter mit dem ROLAND JD XA !!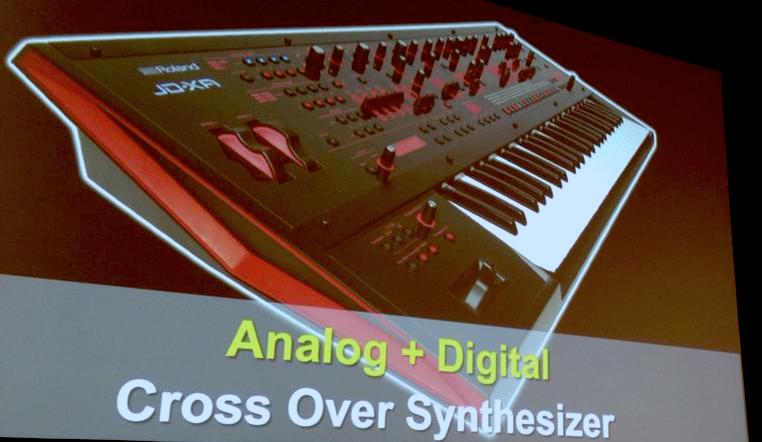 _
and – there is another Aira. Looks a lot like a DAW control. But..
18-Channel Performance Mixer with Step-Sequenced Effects (that's what Roland did earlier EF303), Transport, and Tempo Control.
Might be the automation unit for Aira.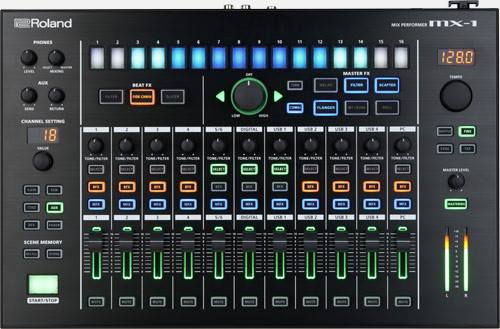 this is a really cool idea at 96kHz – that mixer integrates your hardware and …
they say:
The MX-1 Mix Performer brings together your synths, drum machines, loops, DAW tracks, and more into a single performance-optimized mixing instrument. Combining elements of a mixer, control surface, audio interface, and step-based effector, the MX-1 is designed to be the nerve center of your electronic music rig. It's a mixer you can play…  -> AIRA MX
it's 4 USB ports to be used to mix the AUDIO and MIDI!
so it's one USB to be plugged into the MX and it's all done.
FX are for each channel individually – delay, flanger, scatter etc.
sp/dif – MIDI in/out, 4 ins..
4×16 scenes
there is an internal midi clock so the beats are tight to the beat on all machines.

explained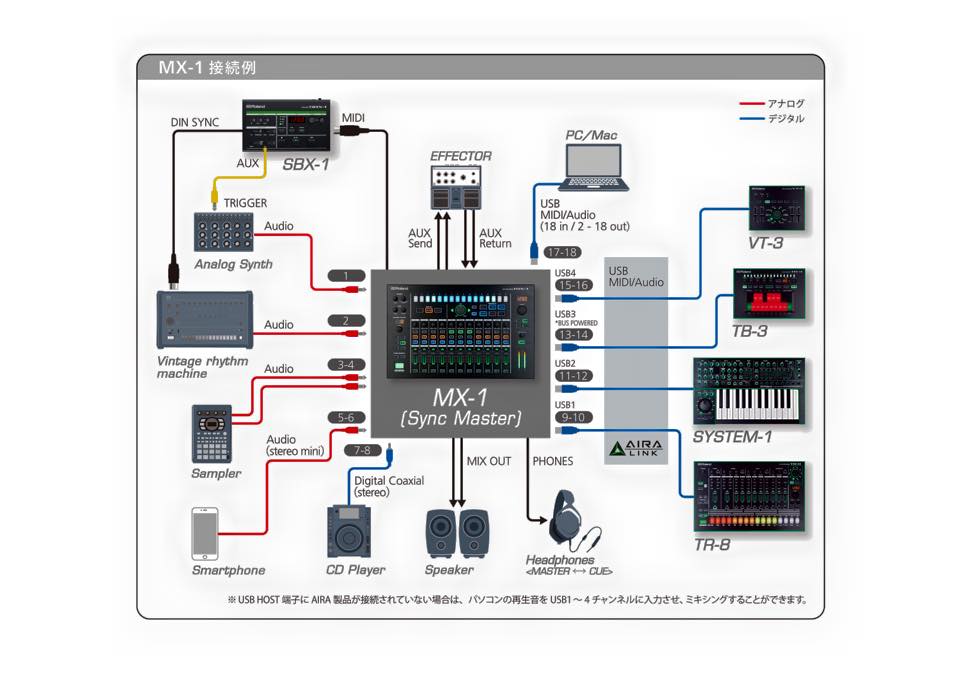 System 1 gets Promars Plug-Out added