hey, Apple seems to keep working on Logic X – and .. not being at NAMM (I think) here is a run down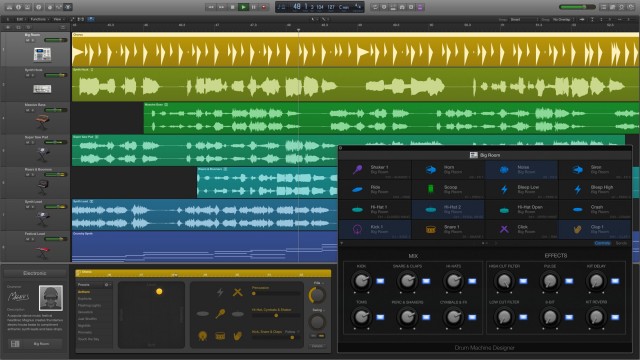 image stolen from CDN – see link above! – since apple .. well – never got an NFR or so.. so..
Automation by regions
org'ed plugins
multi touch EQ support + app
retro synth + wavetables (so this is catching up with retrologue etc.)
A NEW COMPRESSOR <—!!! the old one was sooo $%$%!!
new quantize mode called "smart quantize"
names can be seen – got handles – so to say GUI overhaul in detail – SEE the names of notes when playing etc.
Note Repeat and "realtime erase" like drum machines got (Electribes 2 got this mode added as well) – Check der Electribes 2 im aktuellen SynMag 48
 new tools: Piano Roll updated – brush – you may not believe it – but it's new to logic – you can toggle notes "on and off"so it's more and faster creation and editing now..
Drum Machine Designer – sort of EZ-drums etc., generate figures/sequences accordingly to genres and change instruments
no NRPN or CC cascade editor still – like all other DAWs which I really don't get and will never understand since some synths DO send a bunch of controllers to have 655356 ranges with one knob but you can not edit it graphically on a DAW since none of them supports it – so just re-record it in realtime ..
well looks like it was worth to leave out Logic X since updates cost the same – a full buy at the store. happy me. but of course those who bought X before can update for free as usual.
well – since Apple has raised the price (+10€) it is not exactly "happy" – it's more "poor boy" – if you don't have logic pro x you don't have logic pro x 10.1
info you might want to read by U-HE
"Missing GUI" Logic 10.1 fix

We are aware of a "missing GUI" issue for some u-he plugins after updating Logic Pro X to v10.1. The reason is Logic v10.1 has dropped support for legacy AU SDKs, which includes some versions of u-he plugins.

We have created updates to our plugins, and our testing shows these versions work as expected. To solve the issue you will need to install these latest versions over your existing installation. Installers are available via our forum.
sort of what I never liked with Apple…