SynthiLeaks: Roland JD-Xi Synthesizer (NAMM 2015) + Elka is back?
Leaks from somewhere –
Beside the bigger brother, the JD XA Synth with hybrid technology – here's a smaller version..
the Mini-Key Synth labelled JDXi
$499 which is quite fair for what you get -> 530€
UPDATE: here's a screenshot of one of the sound creators (Scherer) @ forum you explained this is a PART of all – which you can still edit on the JD-Xi – he did this CTRL set to create sounds more easily – note the upper part must be seen trippled! – so it is a lot you can do – all on the box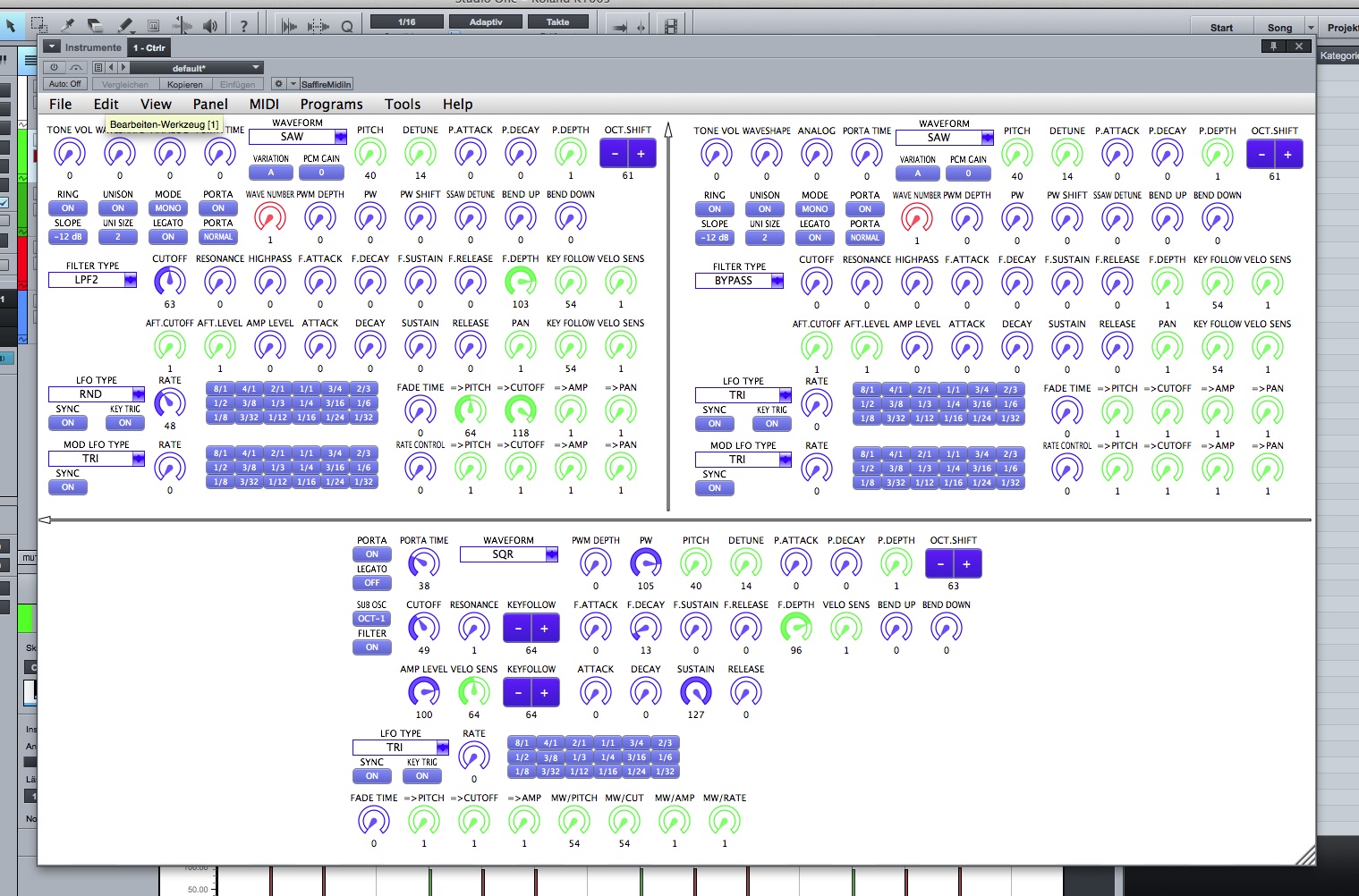 Here's a quick rundown of most of the features for those who don't have time …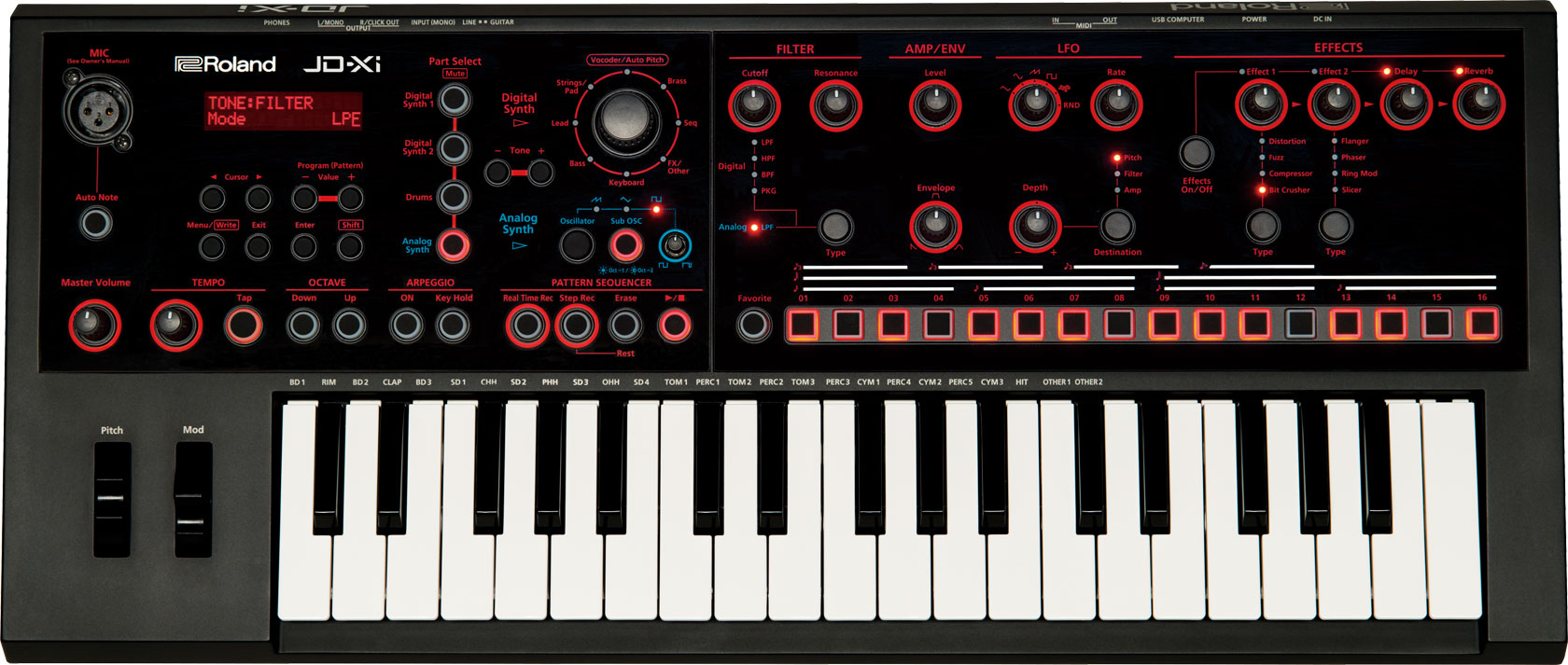 via: Forum • Roland JD-Xi Synthesizer looks a bit like a Microkorg competitor that sort of may be a System1 remodelling or something new or something polyphonic for everyone since it has enough memory buttons and small size it seems it is a bit smaller in functionality and maybe has one envelope to offer – sort of new SH101 in a Microkorg shape but with SH sound? would'nt be that bad, huh? no – it is a mixture – an analog synth with digital aid of 2 oscs – so it's 3 OSC synth plus drums.
UPDATE / TECH SPECS
4 Sources: 2 digital (PCM) ones, one analog and drums (TR808/909), subosc
it IS real analog – or better it is hybrid. it is ONE OSC-FILTER Section analog – the rest is digital – nice one!
has PWM
drum sounds can be filtered
digital distortion etc – FX of course
1 knob for ADSR – but also ADSR individually in the menu
LFO has multiple targets – 3 directly on the knobs, rest via menu
MIDI channels are 10 drum, 1/2/3 is for the other layers
analog: 24dB/oct – digital: classic multimode with peaking etc.
128 voices digital + 1 voice analog osc with analog filter
TR step Sequencer and Drum Sounds (wow!) – it's sampled drums so it doesn't cannibalise the TR8) with 4 tracks, 64 steps – chains can be done quickly! this is a performance thing!
-> I do not really need more "analog" stuff but I hope Roland and others to do more performance sequencers into their synths that are capable of more than 16 or 64 steps – seems they did it! and that's why one should buy it – just for them to let them know – they are right!
USB / USB-MIDI
Vocoder built-in
UPDATE: digital and analog are a different channel – so no interaction between both – could be cool. – so no layers or so but rec'ing 4 tracks and layer that way of course.
seq input: step-like just hit the note / drumsound and press step button to have melodies / notes assigned.
512 sequence patterns
sequence patterns chains availables – easy to create (one button – saved)
CC / automation can be recorded
USB / MIDI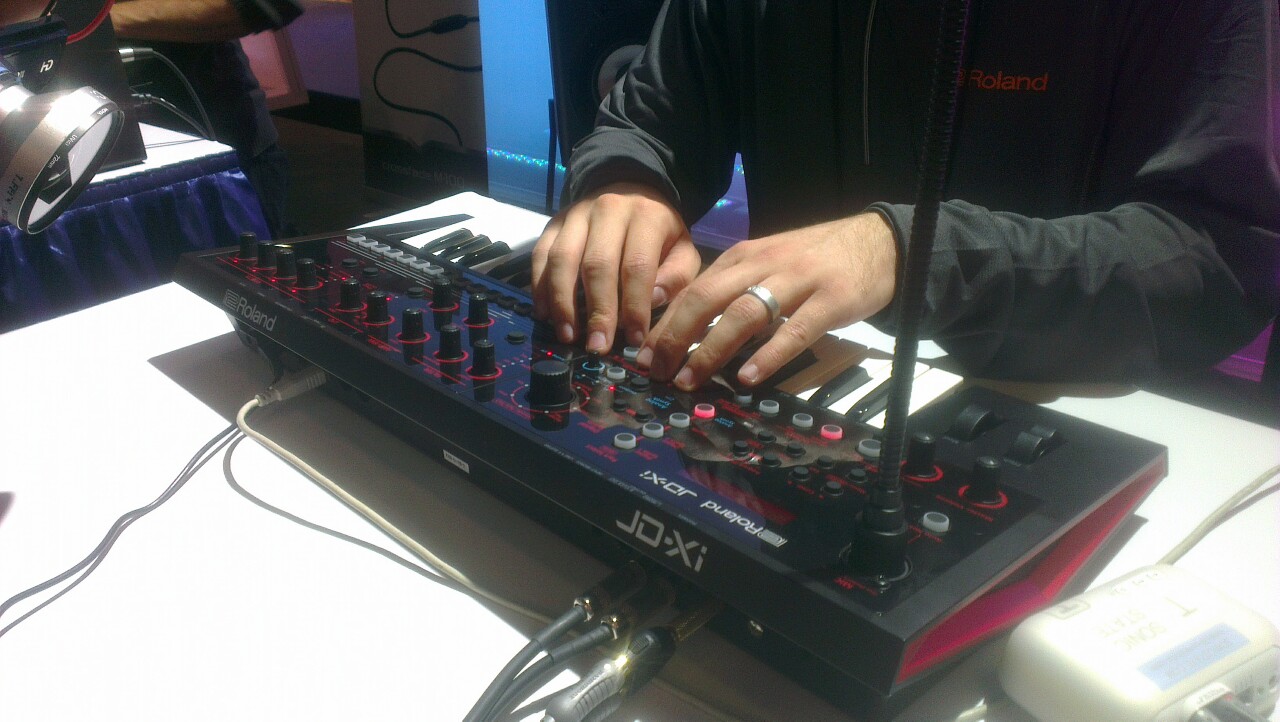 sound:
filter:

more

we'll know better on 22.th this month (at NAMM)..
does it look like a Microphone for a built in Vocoder (VT3) on the left? so – looks a lot like Roland wants to be back in the good sounding world of really (being) used synths in 2015…
Update (NAMM):

Roland bringt einen kleinen sicher digitalen Synth, aber ob mit System1-Sound und Technologie oder anders? Nicht zu erkennen, aber wäre sehr sehr sinnvoll – vielleicht mit 6-8 Stimmen?
Aber Roland macht nichts analog, passt nicht zu deren Grundhaltung – aber sie machen immer etwas neu und orientieren sich gelegentlich auch an sich selbst – Siehe Aira / System 1 etc.
–> mehr/aktuell @ Forum: Namm 2015, wachsender Synth-Markt
More NAMM: 2015
n ote: a lot of room is up for synths this year – so there could be a lot to come up soon.
more videos Roland JD-Xi Synthesizer
another song playing

eg a re-released Elka Synthex.
http://www.attackmagazine.com/features/new-products-namm-2015/2/
http://www.generalmusic.com
or possibly something new under the name of Elka, LEM or GEM.