SynthiLeaks II pre NAMM 2015 brings us:
the 1 Voice, (2015)  Korg MS20M Analog Synthesizer
this is what you get when you did your 2hrs work – all assembled – see the above link for all parts of that kit: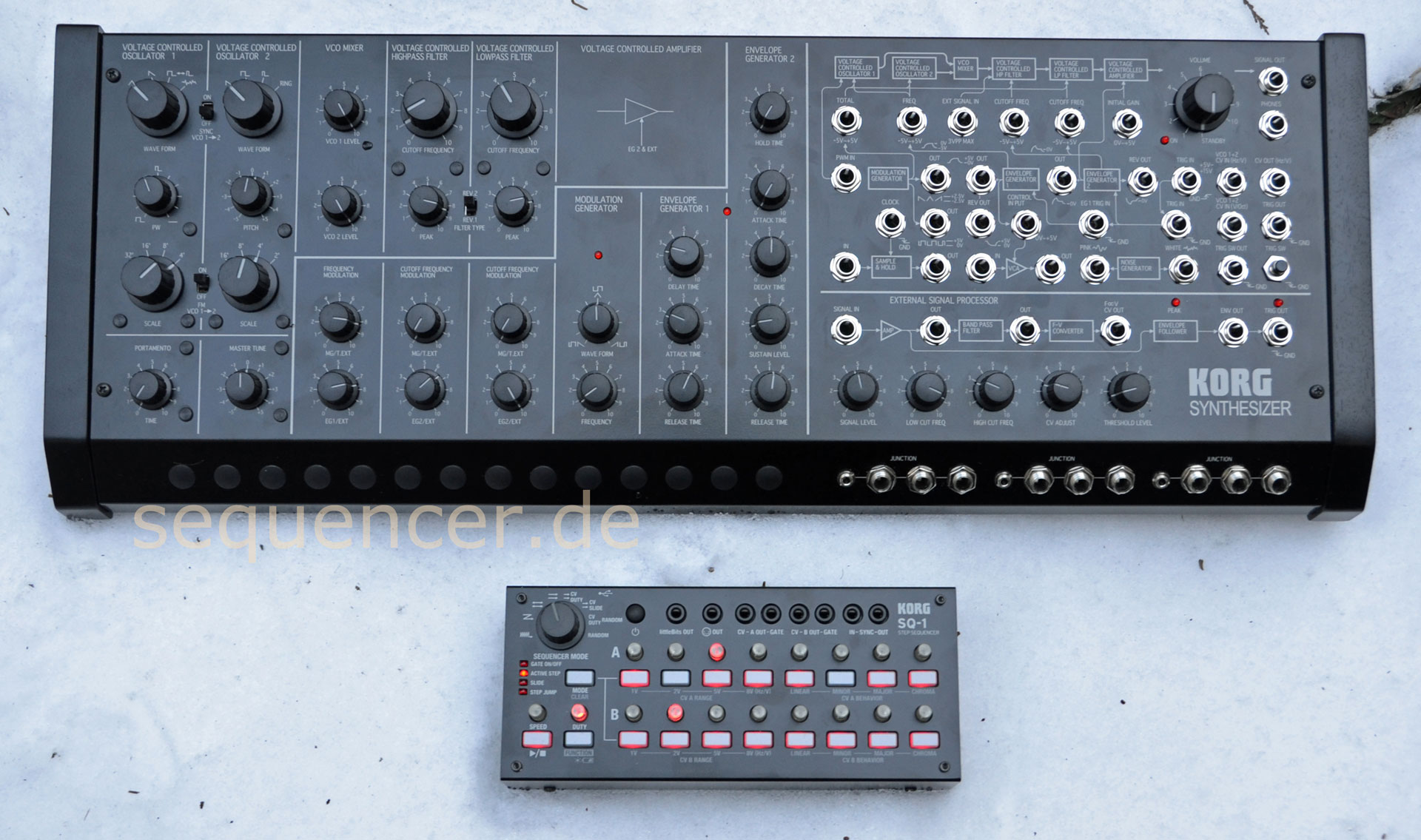 which is a rack or desktop MS20 without keys (seems to be a kit, m is for "module" in the meaning of "expander")
rumour: switch between old and new filter type on MS20M?
the MS20M is totally superior to the normal MS20:
it has:
• OSC Sync (VCOs)
• FM (VCOs) !!
• Filter Switch Rev 1 / 2
• LFO accepts PWM
so it is sort of MS50 (FM), MS10 (PWM) and MS20 Deluxe (Sync – has never been in an MS synth)!
and more details that are a big improvement like CV control stuffs (V/Oct – not just Hz/V) and multiples..
1427,00 EUR (incl vat – germany) / Kit – that doesn't mean you need to solder – it's more like you need to assemble some parts like the Moog Werkstatt – thats not cheap but it can do a lot more!
-> deutsch: getestet.
shown in this video
NAMM 2015: KORG MS20M Kit & KORG SQ1 par Olivier Briand
and a miniature SQ1 analog step sequencer that looks a lot like a nano control from the top but has pots and buttons for simple step sequencing – sync out/in for Volca control with gate/CV
it has 2 channels – 2 CV outs – one gate – no MIDI, just USB. and isn't flat – it's a box.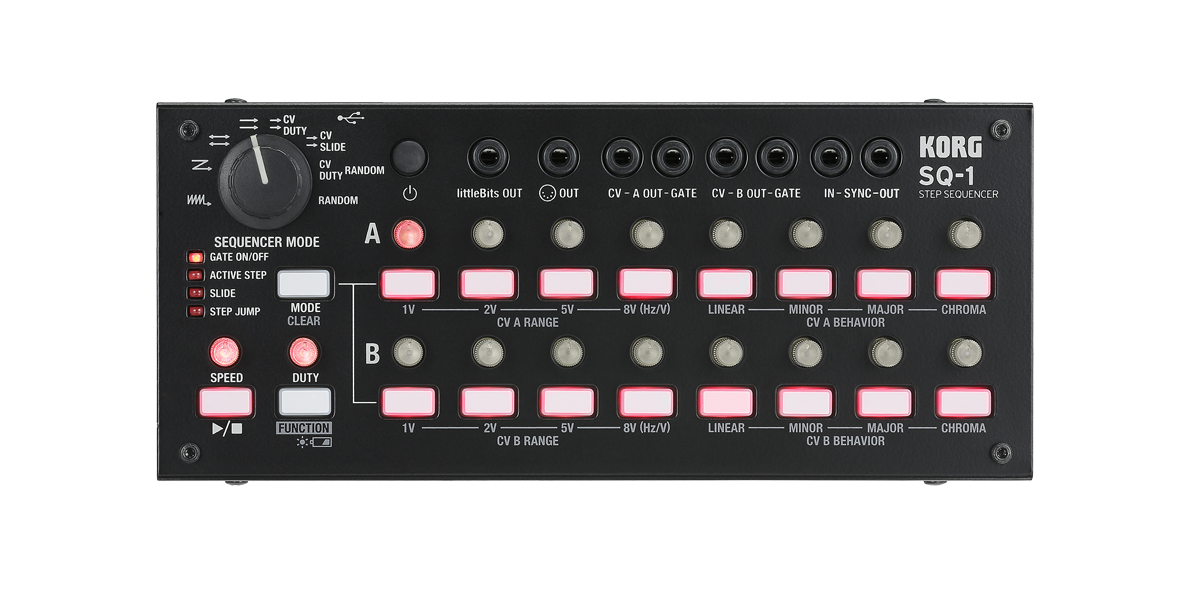 note the MS20M is flat/desktop design – so it is a lot nicer to handle on stage etc. and you can be seen when operating it.
Korg MS-20m Monophonic Synthesizer Kit and SQ-1 Step Sequencer
Es gibt einen neuen Step Sequencer von Korg -> Forum: Korg SQ-1 Step Sequencer  – es gibt Gate/CV Anschlüsse und Sync in/out für die Volcas -> Volca Beats etc.
Er kann sehr offensichtlich die Abspielrichtung ändern, hat verschiedene Stimmung-Quantisierungen an Bord…

-> deutsch: getestet.
Die neuen / zusätzlichen Anschlüsse unten am neuen MS20M, einem Desktop MS20 ohne Tasten, sind Multiples! M steht übrigens für Module, also "Expander" im weiteren Sinne (nicht für modular).
Korg MS20M Kit with SQ-1 Step Sequencer | MS20 M module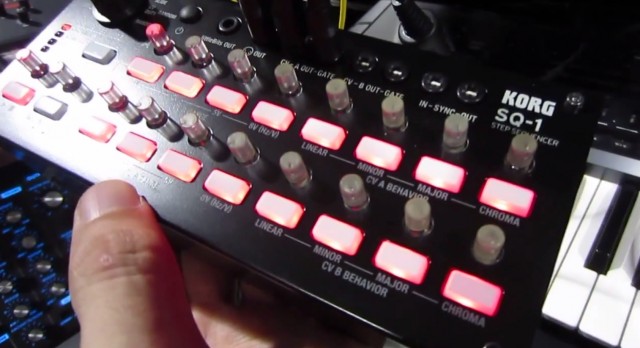 New Korg SQ-1 Analog Step Sequencer, Plus MS-20 Module Kit – Create Digital Music
ps: an look what they also have 4 us:
and a valve / tube on a chip called nutube..

Kaoss DJ – with touch interface like the Kaossilator 2s (like KPmini 2s)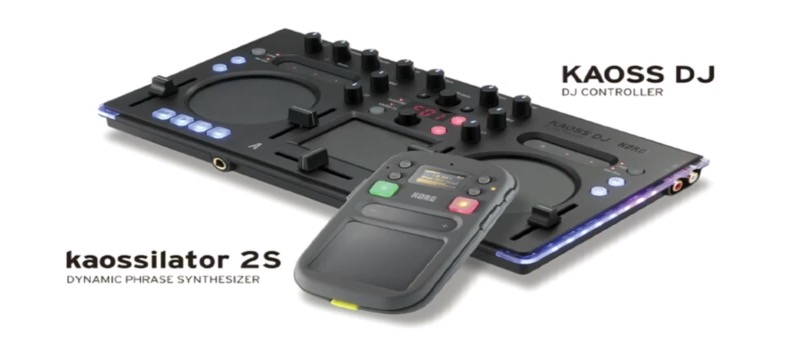 MS20M the rack "Module" kit of the MS20 – SQ1 Sequencer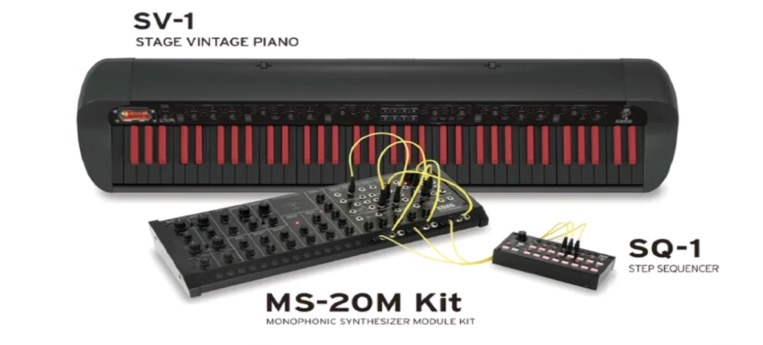 the master: Tatsuya Takahashi (right) – talking the odyssey and the magic of 3 filters – the synth is 14% smaller…
#arpsichord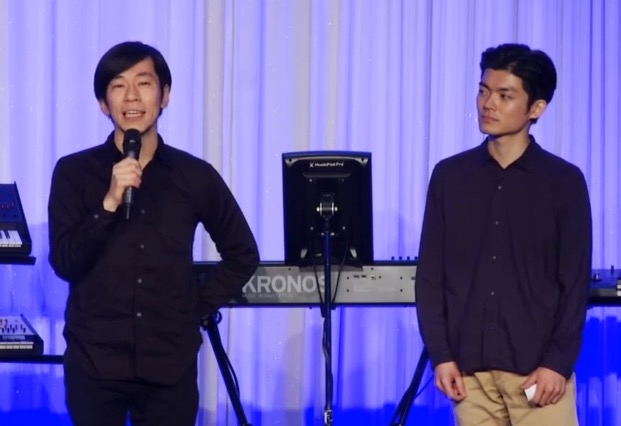 #korg odyssey  – and 3/4 smaller (totally love that! others might not want it? Forum says 54:14 they want large keys ->Umfrage: sind dir große oder mini Tasten wichtig ?)
– $999 – in the us. the 1973-one was $1400 back then. – these are the same synths but different look. btw: all PPC no knob (which is good).
--> Korg Odyssey in SynthDB <— and final tech specs.
portamento: switch for 2 modes (they were different)
duophonic!
3 filters – switch (12dB/oct), 24 dB/Oct Moog infringe and ARP filter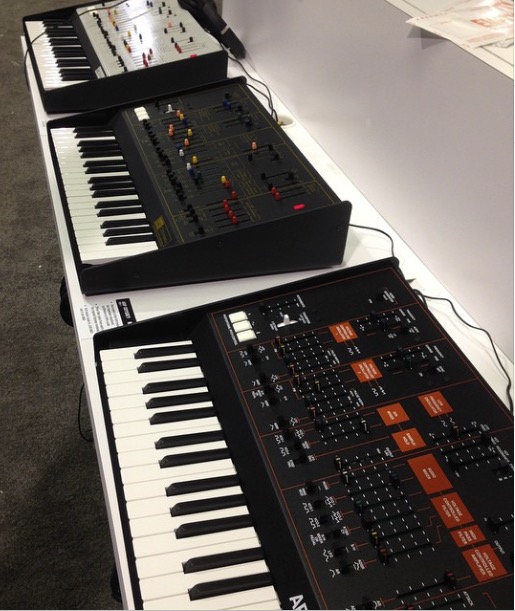 Mr.Takahashi again..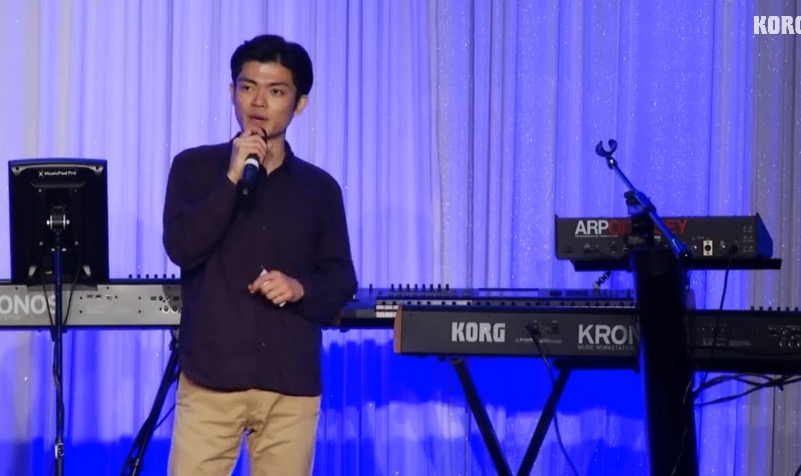 Mr.David Friend of ARP, ex President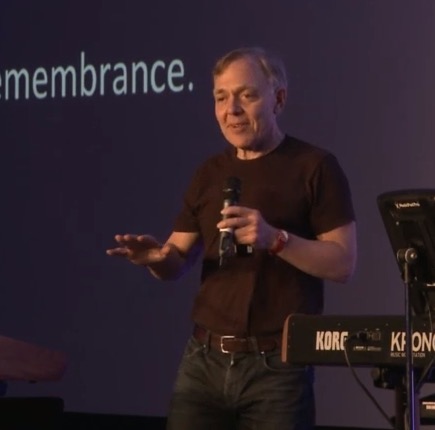 Arp Odyssey by Korg INHALT Line Level NAMM Recording
Authentic enough! Here's my demo (with german review – hier ist mein kleiner Test und Audio zum Vergleich)
and unboxing his first new & smaller ARPsichord..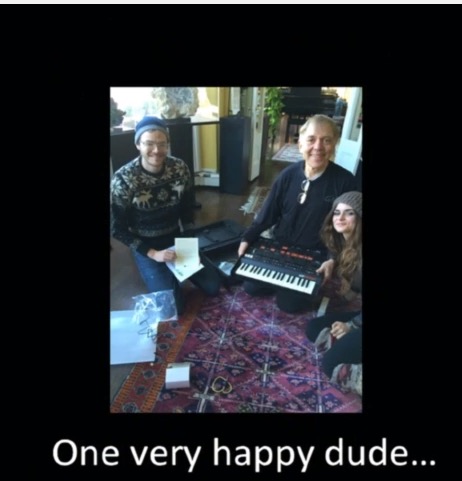 the back side – MIDI, USB, trigger/gate/CV and the Mk3'ish XLR!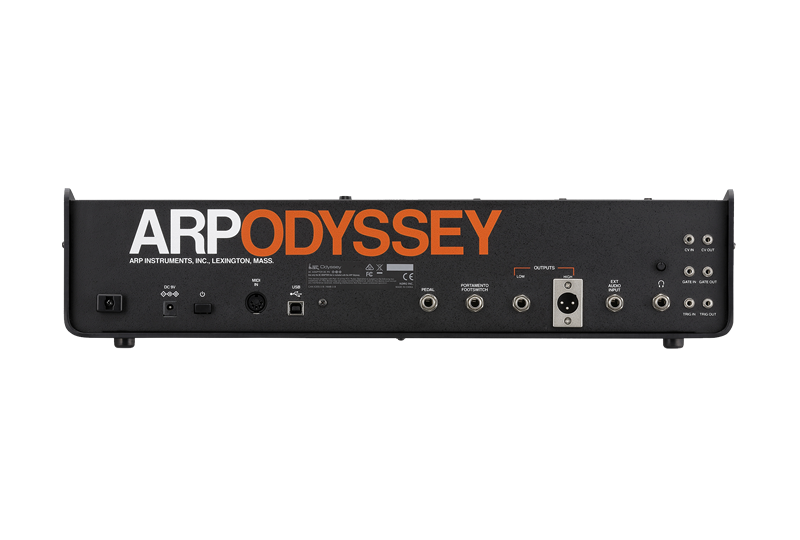 Videos..

Nova Musik - Korg ARP Odyssey with Rich Formidoni at NAMM 2015
NAMM 2015: Odyssey Here it is - Video