Sonic Potions LXR DIY Drum Box / Groovebox
Sonic Potion is a DIY drum machine project from germany.
it has it's own drum synth section and therefore it reminds a bit of elektron, does it? but translucent design. -> Sonic Potions LXR Drum machine
the specialty is to program your own flam/fast grid parts via another 8step row of buttons – makes it 1/128 fast and hiresolution.
and it has probability built in. so it's almost what I really wanted, but you need to power up your soldering iron, it's open source!
the kit is 280€ (electronics – that case must be ordered separately)
Es gibt eine neue Version – there's a new version by Erica called LXR-02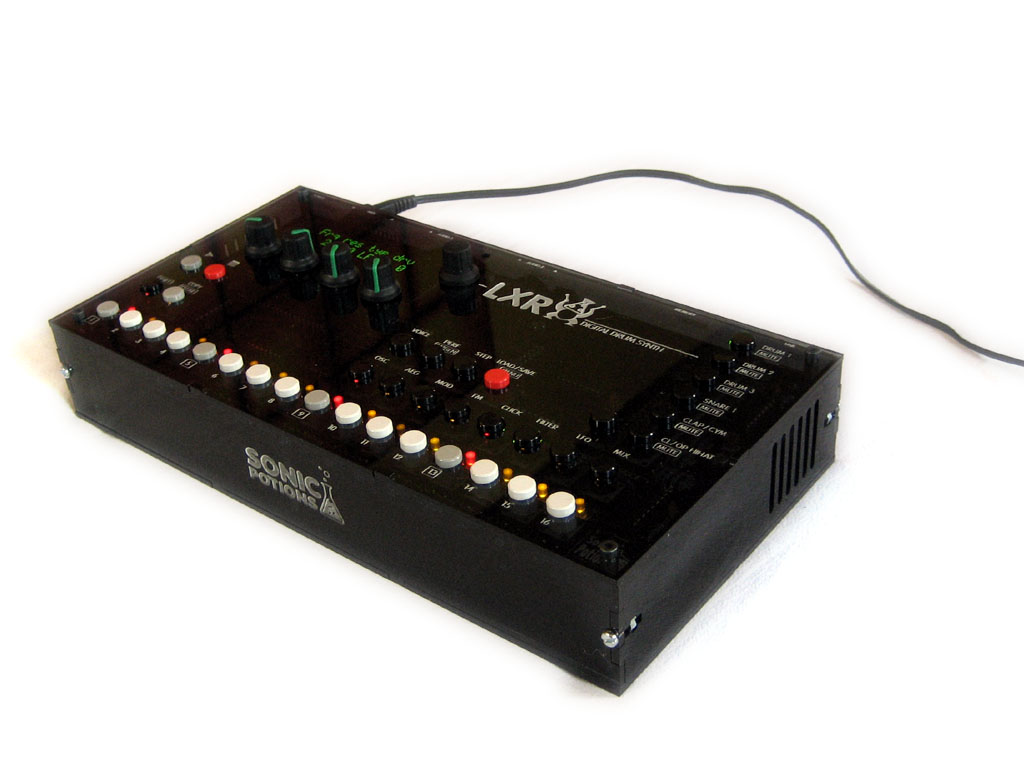 Some of the features are
Cortex M4 based
6 voices (VA and FM)
7 sequencer tracks (extra open HH channel)
44kHz / 16 bit audio
4 mono outputs
4 different instrument engines
1/128 step pattern resolution
USB/Din Midi
different lengths for each track
8 chainable patterns per preset
Step probability
SD-Card
Cowbells!
39 buttons
6 LFOs routable to every voice parameter
complete kit. comes with all needed parts for assembly
No SMD soldering required
open source
All! actions possible without stopping the sequencer playback
Sound Demos are here
Das Gerät hat 2 sehr wichtige Möglichkeiten – eine vernünftige Auflösung von 1/128 und Wahrscheinlichkeits-Steps- dh, man setzt einen Step und er wird mit einer bestimmten Wahrscheinlichkeit gespielt, gut um Variationen zu erstellen zB für HiHatfiguren. Ein Traum – aber man muss es selbst löten.
Comboy aus dem Forum hat das Projekt ins Leben gerufen, Fragen kann man ihm deshalb direkt dort stellen Sonic Potions LXR Drumsynth – Background und Vorgeschichte dazu: Bald neues Drumsynth diy kit
UPDATE: first batch of Kits sold out – there will be another batch, but not immediately..
die ersten Kits sind ausverkauft (siehe Forum), es wird noch mehr kommen, aber nicht sofort.
Sonic Potions LXR Digital Drum Synth