Das Chaos hat ein Ende, wie viele wissen habe ich im SynMag und sonst überall um diese Normung gehofft, sie ist jetzt da – Ab jetzt gibt es Miniklinken als MIDI-Stecker und damit sind die, die das vorher gemacht haben entweder konform oder nicht.
Standard – Diese Hersteller folgen der neuen Norm, sind also ohne Probleme kompatibel:
ik / korg / makenoise
non Standard – Diese Hersteller werden umrüsten oder sind nicht konform:
arturia / dreadbox / novation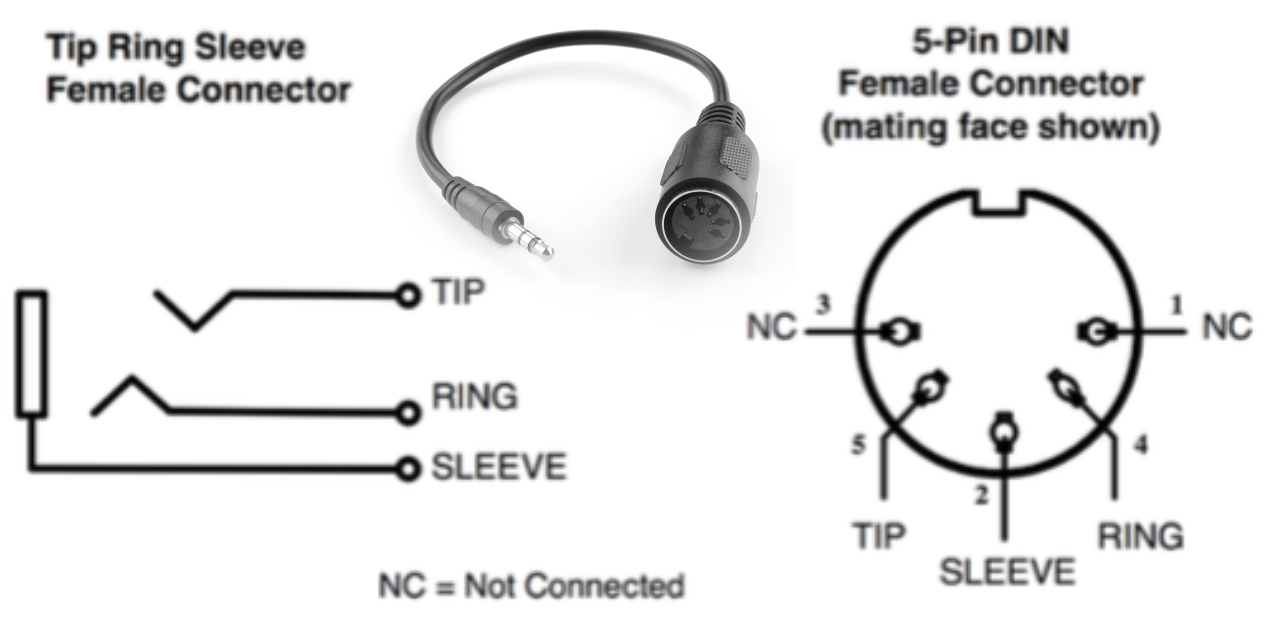 Es ist davon auszugehen, dass es bald längere und verschiedene Adapter geben wird, die Klinke auf DIN in diversen Längen und Farben anbieten können und die aktuell noch sehr raren Adapter kann man dann überall kaufen, allerdings nicht für die Nicht-Standard-Hersteller. Wie das bei Akai und Co ist, muss sich noch zeigen, wir sammeln hier ->  Endlich: MIDI-(Mini)Klinke ist ein offizieller Standard – jedenfalls muss ich nicht mehr betteln und vermutlich werden die Hersteller die Serien mit der falschen Norm nicht umrüsten, sondern diese irgendwann beenden und der neuen Norm danach folgen.
Es ist möglich, dass in einigen Jahren die Miniklinkenvariante aber auch deutlich häufiger verbaut wird, dann wird man zu Gigs vielleicht auch andere Kabel mitnehmen müssen. Trotzdem – sinnvolle Sache.
Natürlich gibt es bessere Stecksysteme, aber der Sinn sind ja klar kleinere Verbinder als bisher – weshalb man da sicher nicht auf XLR, 6.3mm, Cinch oder ähnliches kommen kann, denn das würde absolut keine Vorteile haben. Elektrisch ist die Klinke nicht ideal und bestenfalls Cinch ganz ok, aber wir brauchen 3 Adern und so wenig Platz wie möglich, deshalb könnte man sonst kaum noch etwas anderes verwenden außer USB-Micro B, jedoch ist das auch nicht direkt die rausziehsicherste Methode. Auf einer Bühne sind das alles nicht die besten Lösungen sondern wohl eher gewählt, weil bereits bekannt und verbreitet. Ohne Exotenstatus.
STANDARDIZED MIDI – Jacks
the did it! they normed the TRS/ Mini Jacks well known from eurorack modulars etc – to be used as an official MIDI jack, so the above list will tell you who's already compliant and who needs to change. Those more exotic ones will maybe warn their users not to buy standard cables and may later follow the standard – since it is not the fault of the manufacturers, they are just randomly hit by that standard I was hoping to be made earlier when the new electribes were new – but Korg is in, Arturia isn't so – we may see another version of all those Beatstep Pros etc.
so most of those existing synths and controllers will not be changed but see their end sooner or later and newer ones will follow the standard from then. so be careful!
Also remember why those little eurorack jacks – they are small, they are not electrically perfect for this job and mechanically not the best solution on stage – but they are widely supported and made. that's why.