Yorick LFE Low Frequency Expander
Update – in Version 3 werden mehr Synths unterstützt – außerdem arbeiten die LFOs nun polyphon (pro Stimme) – was eigentlich deutlich mehr Modulation bedeutet und es gibt einen 2x 16 Step Sequencer dazu.

Die Ein-LFO-Synths von Sequential, inkl dem Prophet 5 und 10, Korg Prologue und Moog Voyager werden unterstützt und der Rest als "generischer Synth" wie zB das Roland System 8, wo der LFE dann lieb 3 LFOs zusätzlich bereit stellt. Und eben jene Multi-Stufen-Hüllkurve bzw. Sequencer.
Low Frequency Expander's Arpeggiator
Speicher, LFOs, Hüllkurven, Sequencer im LFE


Eine gute und schlaue Lösung mit eigenem Speicher mit 50-60 Zielen in der internen eigenen Matrix. Der unterschied ist natürlich der, dass es bei generischen Synths ein Controller mit Nummer ist und bei den unterstützten Synths sind es klare Namen der Parameter  – außerdem beherrscht er MPE. Es wird ein großes Ding mit dem MPE wenn die guten Controller wie Osmose wirklich da sind.Das Gerät macht, was andere modular tun – vielleicht reicht das ja? Gerade dem OB-6 fehlt ja ziemlich ein LFO oder 2.. damit ist es "dann egal", nur nicht so elegant für eine Bühne – aber für das Studio ist es maximal cool.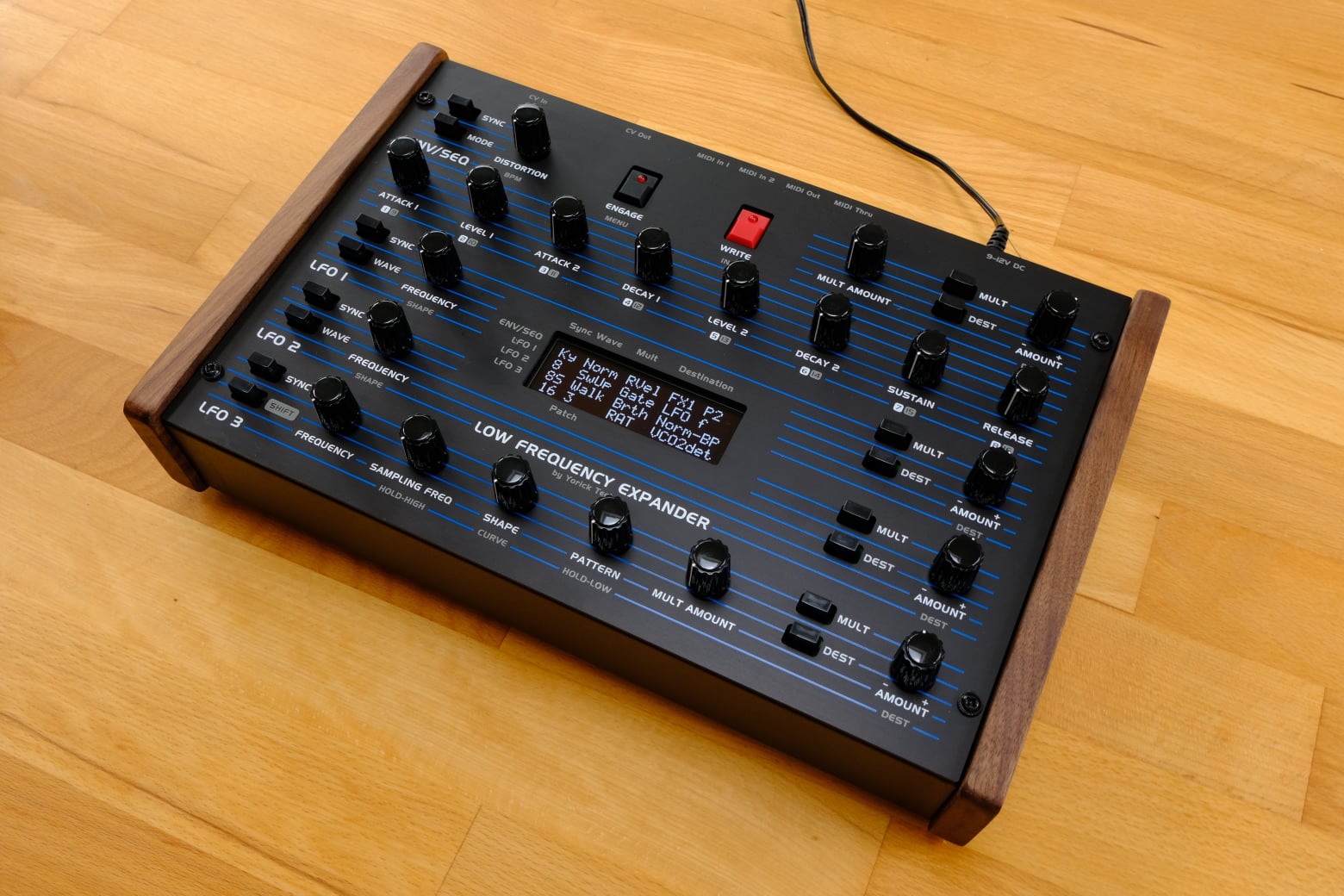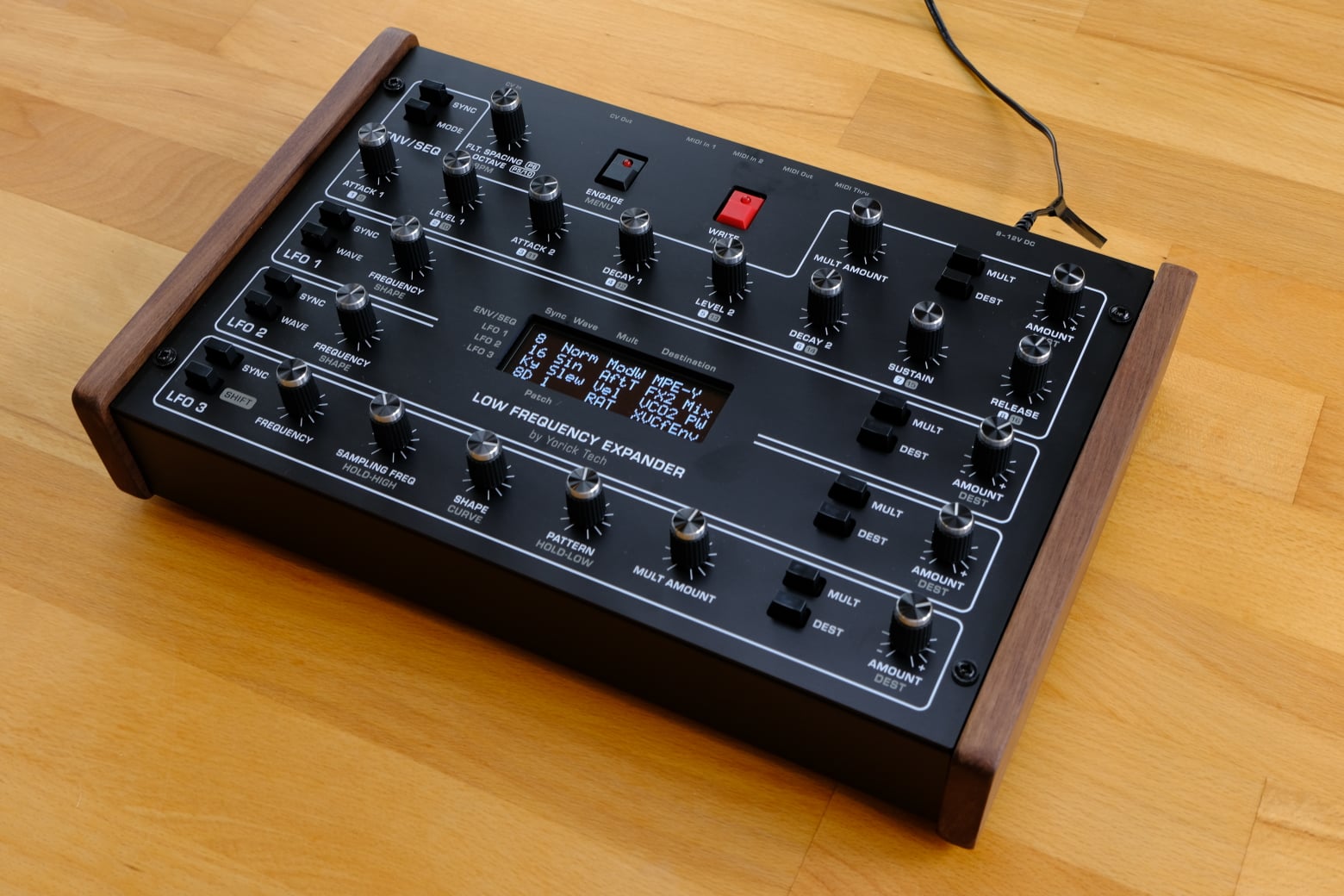 Was 2019  im April passierte oder bis da hin:

Der LFE und was er generell kann


Der Prophet 6 und OB6 sind beide tolle Maschinen, aber ein LFO nur – das war von Dave Smith irgendwie unnötig vereinfacht worden. Deshalb gibt es das fertige Gerät, was die LFOs per MIDI-Controller-Message andockt und im Oberheim-Design passend Modwheel, Velocity oder Aftertouch als Quelle für (weitere) Modulationen haben kann oder auch die LFOs untereinander und natürlich noch mehr – Die große Hüllkurve ist im oberen Teil, die LFOs sind darunter angeordnet. Es gibt ein Display und genau so viele Speicher. Das Gerät kommt aus UK und ist in 3 Versionen zu haben – fertig zusammengebaut: Nackt, mit Gehäuse oder …
Standard: Mit Metallgehäuse / Alu--Panel: £440.
Deluxe: Mit Walnuss-Seitenteilen: £480.
Bones: Ohne Gehäuse, aber zusammengebaut und mit Knöpfen: £ 345.
Der Hersteller (Steve Hunt) ist nur per Youtube oder Mail zu erreichen: stevehunt99 ÄT gmail DOT com
Low Frequency Expander for OB-6. No talking.
OB-6 Low Frequency Expander
Low Frequency Expander - Demo of 10 OB-6 patches with and without LFE - turn on Closed Captions!
Low Frequency Expander for DSI OB6, Sequential Prophet 6 and more - Yorick Tech
Low Frequency Expander for OB-6. Overview.
Er hat auch einen Multifunktions-Synthesizer mit 4 Filtern gebaut: vier Filter vom Korg 800DV bzw. 700 und 770, Moog Modular, Roland SH-1 und Oberheim SEM sind integriert im Yorick Beast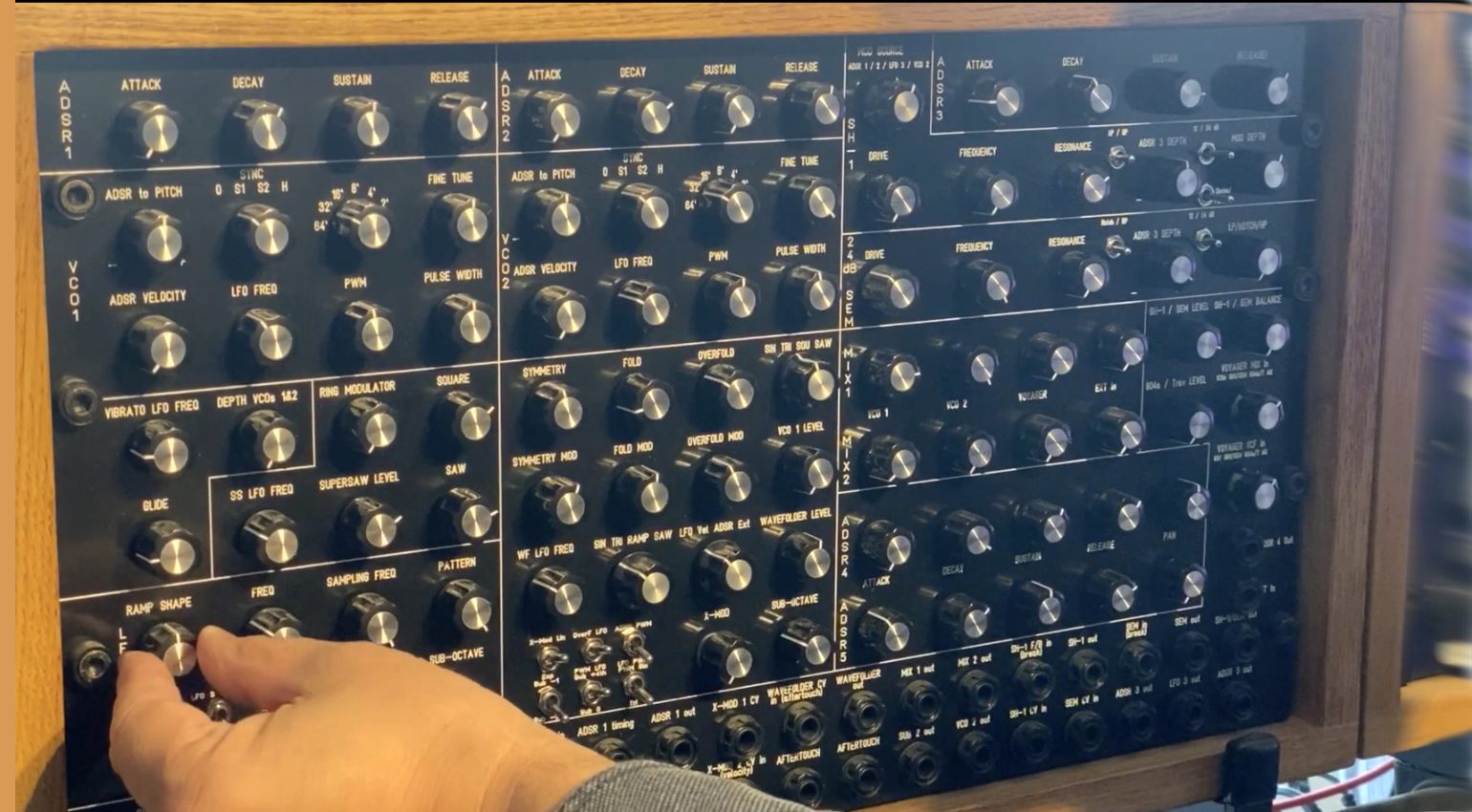 The Beast Synthesizer from Yorick Tech