MODULAR SYNTHESIZER MEETING 25. bis 27.5. 2007
just a reminder .. starts Friday 15:00 and will end on Sunday open end..
come and bring your modular (needed to enter the meeting)..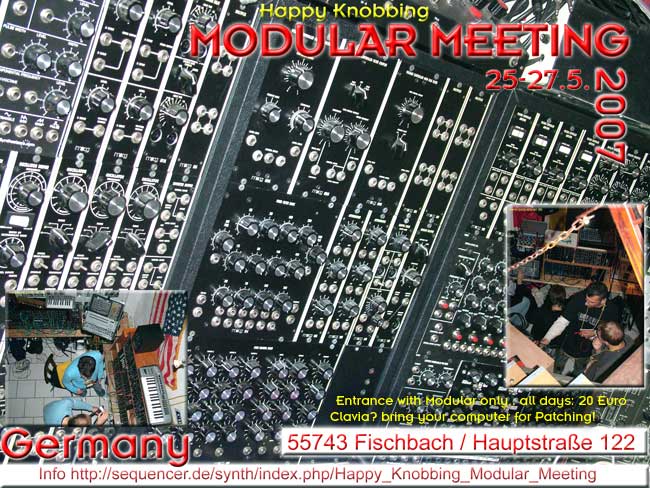 Das Synthesizer Treffen für Modularsynthesizer beginnt am FREITAG um 15:00 und endet irgendwann am Sonntag sauspät..
eintritt mit allem möglichen, was modular (synthesizer)ist und falls digital dann bitte mit computer zum patchesgucken.. Idar Oberstein / Bad Kreuznach kennt zwar keine Sau, das liegt zwischen Trier und Frankfurt, genauer in FISCHBACH (Achtung, gibtmehrere Fischbäche™).. aber siehe Flyer und Links.. kommen und Grillware und so mitnehmen..
Fischbach ist hier..
VON THOMAS, unserem VERANTSTALTER: Also: Die Hütte steht genau gegenüber von meinem Haus. Es trennt uns nur ein kleines Bächlein. Gegenüber steht auch noch die Kirche bei dem Gemeindehaus. Ich habe meine Adresse nur zur Orientierung angegeben. Bitte nochmal die Kleinigkeiten lesen. Ich wohne an der Haupstrasse und um an die Bude zu gelangen muss man über eine kleine Brücke fahren die etwa 50 Meter von mir entfernt ist. Das wird aber jedem dann gleich aufallen… liegt bei Idar Oberstein / Nächste Stadt Bad Kreuznach, Kaufhaus: 5min entfernt, hat bis 22:00 offen. Keiner muss hungern ohne zu frieren. Tipp:Wer garnicht klarkommt: Anyware-Instruments Kontakt anklicken und notfalls fragen..

Happy Knobbing Modular Meeting
I will stick this post on top till SUNDAY – ich werde dieses Posting oben stehen lassen, weitere news weiter unter diesem.. bis SONNTAG..