Musikmesse 2017 – large corridors & quantum leaps
Musikmesse 2017- impression
Messe – Highlight: Waldorf Quantum & Eye Catcher Hartmann "20" ..
-> "ein Quantum Trost"
Waldorf Quantum
updated: the same day of my visit! / am Tage meines Messebesuchs gabs auch das neueste OS – Rolf Wöhrmann erklärte mir alle Möglichkeiten. Es kann sich noch einiges ändern, theoretisch kann er sogar noch ein FM Synthesizer werden, es wird aber ein Gerät, was Samples verarbeitet und Wavetables bis hin zu malbaren Wellenformen mit Shaping und 40 Modulations-Slots.
I arrived at that day – same as the last update – it isn't finished yet – will come in Q4/2017 and could be an FM synth – but it will be a sampling and wavetable synth with 40 mod matrix slots – and a very clever mod concept and 1280 Pixel display – those waves can be created and changed on that touch screen!
Der "20" hingegen fühlt sich sehr sehr hochwertig und gut an, ist aber einfach eine Art Selbstbelohnung für Axel Hartmann, der auch sehr nett alle Fragen beantwortete. Die Maschine hat die Engine des Blofeld, genau die des Sledge. Man KANN ihn kaufen, aber er ist eigentlich nicht dafür "da".  //
20 is a design synth based on the Sledge (Blofeld) – a 3 OSC synth, wavetables etc. it's just to feel and look totally without any compromise just for Axel Hartmann. means – you can ask to buy it but it is not made for "sales". Ready by Q4/2017.
Dann gab es nun die finale Version von Arturias Audiointerface – und ein neuer Controller mit verschiedenen Größen Keylab Essential 49 hier zu sehen – kommt Ende Q2 / Juni. Arturia has a new Controller and that audio interface is NOW working – so it will be released –
The
Nonlinear C15
is now available and is strictly a musical instrument – no MIDI and has 4 Pedal inputs. it's engine is a 2 OSC engine with resonator at the filters place can do much – also FM which is very organic.
will be 4k€ – and it was shown in piano hall – for a reason! NI's Stephan Schmitt just want's to really do this experiment – you can buy or rent it and even give it back to be sold again. so there's a lot of thoughts behind it since it doesn't need to be successful!
Stephan Schmitt von NI hat diesen synth mit der Engine ohne MIDI verbaut, der definitiv ein Experiment ist. Er soll gespielt werden, es gibt keine animierenden Elemente im Synth, also keine LFOs oder Sequencer. Man soll es verdammt – no -mal SPIELEN. Und die Synthese ist irgendwo zwischen FM und modaler Synthese, es gibt Resonatoren und der Sound klingt schon sehr organisch. Audio Demos & Talk -> Musikmesse 2017 News etc
und extra zum Nonlinear Labs C15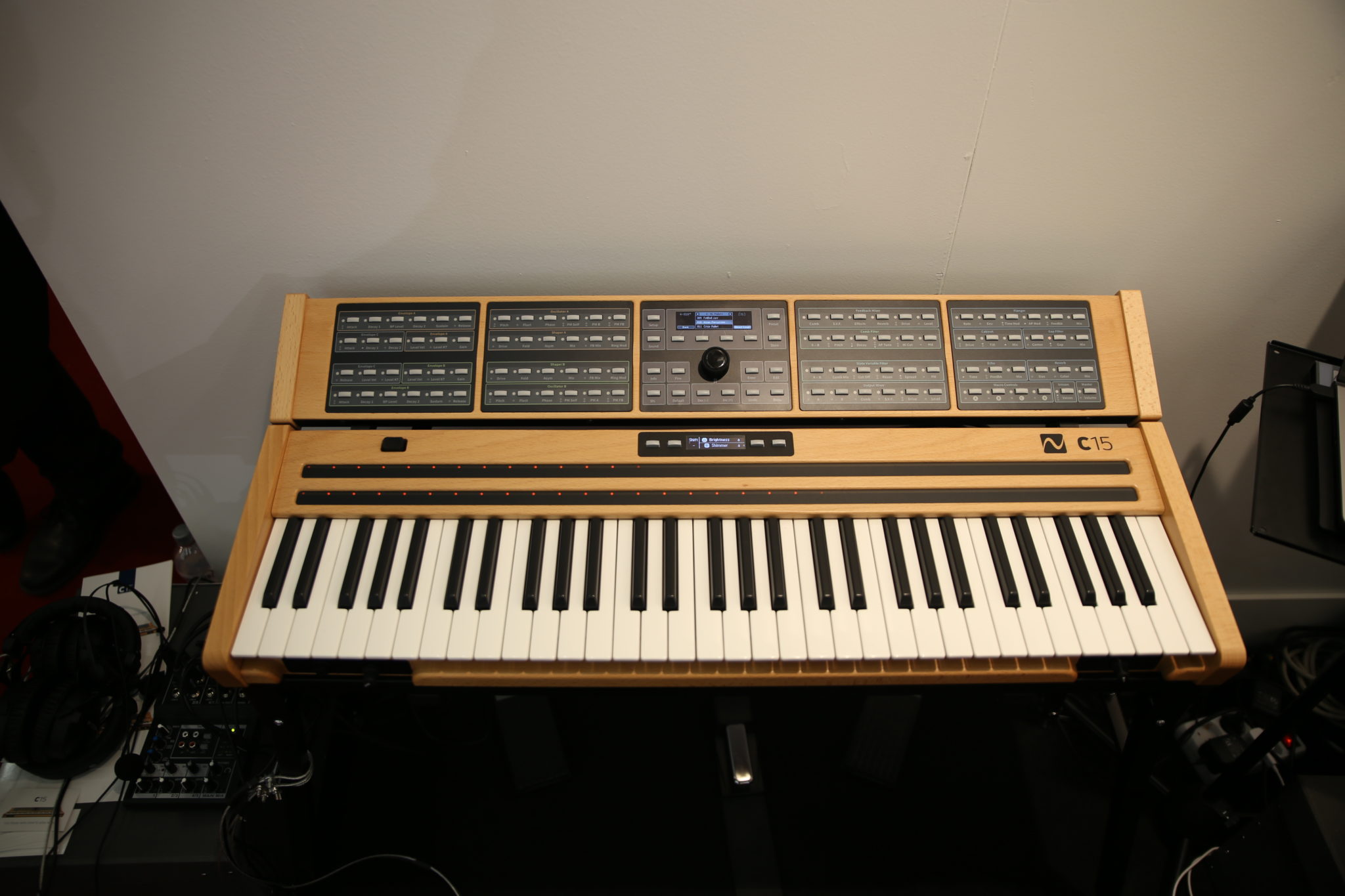 2x Prototype @ Korg
(Clavia style organ, King Korg style Piano) – the orange one has tubes in it – very flat tubes "Nutube" that Korg introduced earlier.
and Clavias new Nord Lead A1 incorporating Nord Stage 3 – Piano, Synth – all in one.
-> Forum/Talk: Nord Stage 3

5 Progs in Song Mode, Neue Orgel – C2D  / Elektro 5
2 Slots, Layer/Split  mit Pfade zwischen Sounds
juli – 300€ mehr 3.9 / 4k€, Mehr RAM
some impression of the Messe which was a bit relaxed, smaller in big halls and rooms – but synth-wise not too much news except Waldorf! // ein Gang zur Messe hat Zeit für Gespräche – es ist nicht viel da an Synthesizer-Sachen – also laufe ich mal rum und zeige ein bisschen. Talk im Forum: Musikmesse 2017 News…