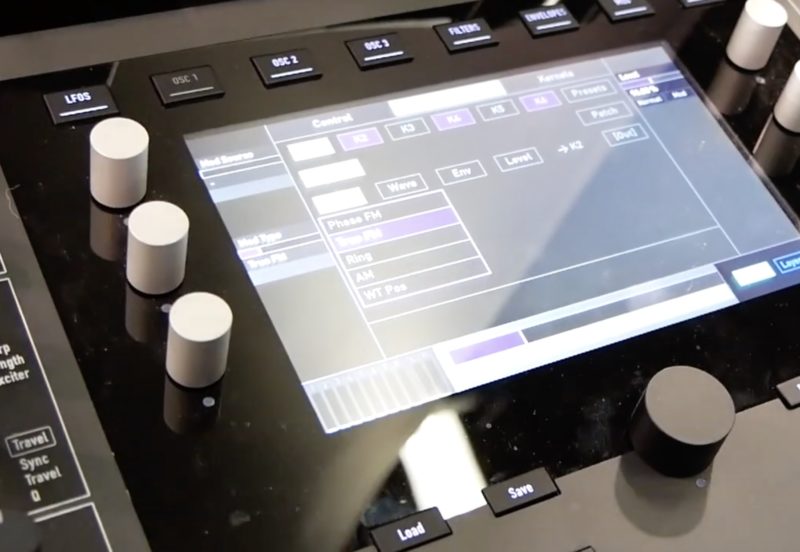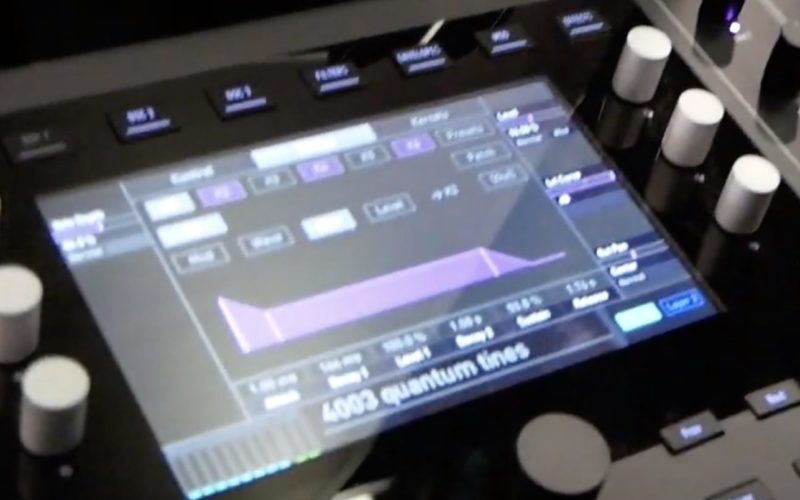 Waldorf Quantum Synthesizer – 6 OP FM, Granular & Wavetable Engine
Update – die Kernel-Synthesis Engine in OS2.0 bietet für alle 3 Oszillatoren 5 Möglichkeiten (darunter FM, Phase FM, Ringmod etc) modularisiert sie, man kann faktisch jeden Parameter mit Audiogeschwindigkeit modulieren (und durch sich selbst ist ebenfalls möglich). Es gibt eine neue Hüllkurve für die Kernel-Synthese und die ermöglicht mehrere 6 OPeratoren FM, AM, Phase FM & Wavetable-Position und eben jene 5 weiteren "Synthesemethoden" innerhalb der Oszillatoren derer es in der Kernel-Synthese 6 an der Zahl gibt – es gibt daher eine neue Page pro Oszillator und das alles in 2.0 direkt nach der NAMM 2019 als Beta. Aber eben auch eine eigene Page, die man oben im Bild sehen kann. Die Wellenformen dazu sind die Klassiker. Innerhalb der Kernels (also Oszillatoren quasi) gibt es jeweils eigene Hüllkurven und Feedback – so muss man sich das vorstellen – und das ist unabhängig von den normalen Oszillator-Modellen da! Es gibt keine Algorithmen wie in FM (Yamaha) sondern man hat eine freie Verkopplung der einzelnen Operatoren. die Kernels (Operatoren/OSCs) können auch im Stereobild verteilt werden!
Um es klar zu stellen – Der Quantum hat 3 Oszillatoren und es gibt noch immer genau 4 Modelle, das Kernel-Modell ist in der Rubrik "Standards Oszillator" mit drin, deshalb kann man 3x 6OP verwenden und daraus auch eine Art additive Mischung mit 18 Oszillatoren herstellen, wenn man das möchte. Bei 4:55 hört man 3 Noise-Kernel (von 6 möglichen).
Die Basis-Syntheseformen bleiben wie sie sind, aber innerhalb dessen wird die Kernel-Synthese umgesetzt, so wird der Quantum schon deutlich offener und modularisierter – denn jetzt sind alle Synthese-Elemente für sich und können jeweils durch sich oder andere gesteuert werden – Eine Steuerung der Pulsbreitenmodulation durch einen Wavetable-oder Sample-Oszillator ist dabei dann eine leichte Übung, die Buchla-Leute glücklich macht, aber da fängt das System erst an – was das an geht, dürfte Waldorf mal wieder etwas Neues gelungen sein, so wie damals beim Q, der mehr konnte als die meisten anderen VAs über sehr sehr lange Zeit.
Der Quantum kostet zur Zeit 3995€, Update ist umsonst.
Der offizielle Infotext dazu ist dieser: #Info 2.0 Update..
Nave-kind of OSCs & Sample Player "Particle". Resonator Filter Bank.
8 voice polysynth
3 OSC – 4 modes per OSC (!):
Wavetable classics (->XT,Blofeld)
Waveform – classic waveforms
Particle – granular sample playback
Resonator – resonator filter bank
Detailideen an Rolf, den Entwickler kann man hier posten: -> Waldorf Quantum – 8 Voice Hybrid Poly Synth
USB for controllers / powered + normal USB
-> colour coded modulation assignment!
+ mod matrix – 40 Slots (!)
Mod Routing via Colours – just turn the knobs – check the status of what mods what via colour!
3 LFOs on top – 3 LFOs via display. – display is 1280 * 800 pixels
nice "Bauhaus" kind of design by Axel Hartmann – I like it.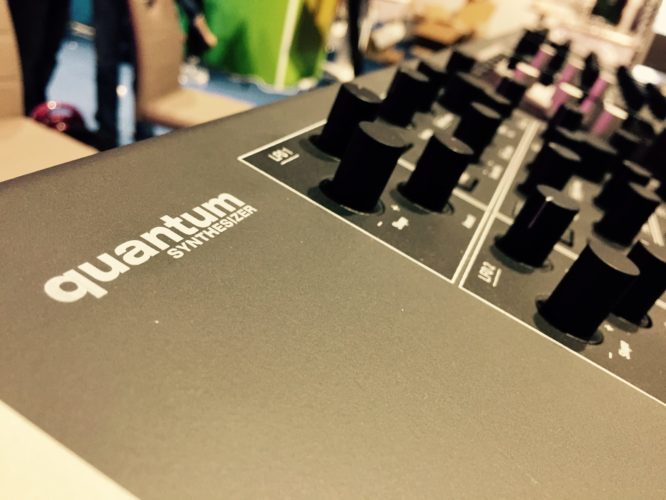 pic by tsching.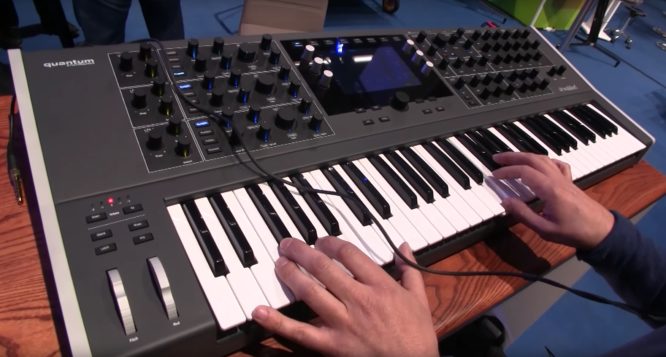 Nave synthesizer – speech and spectrum built in – waveform & spectrum will display on the screen (like Nave does).
All three oscillators are freely assignable. (3 different Wavetables etc.. possible)
2x analog filters. Voice inserts, inserting into the digital voice, going out to the analog, and two OTA filters for each voice that goes back into the voice. – like "Character" on the Prophet 12
digital shaper/former – drive, bit crusher, digital filters, etc…
6 envelopes – 3 directly at the panel. Multistage Envelope, ind. curve shapes
3 Digital Effects
6 LFOs
Touch Display
2 layers -> multi-timbral
Arpeggiator
Erklärung auf deutsch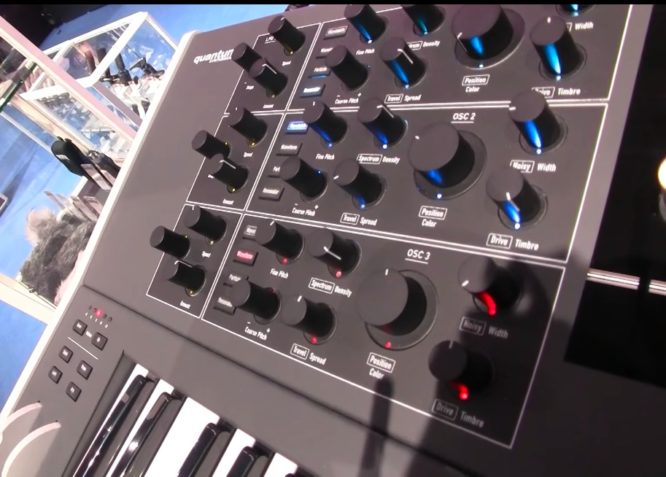 Release: Q4/2017
Price 3k€ min.
it is new and different – compares most to the more expensive Modal Synths – has a lot of features. so here it is – a NEW synth that can sound interesting – especially that resonator isn't bad at 11:32 (video).
Mehr Bilder von der Musikmesse / more of Musikmesse..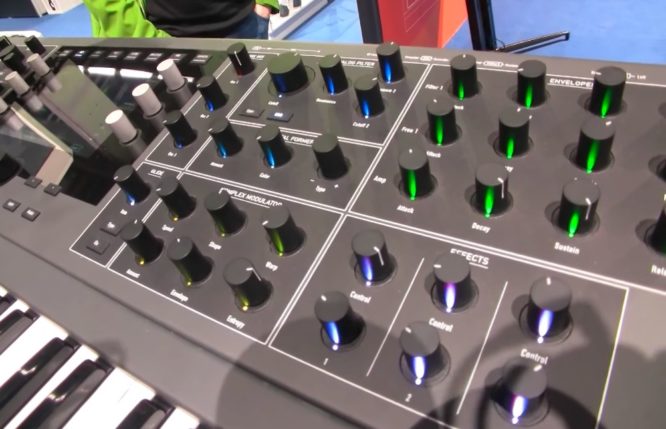 Und: Bis zum 8. April 2017 mit 30% Rabatt:
-> Largo, Lector, Nave, PPG Wave 3.V und Waldorf Edition 2 mit folgendem Gutscheincode: music2017
FM Algoritm ALG – DX7

FM Synth NFM Algoritm matrix